Key Takeaways
At the risk of oversimplifying, the Fed sets the fed funds target rate in an effort to stimulate the economy by encouraging growth (via lower rates) or quelling demand and taming inflation (via higher rates).
Ultimately, the Fed is trying to determine the "terminal" federal funds rate, which is the neutral interest rate where prices are stable and full employment is achieved.
Looking at previous rate hike cycles and other clues, including the two-year Treasury yield, we may be closer to the terminal rate, but not quite there yet.
This month's main article, Fed Tools and the Terminal Rate, provides an overview of the Federal Reserve System and its dual mandate, and discusses the terminal fed funds rate that may bring equilibrium to the economy.
Also included are the following themes:
Economic Vista: Fed tools and the terminal rate
Christi Fletcher, Senior Portfolio Manager, and Rohan Ashar, Portfolio Analyst
With $8.7 trillion in assets and immense influence over the global economy, the Federal Reserve (Fed) is considered the most significant and powerful of all the world's central banks. But how, exactly, does it use its levers to influence the economy? And what's all this about the "terminal" fed funds rate? Given that the Fed seems to be in the headlines virtually every day, let's review—briefly and in plain English—some of the finer points of monetary policy as it relates to today.
First, Some History
The Federal Reserve System was created in 1913 with an objective to keep the banking system stable. Throughout the 19th century, the U.S. experienced several financial crises that devasted the economy. In 1907 there was a severe bank run where Americans panicked and withdrew their deposits due to mistrust of the entire banking system. Banks failed to return customer deposits, which led to the domino effect of other Americans rushing to withdraw their deposits. Banks needed emergency reserves to fulfill their obligations and prevent further panic in the economy. This led to the Federal Reserve Act, which put in place guardrails to prevent runs on the banking system.
Naturally, the Fed's role has evolved and grown into developing and implementing effective monetary policy "to promote effectively the goals of maximum employment, stable prices, and moderate long-term interest rates." Fostering employment growth and controlling inflation is widely referred to as the Fed's "dual mandate."
To help achieve these objectives, the Federal Open Market Committee (FOMC) was created. It consists of 12 members of the Fed, including (today's) Chairman Jerome Powell. The FOMC has the authority to control the money supply in the economy, and one of its most important tools is the ability to set the federal funds rate, which is the overnight interest rate that banks use when lending and borrowing for excess reserves. To help keep the entire financial system stable and healthy, banks are required by law to have reserve levels in proportion to their deposits. The federal funds rate, usually quoted in a range, is a baseline interest rate that impacts the cost of borrowing at every other level of the economy for businesses and consumers (i.e., auto and home loans). By extension, it can be used to (hopefully) control inflation and ultimately impact employment.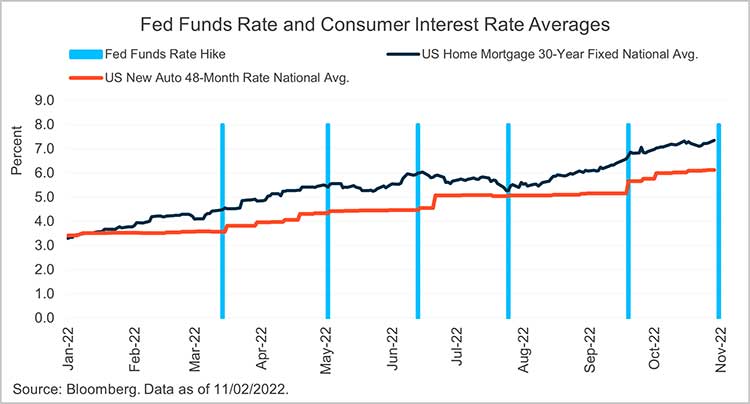 Where Is Equilibrium?
The FOMC's task of setting the federal fund rate is not easy, and it is perpetually trying to determine the "terminal" federal funds rate. Economists refer to the terminal rate as the neutral interest rate where prices are stable and full employment is achieved. In other words, it is a natural interest rate that is neither accommodative nor restrictive, and as such is regarded as an equilibrium rate. It is also considered as the peak rate of a hiking cycle. However, because this is not an exact science, it's extremely difficult to identify the terminal rate, and the FOMC often runs the risk of making policy mistakes. It may overextend rate increases, which can potentially trigger a recession. On the other hand, it may keep rates too low for too long, thus providing too much fuel for the economy that can lead to unnatural levels of demand and, eventually, rampant inflation. Equilibrium is hard to find.
As investors, we all want to be able to anticipate the FOMC's path for interest rates. Although this is notoriously difficult, there are indicators to help us understand where the trend is headed. Chief among these is inflation. After all, the Federal Reserve has stated that its ideal inflation rate is 2%, which is widely thought of as the Goldilocks rate in an economy that is growing appropriately but not overheating.
With that backdrop, it's easy to see why the Fed has been vigorously raising rates. Throughout 2022 we have been witnessing the highest levels of inflation in 40 years. At first it was hoped that the elevated inflation readings were transitory. But even as recently as September 2022, the annual inflation rate was hovering at an elevated 8.2%. There are glimpses that inflation may have peaked, but it is expected to take many months for the deceleration to be fully reflected in the data and to convince the FOMC that inflation is under control.
Historically, the FOMC has tended to increase rates above inflation to attain price stability. If this holds true again, the target range — currently 3.75% to 4.00% as of November 2022 — is still far below the current inflation rate. By no means are we suggesting that the Fed will continue ratcheting up rates over 8%, but it may not be finished with its rate-hike cycle.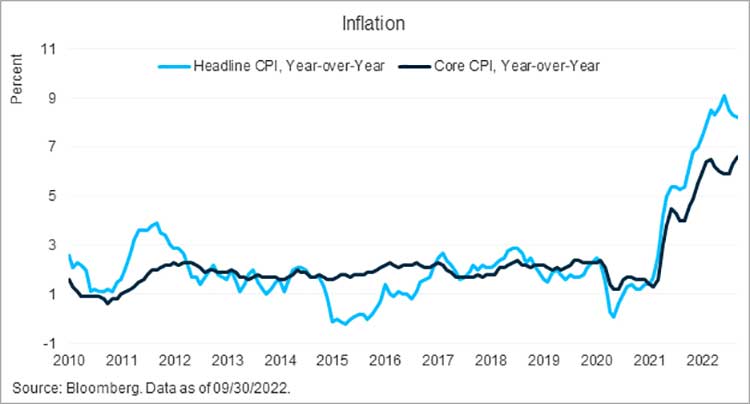 Another clue is the two-year Treasury yield, which is also considered a timely indicator of where the fed funds rate is headed. The two-year Treasury yield, which was approximately 4.7% in early November, has been higher than the federal funds rate ever since 2021. This was warning us that rate hikes were coming, but now we all want to know how much longer and how much higher?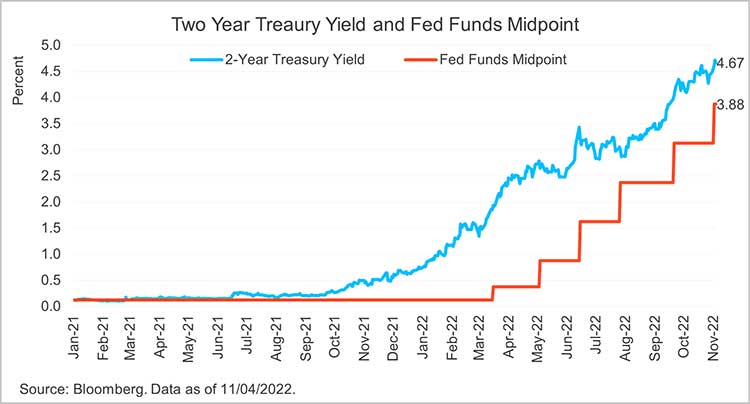 Looking Ahead
Given the sticky rates of inflation and two-year Treasury yields (among other data), inquiring minds want to know where that elusive terminal fed funds rate is. Where is that natural equilibrium rate for today's economy? In the November 2022 FOMC meeting, the Fed offered some ideas. At first, its statement regarding the terminal rate initially seemed dovish, and analysts began reducing their forecasts. However, markets became anxious after Chairman Powell made comments in the press conference that "it is very premature to be thinking about pausing" rate increases. After the press conference, markets forecasted lower total fed funds rate increases, but a higher terminal rate.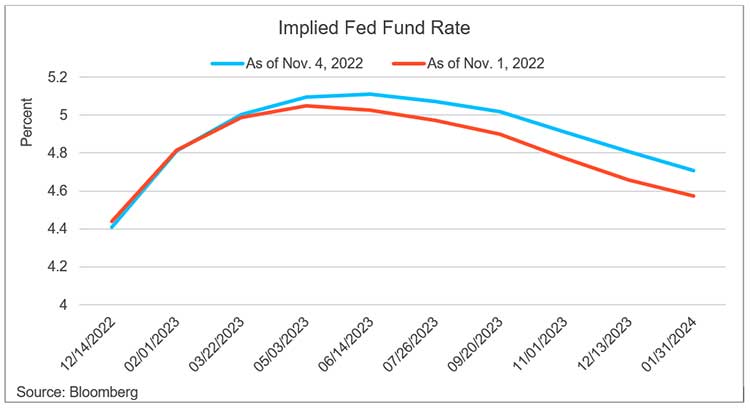 Many models now expect the terminal rate to be in the 4.5% to 5.2% range. If that's the case, we are not quite through this rate hike cycle, though we may be getting closer. Ultimately, however, future FOMC activity will be predicated by inflation. We'll be waiting, watching and hoping for better news on the inflation front in the months ahead.


Credit Vista: A safe harbor for short-term investors
Darrell Leong, CFA, Managing Director, Head of Investment Research, and Luwei Xiong, Investment Analyst
Until earlier this year, most investors were largely focused on capturing adequate yield in a pervasive low-interest rate environment. But we know the macro backdrop can shift quickly. Virtually overnight, the Federal Reserve pivoted from an accommodative to restrictive monetary policy in an effort to combat inflation. Although this shift kicked off a new rate hike cycle that has roiled financial markets, it's not all bad news. Many investors are now embracing commercial paper (CP) for its merits, including attractive risk-adjusted returns that appear well suited for the current environment.
A Commercial Paper Primer
CP is short-term debt issued by corporations, often financial services companies and other large corporations, to raise funds for working capital, strategic financing and other corporate purposes. CP allows large companies to finance business activities or even help meet inventory or payroll. Issuers like the ability to obtain funding without needing a loan or filing a registration with the SEC.
Typically, CP matures in less than 270 days. There are two types of CP: senior unsecured (corporate CP) and asset-backed commercial paper (ABCP), which is secured by a pledge or security interest in a designated pool of collateral. Currently, there is $1.3 trillion in commercial paper split among 23% nonfinancial companies, 53% financials and 24% in a variety of ABCP.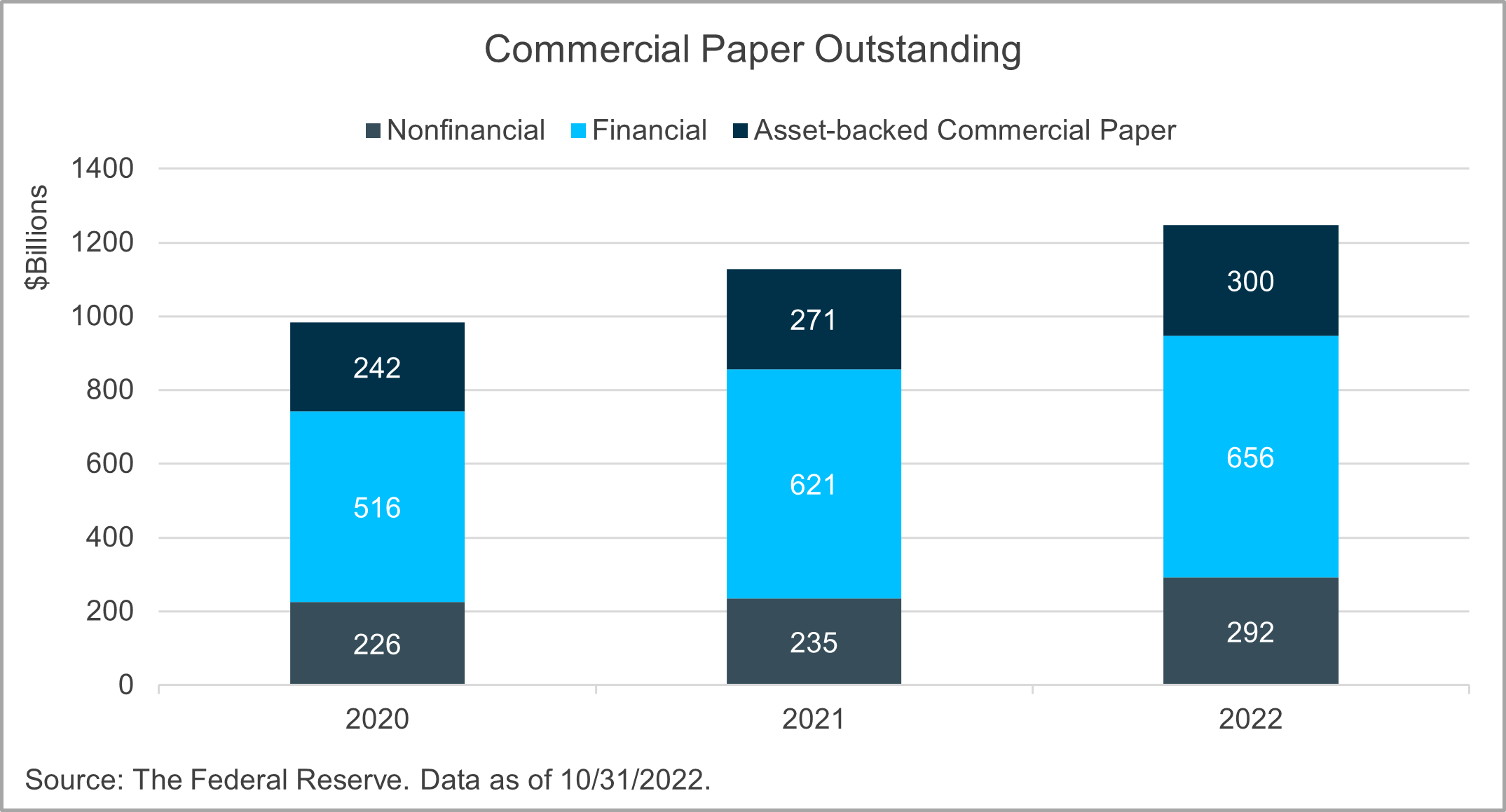 In today's rising rate environment replete with economic uncertainties, short-duration and high-liquid investments have become extremely attractive to institutional investors. We're not surprised to see CP step into the limelight for fixed income investors. CP's growth reflects the startling rate spike we've seen this year, with yields on 30-day AA nonfinancials rising from 0.05% to 3.58% and 30-day AA financials jumping from a paltry 0.08% to 3.37%.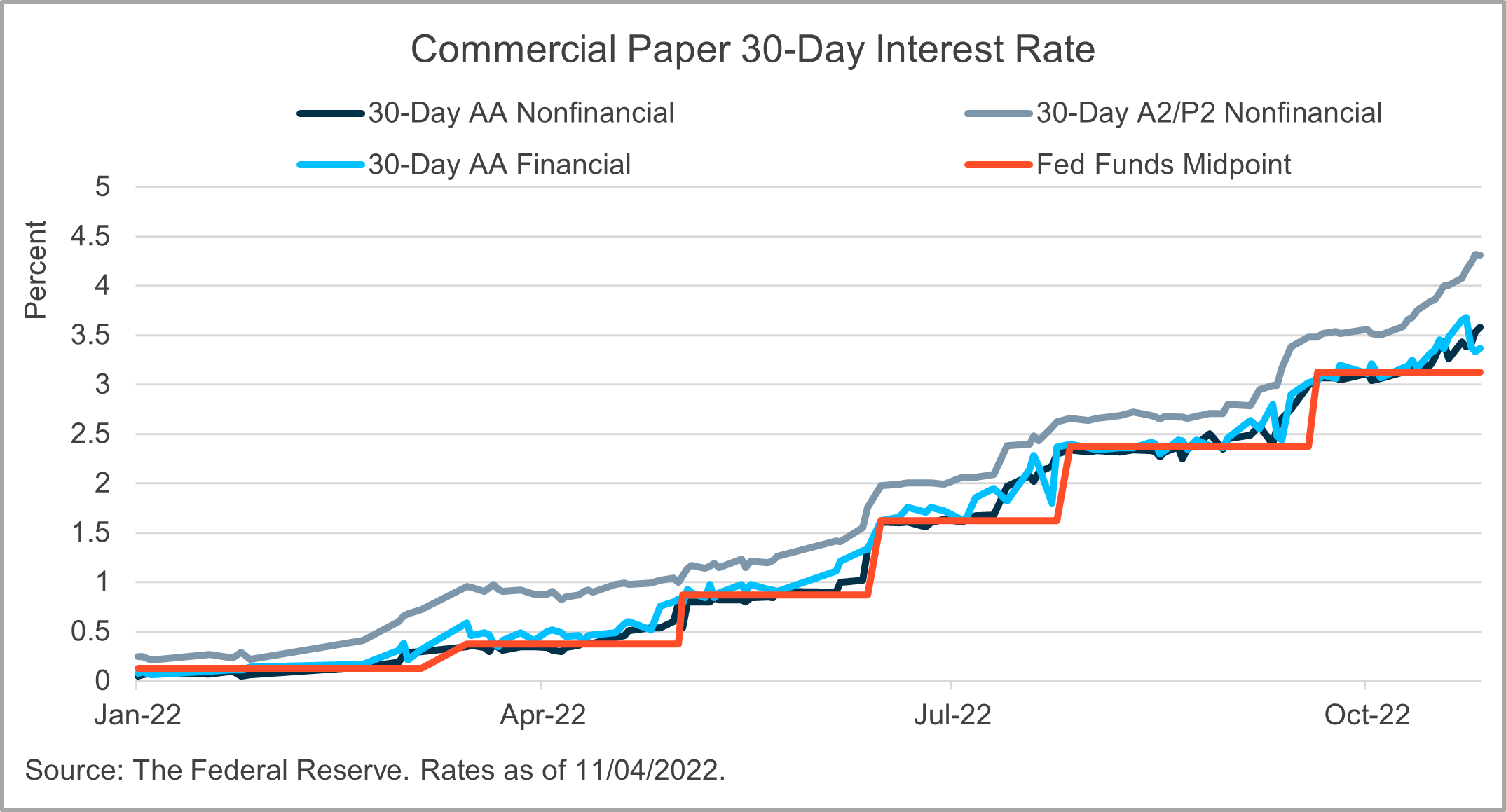 Risks and Rewards
In terms of credit ratings, CP is usually rated by at least two nationally statistical rating organizations: Standard & Poor's, Moody's or Fitch. Most domestic CP is rated "investment grade" by the rating agencies. Most issuers require 100% backup in the form of committed bank facilities to provide liquidity in the case of an inability to fund or rollover CP maturities. Certain highly rated issuers may also use cash balances for backup liquidity.
CP is often used by institutional investors who need income but also require some short-term liquidity. Short-term portfolio managers like CP for its large issuer base, short-term maturity profile and lower (but manageable) credit risk. Significant institutional investors include money funds, insurance companies, banks, state and local municipalities, pension funds and securities' lenders. While investors need to be mindful of default risk, as always, it is rare to see defaults on CP due to the high credit quality of most issuers. Investors also need to be mindful of the reinvestment risk. In other words, the issuer may not always roll over their CP program once it matures, and hence new debt instruments would not be available. `
Higher yields and short-term maturities are two ways in which investors can potentially benefit from investing in CP. Yields on CP are generally higher than those of comparable maturity Treasury Bills due to the perceived elevated credit risk, though that can be mitigated by thorough due diligence. In addition, yields on CP usually track the fed funds rate but are typically more attractive. For example, earlier this year, all 90-day US CP rates yielded below 0.5%, but as the Fed announced rate hikes at the March FOMC meeting and continued with additional hikes, CP rates jumped significantly. As of late October, 90-day AA financial CPs had a yield of 4.16% compared to 90-day T-Bills yielding 4.05%. The short-term maturities of CP also help reduce its price volatility profile, which can be appealing during these times of market turmoil.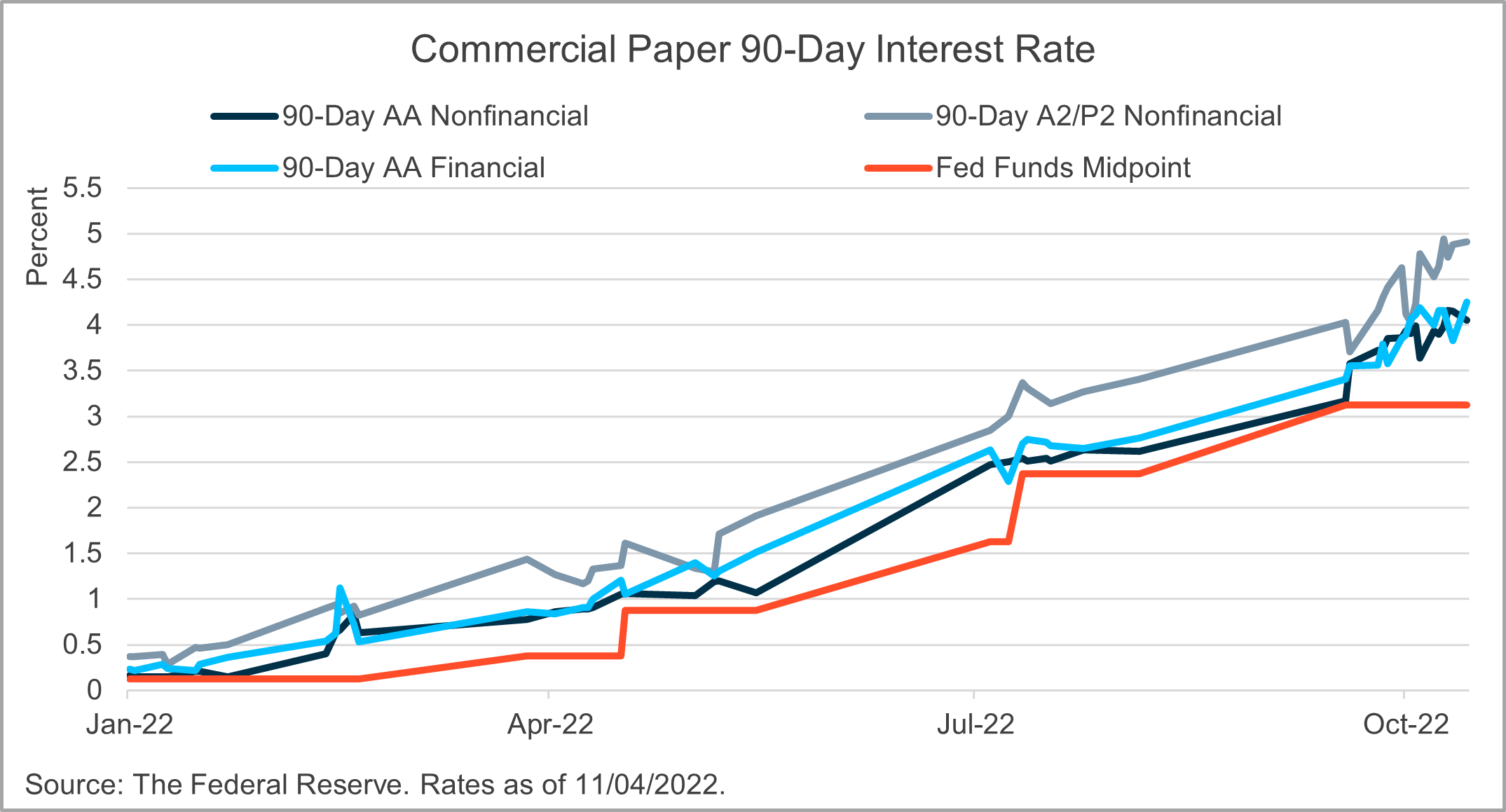 It's interesting to note that foreign financial CP has also seen a growing role in the overall market. While 53% of CPs are financial, only 18% are domestic while 35% are foreign. On the whole, domestic financial institutions maintain greater USD deposits compared to their foreign counterparts, so there is less need to tap this market. Moreover, given the ongoing strength of the USD, foreign financial institutions see this market as a potential means to capture gains by issuing USD-denominated CP. Both reasons explain the increase in foreign participation.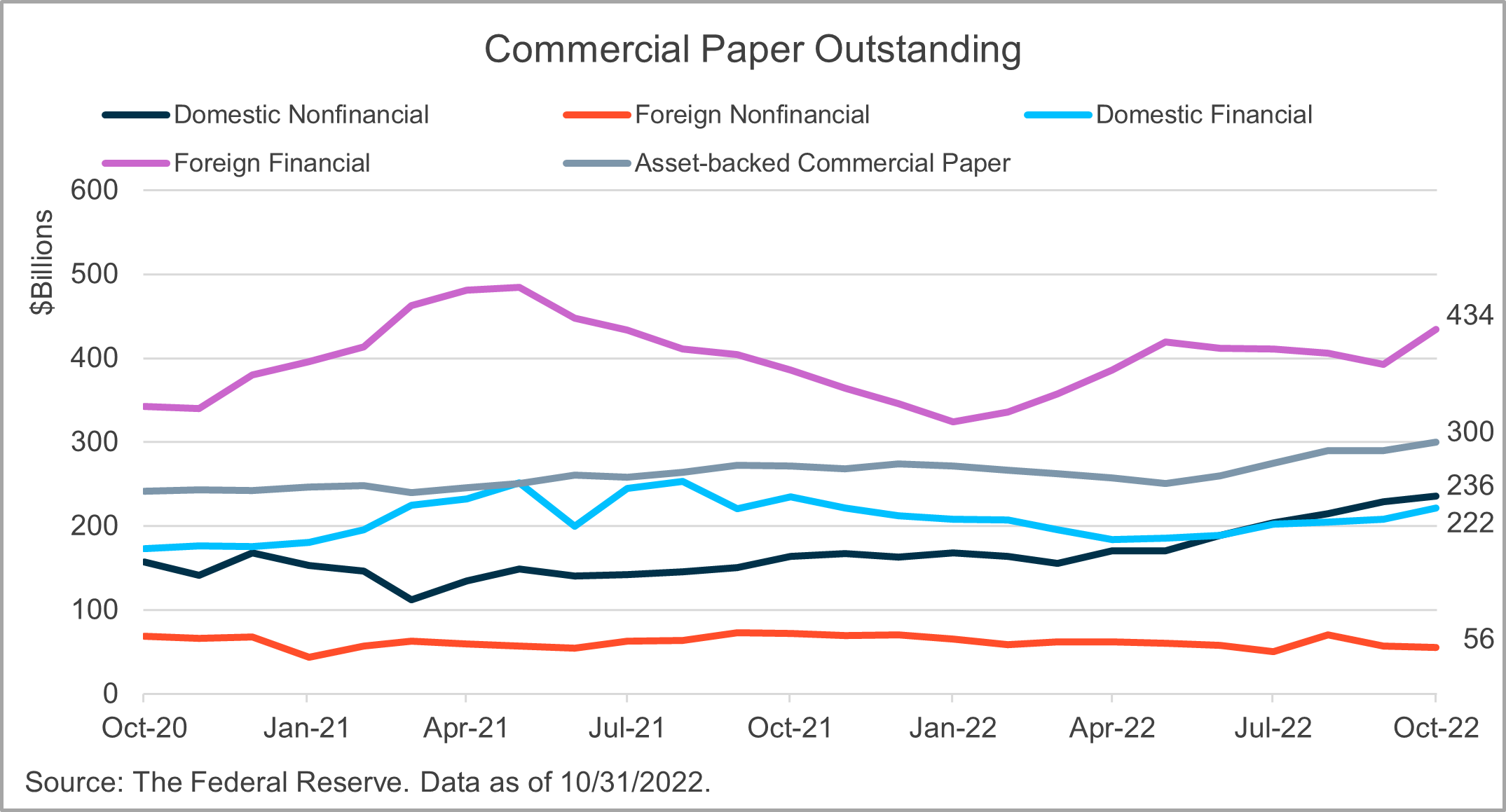 Looking Ahead
If the Fed keeps raising rates and market volatility continues, companies are likely to pay higher yields for CP issuance. Nevertheless, CP remains attractive for companies as a means to secure cheaper funding and to prepare for a potential 2023 recession. By the same respect, the higher yields of CP should keep attracting investors who also seek safe harbor for their cash should there be an economic downturn.
Trading Vista: Flying Fed speak
Kyle Lojek, Fixed Income Trader
It's a dove. It's a hawk. It's the Fed!
While the Fed matched market expectations by delivering another 75-basis point (bps) hike, the latest in its aggressive tightening cycle, the tone interpreted by the market was surprisingly mixed. The FOMC's November 2022 statement was deemed dovish and included language suggesting a possible end to monetary tightening by referring to the "lags with which monetary policy affects economic activity and inflation, and economic and financial developments." Many investors read this as a signal that the pace of hikes will slow in the near term (after all, the market is pricing in another 50-bps hike on December 22, which would bring levels in line with previously stated Fed targets).
On the other hand, Chairman Powell's remarks during the November press conference and Q&A provided enough to satisfy the hawks, who believe that the rate hike path still has a way to go. The hawks point to the market pricing in another 100 bps of hikes through the end of the first quarter of 2023. As the market listens closely and tries to decipher all the Fed speak, swings in rates have become the new normal. The two-year Treasury has traded within a range of 40 bps in the last month alone, from 4.30% in October to 4.70% more recently.
As the market carefully contemplates rate cuts in the next 12 months, front-end yields remain attractive (albeit volatile). Given the lack of pickup from extending duration across short duration asset classes, portfolio and money market funds' weighted average maturities remain relatively low. The demand to stay short has caused reverse repurchase facility usage to remain elevated, with just above $2.2 trillion parked there overnight, and one-month (and shorter) bills to trade significantly richer to overnight index swap (by approximately 100 bps).
As we round the corner of the final lap (hopefully) of quantitative tightening, wandering market expectations are expected to lead to further volatility. Many portfolios continue to see strong value in commercial paper and agency discount notes inside 12 months, with longer dated financial commercial paper picking up north of 100 bps to Treasuries. As year-end approaches, funding concerns are top of mind for many issuers and other cash borrowers. Our team is monitoring for any year-end funding pressures and aims to capture opportunity whenever possible.
Markets

Treasury Rates:
Total Returns:
3-Month
4.06%
ICE BofA 3-Month Treasury
0.16%
6-Month
4.54%
ICE BofA 6-Month Treasury
0.17%
1-Year
4.60%
ICE BofA 12-Month Treasury
0.06%
2-Year
4.48%
S&P 500
8.10%
3-Year
4.44%
Nasdaq
3.94%
5-Year
4.23%
7-Year
4.14%
10-Year
4.05%

Source: Bloomberg and Silicon Valley Bank as of 10/31/2022.