Business Checking
Growing your company with SVB begins with your business checking account. From seed stage to growth stage to late stage we have a business checking account tailored to supporting your success.
Tailored business checking
Services that grow with you so you can focus on what matters most—your success.
SVB Edge
Optimized for startups

Banking services for pre-series A companies to help jump-start your business.
---

Free checking for your first three years¹, 5.10% annual percentage yield (APY)² on savings, and 2X unlimited reward points³ on card purchases.


A business checking account with no maintenance or transaction fees, free¹ online banking, unlimited incoming wires and ACH, unlimited outgoing wires including FX, bill payments and mobile deposits.
Connections to Quickbooks, Xero, Expensify and other authorized applications.
A startup money market account with up to 5.10% annual percentage yield on qualifying balances.2
A business credit card with 2x unlimited points³, no annual fee and no foreign transaction fees.
SVB ScaleUp
Optimized for startups and venture-funded

Banking services for growing companies with an increased number of transactions.
---

Accelerate your business with a $500 monthly credit that can be applied to your service fees.4


$50 monthly fee waived for the first year.
Online banking including foreign exchange, customized reporting and connections to authorized accounting applications.
Wires - incoming and outgoing (USD domestic and international, FX).
Lockbox Services - including remote, wholesale and imaging.
Payment automation through back-office accounting software or ERP.
Remote Deposit Capture to scan and send electronic images of checks.
Fraud Control Services including Positive Pay with Payee Validation and ACH Blocks/Filters.
Analyzed Checking
Optimized for venture-funded and corporate banking

Banking services for scaling companies with higher transaction volumes.
---

Service charges can be offset with earnings credit (ECR) based on your account balances.


Access to full suite of cash management services for more complex banking needs.
Receive earnings credit on balances that can offset most maintenance and service fees.
Access cash management services to help you simplify accounting, lower business costs and better manage cash flows.
Group accounts together to simplify cash management by combining earnings credit and eligible fees.
Detailed monthly analysis statements let you easily monitor account activity.
Explore more ways SVB can help you
Our banking products can help support you as you look to unlock new opportunities no matter your stage of growth – contact us today to learn how SVB can help your business.
Corporate Cards
SVB Corporate Cards5 are designed to help you better manage your spending and payments transactions, while you scale and grow your business.
Cash Management
A full suite of cash management, fraud control and money movement services.
Global Banking Services
Banking, investment and advisory services designed to support your business as you look to expand globally.
Online Tools & Integration
24/7 banking tools designed with maximum flexibility, integration options and robust security.
Lending
Flexible, tailored financing solutions5 to help you fuel your business strategies.
Foreign Exchange Services
Foreign exchange services6 to help you optimize currency moves and manage risks better in international markets.
Learn how to get more out of your banking relationship
With over 40 years of experience partnering with innovators and entrepreneurs, SVB is uniquely positioned to help you get the best value out of your company's banking relationships.
Executing a successful startup pivot
Silicon Valley Bank
Top metrics for evaluating startup health
Silicon Valley Bank
One CFO's key to success: Understand people before numbers
How to Take Your Startup Global: Q&A with Caitlin Haberberger
What's included with our business checking solutions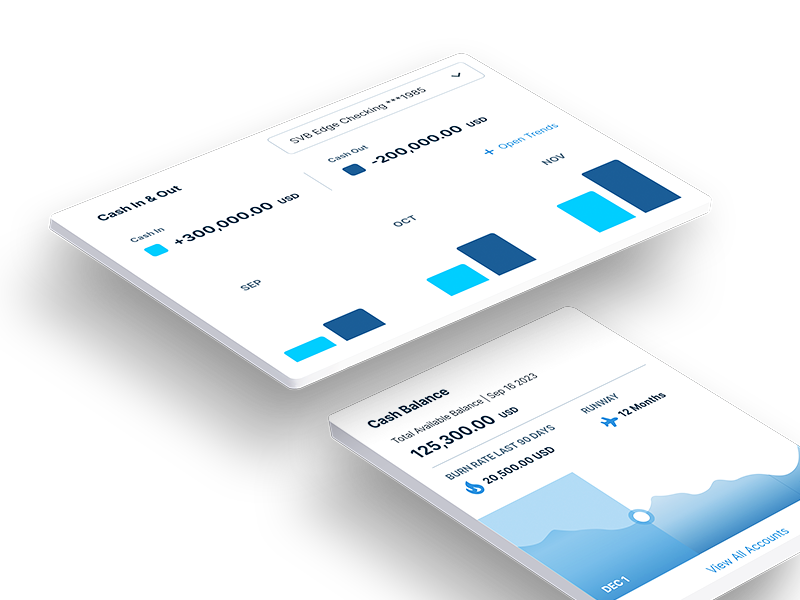 More ways SVB can help you bank smarter and more efficiently
Integrated solutions designed to help streamline and connect your business processes
Startup Banking
Our startup banking financial services help support founders get launched and gain flexibility to scale.
Venture-Funded
Our banking and advisory services for venture-backed businesses can help meet the complex needs of fast-growth companies.
Corporate Banking
Our banking and advisory services for late-stage and public businesses help support with building value and managing growth.