State of the Markets Report
Tech Titans Dominate
Recent headlines might be all about tariffs, potential trade wars and turmoil, but investors' appetite for tech appears unabated. Tech titans continue to lead this bull market and monopolize top slots as the most valuable U.S. companies. So while the IPO window remains open for emerging companies and both strategic and financial buyers have ample cash on hand for deals, investors and operators would be wise to acknowledge the underlying risks. The venture economy is not immune to economic downturns, so global growth rates bear watching.
Of course investors' love affair with tech is not a U.S. phenomenon. This quarter we travel to China, which has quickly established itself as a leading innovation economy with a proliferation of young unicorns. The "hardware capital" of Shenzhen offers a fascinating case study, evolving from its origins as a sleepy fishing village to engaging in low-value manufacturing and becoming to global tech powerhouse in just a generation. China's influence is spreading to Southeast Asia by exporting tech and establishing programs to partner with neighboring countries. The influence of Chinese tech is not a passing phase, but rather it is just a beginning.
Download the latest State of the Markets report to learn more.
DOWNLOAD THE REPORT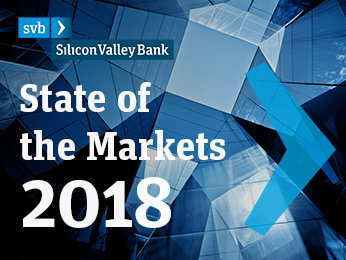 Thank you! Click below to download the report.
We have also added you to receive future State of the Market reports and emails.
Please check your email box and follow the instructions to confirm your subscription.
By providing your email address and clicking on the Subscribe button above, you consent to receive emails from Silicon Valley Bank. You also consent to the terms of our Privacy Policy. If you have privacy questions, you may contact us at privacy@svb.com. You can withdraw your consent at any time.
Now Let's Get Started
---
See how SVB makes next happen now for entrepreneurs like you.