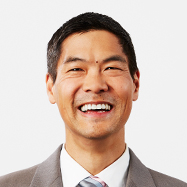 Timothy Lee, CFA
Senior Credit Risk & Research Officer
SVB Asset Management
Office
Professional Summary
Tim Lee, CFA, is a senior credit risk and research practice lead for SVB Asset Management (SAM). In this role, he researches and recommends fixed-income investments in the corporate, municipal, sovereign and securitized product sectors. Completely at home in the frenetic realm of international economics, Tim thrives on learning about and researching a diverse range of investment opportunities. He's a virtuoso at figuring out how companies operate and how their products work as well as the assumptions that back an investment structure. Tim particularly enjoys covering the healthcare industry. He's fascinated by the sector's triumphs and challenges, including new treatments and the complexities of paying for them as well as the continuing evolution of healthcare management.
Before joining SVB, Tim researched and recommended investments for public pension plans at an investment consulting firm. Prior to that, Tim was a senior member of the fixed-income markets practice at Bloomberg L.P., where his focus included macroeconomics and strategies in the interest rate, securitized products and credit sectors.
Tim earned a master's degree in economics and a bachelor's degree with honors in international relations and economics from San Francisco State University.
Outside of work, Tim loves to travel and has visited all 50 states. He also supports Best Buddies, a nonprofit dedicated to helping people with intellectual and developmental disabilities. He cycled 100 miles on his mountain bike with Team SVB in the Best Buddies Challenge: Hearst Castle. And lastly, a word of advice: Don't get into a "my first car was groovier than your first car" contest with Tim. His was a snazzy (for the time) 1979 AMC Concord, a car that continues to hold a special place in his heart.
Contact Information
Now Let's Get Started
---
See how SVB makes next happen now for entrepreneurs like you.