Key Takeaways
2021 was the largest healthcare fundraising year ever, surpassing 2020's record of $16.88B.
Biopharma, healthtech, dx/tools and device all showed record investment, with healthtech up 157% compared to 2020.
Device, led by a 3x increase in European investment, was up 53%.
As 2021 ended, SVB looked back on the unprecedented investments and exits across the main healthcare industry sectors: biopharma, healthtech, dx/tools and device.
I invite you to download a complimentary copy of the SVB Healthcare Investments & Exits 2022 edition covering data from the entire year of 2021.
This blog features a high-level overview of seed and series A by subsector/indications and a summary of exits and predictions for each in the coming year.
Investors double down on healthcare innovation
As discussed in my last blog covering 2021 mid-year investments and exits, Covid-19 has caused an unprecedented change in the healthcare industry resulting in massive disruption across all healthcare sectors. That investment storyline remains true across the entire year of 2021. Scientists, innovators and healthcare experts are problem-solving and inventing rapidly. Venture investors are eager to be at the forefront of innovation and growth, often doubling downing on perceived portfolio winners.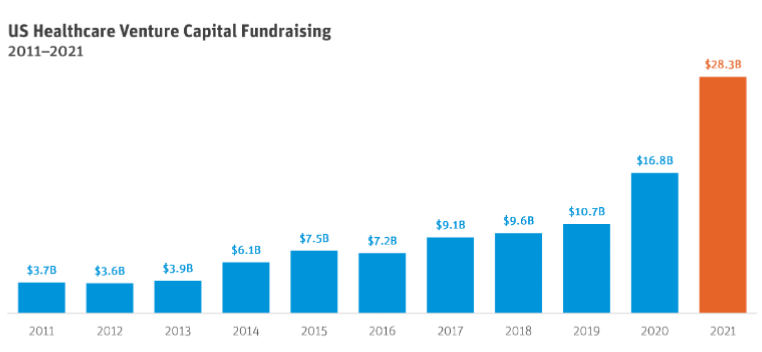 All this momentum has turned 2021 into the largest healthcare fundraising year ever ($28.3 B), surpassing 2020's record of $16.9B and nearly tripling the capital available just two years ago.
2022 healthcare predictions
VC fundraising will likely slow down as most firms raised new funds in the last 12-18 months. These investors will focus on investing their recently closed funds, likely at a slower pace than 2021.
"50% of all VC-backed US healthcare companies that raised rounds in 2021 have a banking relationship with SVB."
Biopharma: Investments strong in 1H but slow in 2H
Biopharma led the seed/series A charge in healthcare for the year with $7.9B in VC investments across the US and Europe. Seed/series A dollars and deals increased significantly. Activity remained strong throughout the year, although overall investment in biopharma decreased each of the last three quarters in 2021.
We were amazed to see recent seed deal sizes regularly totaling $10-$20M, blurring the line between how the market defines seed and series A deals.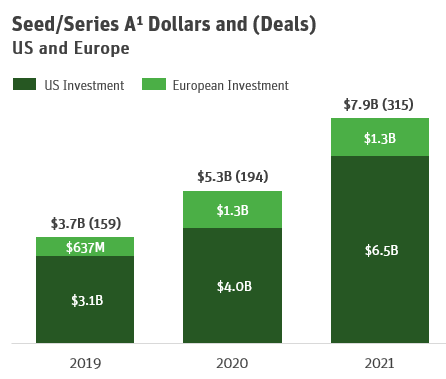 Biopharma subsectors seed/series A:
Platform deals, which are early-stage pre-clinical companies without a lead asset, led in dollars and deals for the second year in a row with $2.8B invested in 80 deals-doubling 2020 investment

Oncology companies, dedicated to the treatment of cancer, also gained momentum with $1.9B invested in 72 deals

Neurology companies focused on CNS and pain saw a 6.8x increase in funding since 2019 with $1B invested in 45 deals

Anti-infective companies leverage technology to prevent infectious diseases, often focused on epidemics and pandemics, saw a 4x increase since 2019
Take a deeper dive on page 8 of the report to look at orphan/rare and autoimmune subsectors/indications and page 10 and 11 to see active investors and investment activity by geography.
Biopharma exits
Private M&A activity dropped to the lowest level since 2013 while IPOs surged to a record 92 deals, although post-IPO performance was significantly poorer than the previous two years.
2022 biopharma predictions
There will be less investment in the sector as crossover investment activity in mezzanine financings will continue to decrease, impacting the size and number of these pre-IPO financings. This will also result in lower valuations for series B and later deals. We think IPO activity will be down about 50% (50 + IPO), favoring companies with a differentiated but straightforward story and strong insider syndicate. M&A should pick up in 2022 but will focus more on newly public companies already trading at a discount as well as private pre-clinical deals.


HealthTech: Early-stage activity doubles
HealthTech is taking patient care to the next level. Seed/series A deals more than doubled year over year. The average deal value increased from $4M (2020) to $8M (2021), driven by 11 $50M deals, with six of these deals focused on clinical trial enablement technologies.
HealthTech subsectors seed/series A
Provider Operations (PO) that increase efficiency and accuracy of provider-provider and provider-patient interactions took the lead in dollars and deals. We noted $1.2B invested across a total of 194 deals, representing a record 34% of total funding. This is due to consumer pressure for healthcare providers to digitize their practices. We expect continued early-stage investment into PO companies pursuing workflow optimization, including video consultations and virtual chats with providers.

Clinical Trial Enablement solutions accelerate drug discovery and the digitization of clinical trials. Companies in pharma and biotech are starting to adopt new digital solutions for clinical trial enablement attributed to the growth. This subsector saw $938M investment in 60 deals.

Alternative Care provides primary or specialty care outside of a hospital or private practice. This subsector saw $756M in investment dollars in 133 deals. Two of the largest seed/series A deals in alternative care focused on virtual care: one in senior care (Patina Health) and the other in mental health (Koa Health).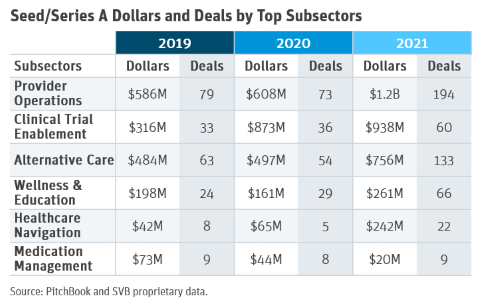 HealthTech exits
HealthTech exits hit an all-time high. Post-IPO performance was down, likely because of the lofty valuations in private financings and the downward pressure from poor performing de-SPAC transactions in 2021. The M&A market was strong, with three $1B+ private M&A and another 10 publicized $200M+ deals.
2022 healthtech predictions
2022 will be the year of M&A for healthtech as we anticipate massive consolidation. Investments will be healthy but not at 2021 levels. This will create many acquisition opportunities as companies look to enhance their product offerings, expand their reach to other markets or acqui-hire for talent and/or clinicians.
Diagnostic and tools: Investment leads record late-stage activity
Dx/Tools investment hit $1.1B. Seed/series A deal count was up significantly, doubling the deal pace of the last two years and buoyed by the ongoing investment activity from the UK.


Dx/Tools subsectors seed/series A
R&D Tools, including research equipment/services for biopharma and academia, took the lead with $492M invested in 79 deals. Of those deals, four were $20M+ financings and accounted for three of the top four largest early-stage deals in this sector. There was accelerated activity in computational biology companies leveraging software and data to aid in the drug discovery and development process.

Dx Analytics companies focused on creating tech that leverages actionable data analytics and artificial intelligence/machine learning algorithms to help clinicians determine the best course of treatment. This subsector experienced increased deal activity with $286M invested in 45 deals with a significant aim on oncology. Dx Analytics also had the highest sub-sector median pre-money valuation ($12M).

Dx Test, defined as proprietary yes/no diagnostic tests, experienced strong international demand for Covid-19 testing at home and in healthcare settings. It's no surprise to see year-over-year growth spike in this sub-sector from $175M invested in 28 deals closed in 2020 to $283M invested in 46 deals in 2021.
Dx/Tools exits
Dx/Tools saw record numbers of IPOs and M&A. However, pre-money IPO values were down, and average post-IPO performance was mixed, with US IPOs down significantly. M&A activity in 2021 yielded the best upfront deal multiples (5.3X) we have seen in the past four years.
2022 Dx/Tools predictions
We estimate another 10-15 IPOs in 2022, but at lower valuations. Private M&A will remain strong with 20+ deals in 2022. We will monitor the ability of highly valued private dx/tools companies to achieve an exit in 2022.
Device: Extraordinary circumstances brings about $1B in investment for the first time
The increased demand for monitoring patients outside the hospital setting has become critical in today's world.
Device subsectors seed/series A
Non-invasive monitoring that collects medical data through sensors and other wearable technology exploded across multiple areas including neurology, cardiovascular, respiratory, and metabolic companies. The NIM subsector led with $250M in investments in 45 deals, up 92% over 2020. Due to supply chain challenges, there may be an impact on development timelines or revenue trajectories in 2022.

Imaging saw significant early-stage investment at $108M in 17 deals as hospitals looked to optimize procedure efficiency in their most profitable surgical areas.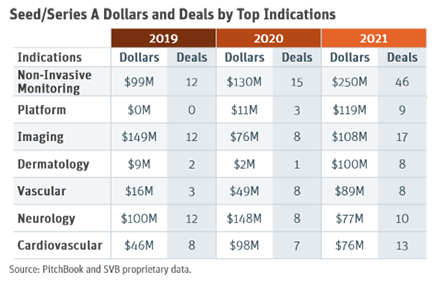 Device exits
Device also had a record number of IPOs and the most private M&A since 2013. Average post-IPO performance was up +2% but down significantly from the last three years. In M&A, we currently have the most diverse acquirer base we have even seen. Upfront values in M&A were up in both 510(k) and PMA pathway companies.
"75% of all VC-backed healthcare IPOs since 2020 have a banking relationship with SVB."

2022 device predictions
Investment will likely decline as non-venture investors slow down mezzanine investing. The IPO window will remain open for big market stories with early revenue traction, leading to an estimated 10-12 IPOs in 2022. Pre-revenue companies or 510(k) deals with burgeoning revenue will find it challenging to go public. M&A activity will stay hot, as a diverse set of acquirers compete for the top deals.
There's much more to discover in the report including post series A investment, top investors across subsectors/indications, an entire section dedicated to computational biology on pages 24-27 and multiple charts and analyst commentary.
To take a closer look at 2021 performance, download the full report: Healthcare Investments and Exits: Annual 2021 Report.
Where does SVB come in? We live and breathe life sciences and healthcare.
Learn more about how we support companies in their efforts to advance healthcare. Explore our life sciences and healthcare practice and contact us.