Key Takeaways
AR/VR for the enterprise is emerging as its own ecosystem to enable collaboration, immersive learning and productivity tools
Two of the largest VR companies see growth challenges amid challenging microeconomic environment
AR/VR founder spotlight: Tilt Five, Osso VR and 8th Wall (Acquired by Niantic)
The second half of 2022 has been tumultuous for the Virtual Reality (VR) and Augmented Reality (AR) industry. AR and VR are mediums of communication that exist on a continuum of partial to total immersion in a virtual world. To deliver these experiences, an ecosystem of hardware, developer tools and applications serving consumers and enterprises have arisen over the past several decades.
AR/VR for the enterprise is emerging as its own ecosystem. In this blog, we'll unpack some of the big headlines surrounding headsets and feature several founders innovating in this space.
Reality-Virtual Reality Continuum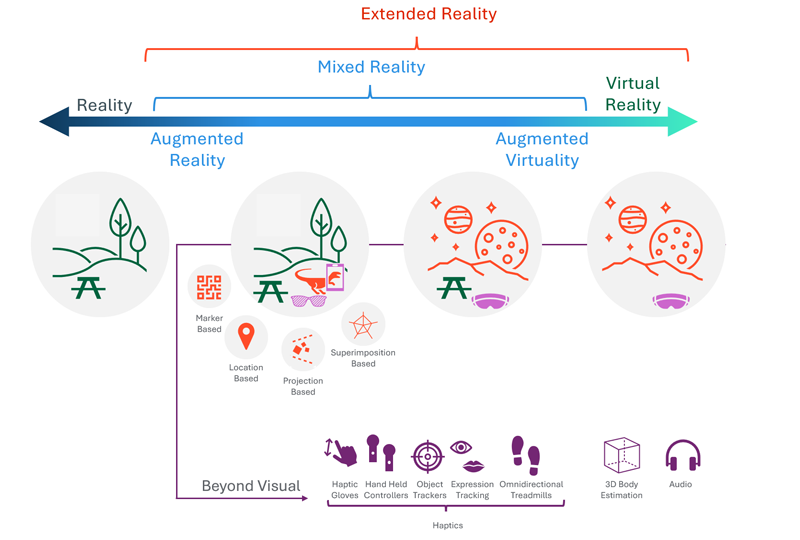 Headsets Buried Under Headlines
VR Headsets – For Gaming and Work
At least seven VR headsets are on track to release in 2023—the most we've seen since 2019. However, they will be entering a tough market. In 2022, Meta and Pico, the two large VR headset producers have struggled.

Meta's shareholders reacted negatively to spending on Reality Labs (Meta's stock has declined roughly 66% year-to-date).1 It is casting a shadow on the release of the Meta Quest Pro – which is Meta's first headset marketed to the enterprise that features virtual experiences for collaboration, immersive learning and productivity tools. The $1,500 price tag sets it apart from consumer headsets which are often subsidized to gain market share and then recoup the loss with content sales.

The Meta Quest 2 VR headset for gaming has a $300 price point ($100 less than the original Quest). In July 2022, Meta backtracked and increased the price by $100, citing increased costs.2

Pico (acquired by ByteDance in 2021 for a reported $775M)3 has also faced challenges with the release of Pico 4 Enterprise, expected to launch in 2023 priced at $900 with controllers4-- indicating the broadening of this category. Reports indicate that the company has scaled back sales targets. The consumer headset has a ticket price of roughly $425, and Pico reportedly loses $140 on each headset.5 While Pico doesn't directly compete with Meta Quest, Pico's software and content lineup is narrower in scope. Pico and Quest another gaming VR headset under Meta, sit within parent companies with core businesses outside of AR/VR; they may struggle receiving the same level of investment given challenging global economic conditions.

Building an Industry
Meta's rebrand to focus on the Metaverse has been criticized by investors after Meta missed earnings in the second and third quarters and is on track for a similar outlook for the fourth quarter 2022. The company has spent $36B on its Reality Labs division since 2019 and has committed $70B through 2026 to develop the Metaverse. (By comparison, Apple spent $3.4B in R&D between 2002 and 2007 to develop the iPhone.)6 Meta's investment strategy shows their commitment to innovation in the space. As the market continue to evolve, early strategic partnerships that lay the groundwork for enterprise AR/VR will be critical. Microsoft has teamed up with Meta to integrate Microsoft Teams with Quest devices, streaming all Microsoft apps and Xbox Cloud gaming. Microsoft will build its own virtual immersive world for industrial applications via its Industrial Metaverse Core team.7

VR Headsets Under $1,5001

* Price not releasd. Source: SVB analysis 1. Price reflects the lowest price at launch, may not include controllers and accessories. Not included are developer kits offered to developers for free. Details of unreleased headsets subject to change.
AR Headsets Wearables Make a Comeback
Just as VR headsets expand into enterprise, we see the same shift in AR. Since Google Glass debuted in 2013 to criticism over privacy, most AR headsets makers have focused on specific use cases for the enterprise. Microsoft's HoloLens AR 2 headset (released in 2019 and priced at $3,500) had the industrial segment in mind.
8
Google has dusted off and reentered the wearable market. In 2020 Google acquired smart glasses manufacturer North and began testing smart glasses specifically for language translation. Magic Leap, which has raised nearly $4B, pivoted to the enterprise space in 2022 with the release of its $3,299 Magic Leap 2
10
, after an underwhelming response to the Magic Leap 1 in 2018, aimed at consumers and creators. Apple's trademark and patent filings indicate they are coming to market with an AR headset in 2023.
11
The consensus is: Whoever wins the headset, whether it's AR, VR or a mix of functionality in both, has the next smartphone. Large tech companies have been willing to spend heavily on R&D and acquisitions to be the market leader. However, headsets are only one part of the story.
Beyond Headsets: Uncovering the Ecosystem
In addition to headsets, most smartphones have been AR-compatible since 2017.12 Improved sensors have enabled full-body tracking in VR. Open-source developer tools (Unity and Cryengine, for example) and communities (such as Meta Open Source and Niantic Lightship) lower barriers to entry for developers. Outside of large tech companies, many entrepreneurs are building innovative companies using existing tools or developing their own, including Tilt Five, Osso VR, and 8th Wall.
AR/VR Entrepreneurs Building New Realities
Tilt Five, founded by Valve alumna Jeri Ellsworth, has brought AR to gaming using a novel approach to optics. The system generates 3D images directly on a table using of two tiny video projectors mounted in the headset. The computer generated or smartphone images project from the glasses toward the table. A retroreflective board (made of millions of microscopic glass spheres) returns the images toward the glasses, creating a hyper realistic 3D image in front of the viewer. Tilt Five launched on Kickstarter in 2019 and raised over $1.7M. The company has partnered with established game studios and publishers around the world, and in 2022, they announced a partnership with the popular board game CATAN, which is set to launch in early 2023.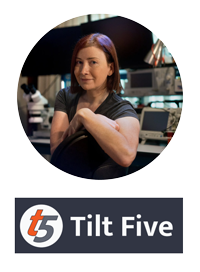 " It's been my lifelong ambition to remove the barriers to sharing video game experiences with friends and family around the table, and now the experiences are fully immersive as well! "
Jeri Ellsworth, Founder and CEO, Tilt Five

Founded in 2016 by Justin Barad, M.D., and Matt Newport, Osso VR is a surgical training and assessment program that helps practicing surgeons, and resident surgeons gain hands-on experience simulating orthopedic surgeries and working with new medical devices. Osso VR uses off-the-shelf headsets such as the Oculus Quest 2 and develops training modules for surgeons to practice surgeries in VR. The company has raised $109M and in March 2022 raised $66M series C.
" Within VR, training has risen to the top as one of the most valuable applications, especially in healthcare. The unprecedented training gaps we are seeing in healthcare have led to a rapid adoption of immersive training with eye popping results. For example, Osso VR has six peer reviewed published clinical studies showing that it can improve performance anywhere from 230-300%. It is clear use cases with demonstrable value like this that will accelerate this exciting trend across the enterprise. "
Justin Barad, Founder and CEO, Osso VR

8th Wall was founded in 2016 by Erik Murphy-Chutorian and uses web-based AR to build experiential marketing campaigns. In 2018 the company launched 8th Wall Web, enabling location-based AR through a smartphone. Murphy-Chutorian essentially beat Apple ARkit and Google ARCore to market since it is cross platform and works with all browsers. 8th Wall became the go-to for major brands seeking AR activations, including Sony, NBC, Bayer, Dior, and Walmart. Web AR is primarily smartphone driven; therefore, it has the widest reach of any AR platform. In 2022 8th Wall was acquired by Niantic for an undisclosed sum. In 2021 Niantic launched its Lightship AR Development Kit which works alongside Unity. Its Visual Positioning System (VPS) allows developers to download 3D meshes and build AR experiences onto that surface.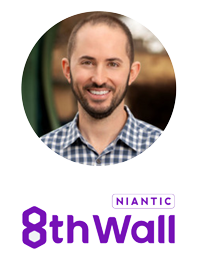 " Mobile-based WebAR on any smartphone will be the way most people experience augmented reality for the first time. For brands, agencies and developers, the real world is their AR canvas to create and extend existing brand campaigns and create entirely new, immersive, location-based experiences that invite people around the world into the real-world metaverse. With the 8th Wall platform and tools and services we provide, AR content can exist and persist in the real-world with centimeter level precision anywhere humans can walk in public, from parks to retail locations to sporting events and community gatherings. 2023 will be the year location-based WebAR takes off beyond games across music, tourism, retail and time-based events. "
Erik Murphy-Chutorian, Founder & CEO, 8th Wall
Immersed in the Future
AR/VR immersive technology enables entrepreneurs to reshape reality for consumers and enterprise. Whether it's entertainment, training assessment or a developer platform, the ever-expanding ecosystem of AR/VR will drive our collective experiences by changing how we interact with both the physical and virtual worlds. At SVB, we know that our realities will continue to evolve, and we look forward to being a catalyst in the space. Our Frontier Technology team is excited to support the companies within the AR/VR ecosystem and welcomes the opportunity to support your business.