Key Takeaways
With global supply chains gridlocked and materials costs soaring, construction technology companies are establishing themselves as a key growth driver within the innovation economy.
US venture capital (VC) investment in construction tech startups totaled $1.3 billion in H1 2022, up 44% from H2 2021.
For hardware-focused startup founders, "friends and family" rounds and nondilutive government grants are often vital sources of capital for building expensive prototypes required for VC funding.
Despite the macroeconomic outlook, construction tech remains a promising area for VC investment over the long term because of opportunities for efficiency gains and tech adoption in the industry.
Innovation in the construction industry
Amid persistent labor shortages, supply-chain disruptions and rising prices, the construction industry has been at the heart of many of today's most pressing economic challenges. Often overlooked, however, are the industry's tech-related startups. This side of the industry, dubbed "construction tech," is providing market-driven solutions by increasing efficiency and reshaping construction through innovative products and services.
One of the key paths to innovation is through VC-backed startups. To illustrate, public companies that were once VC-backed are more than twice as innovative as other public companies, as measured by the quality of their patenting activity, according to a 2021 report. It is no surprise, therefore, that the need for innovation in the construction industry has resulted in more VC funding for startups in this sector. US construction tech companies raised $1.3 billion from VC and private equity (PE) growth investors in H1 2022, up approximately 44% from H2 2021's investment of $0.9 billion (Source: PitchBook).
US VC Construction Tech Investment


Construction tech is growing faster than other innovation sectors. VC and growth equity investment in construction tech startups increased approximately 3.3x between H1 2017 and H1 2022, compared with 2.3x in other tech industries during the same period, according to PitchBook. (Note: Investment totals for non-construction industries were $178.1 billion in H1 2022 and $76.5 billion in H1 2017.)
This investment in construction tech is going to both software and hardware companies. Software companies — such as Procore and EquipmentShare — are broadly focused on efficiency gains through the management of the financial, contracting and construction processes. Hardware companies are focused on physical goods and services, such as robotics and the manufacture of materials and building components. These companies are reducing the time and the cost of building everything from homes and offices to highways and ports.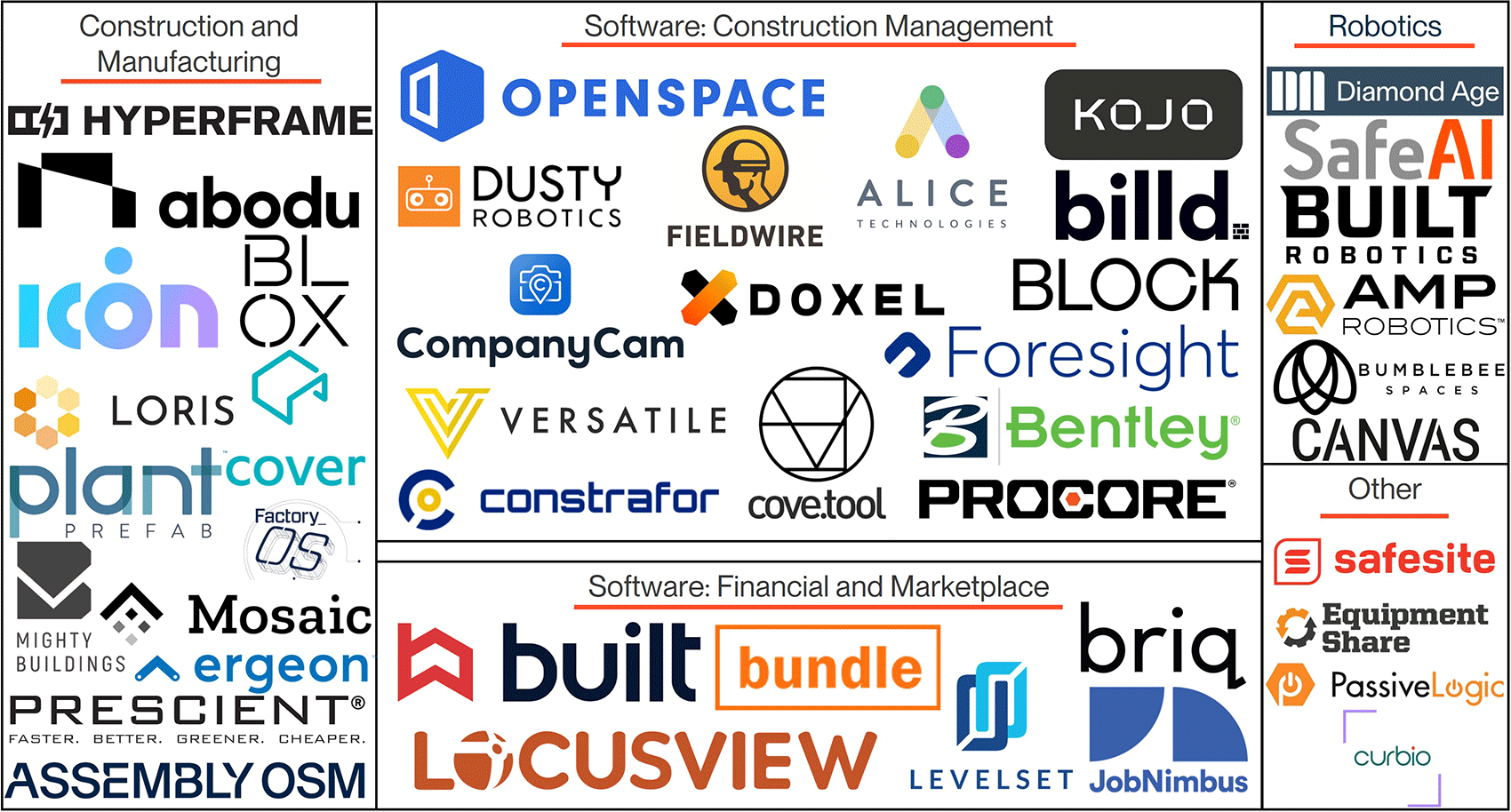 Notes: The market map shows construction tech companies associated with some of the largest funding rounds since 2019, based on PitchBook data as of July 31, 2022.
Diverging valuations
Valuations of early-stage construction tech startups have increased over the past five years, largely tracking trends in the VC ecosystem generally. In H1 2022, however, the pre-money valuation for construction tech companies at the Series A and seed stages did not mirror the meteoric rise in startup valuations for other industries, notching a more tempered increase year-over-year. These lower valuations could make construction startups more compelling to investors. It remains to be seen whether this difference in valuations will persist or whether valuations will reconverge as startup pricing begins trending downward with the larger market correction.
Median Pre-Money Valuations, by Industry and Stage




Notes: SVB analysis based on data from PitchBook. Data is as of June 30, 2022.
While construction tech is still a small part of the venture investment ecosystem, the vertical is beginning to see some blockbuster exits. Since the beginning of 2019, we've seen five exits of PE- and VC-backed companies with valuations over $100 million, including two public exits through traditional IPOs. Large exits such as these are critical to the recycling of talent and capital to start and fund new construction tech companies.
Largest construction tech exits, 2019 through H1 2022




Notes: PitchBook data as of July 31, 2022. Only US-based company exits with a deal size greater than $100 million are included. The Katerra buyout in 2020 is excluded due to the company's bankruptcy in 2021.

The growth and maturation of the construction sector have led to new opportunities for startups, VCs and customers, but this increasing complexity also can make it difficult for founders to effectively navigate the environment.
The funding journey
The relatively low level of tech adoption in the construction sector presents an opportunity for startup founders with innovative products and ideas, as there is less competition from entrenched tech companies, leaving market share up for grabs. In a December 2020 study, for instance, researchers found that the construction industry had the lowest rate of business technology use among all other industries. Because many construction tech companies have a hardware component, they often face challenges that software startups may not. Successful companies — and the VCs that funded them — provide a road map for companies and founders just starting on their growth journey.
Raising sufficient pre-seed capital can be difficult for construction tech companies, as building prototypes — even at a small scale — can be costly. For example, Jack Oslan and Russell Varone, co-founders of Diamond Age, used personal savings to bootstrap the company for 18 months while building an industrial-scale prototype of the company's 3D printing and homebuilding automation platform.


"We could have built a desktop model instead," said Oslan, "but to raise the capital required to build industrial-scale equipment, we really needed to show investors something bigger."
That intuition paid off when the company secured $8 million in seed funding, allowing Diamond Age to fund a demonstration project. This project catapulted the company to its Series A round, which was raised not only from VCs but also from its first customer — a huge vote of confidence for the team and their product.
Alice Leung of Brick & Mortar Ventures, a construction-focused VC firm, encourages startups in the construction space to also consider other, nondilutive resources: "We advise founders to look into government grants from agencies like the Department of Energy or the Department of Defense," she said. "Many corporates also provide free resources to startups through innovation labs, for example. While the resources themselves are valuable, winning grants or being associated with a corporate can provide a huge vote of confidence when raising VC funding."
While software companies in the construction tech space generally have lower capital requirements to build out a prototype than their hardware counterparts, fundraising and growth can still be a challenge because many VCs aren't familiar with the construction tech space.
"It requires extra effort from founders to describe the industry and how your company can scale in a very fragmented market," said Janna Colucci, CEO and co-founder of Bundle, a building materials procurement startup. "For us, it was helpful to have been the client before to really understand the customer's pain points and be able to communicate those to investors."
For VCs considering seed-stage deals, the co-founding team can be as important as the product.
"We look for a good team dynamic and the core skills that include not only construction knowledge but also the ability to build a team, raise capital and find customers," said Suzanne Fletcher, former general partner at Prime Movers Lab and current founder of Zelda Ventures. At the Series A level, what matters most is customer acquisitions: "Nothing speaks louder than getting a paying customer that is happy with your product," she said.
Future of construction tech: Navigating market cycles
In 2022, the macro environment has become more difficult for startups across nearly every industry. The message from VCs has been to batten down the hatches and survive this period of turbulence, but this narrative may not reflect the reality of all investors and startups, especially in the construction tech industry. While VCs may be signaling a slowing of their investment pace, other sources, especially strategic investors and governments, continue to deploy capital through downturns.
Strategic investors — such as corporates — can be an important source of capital for promising startups during market downturns. Oslan of Diamond Age observed that "while VCs today may be slowing investment, strategic investors aren't looking at short-term changes in the economy. Instead, they are continuing to consider startups as a key way to future-proof their businesses."
Despite rising interest rates, Bundle's Colucci noted that "there is still a shortage of housing in many locations, and there is a lot of opportunity to increase efficiency in the homebuilding process."
This provides a sustained opportunity for both hardware and software construction tech companies to make inroads with strategic investors despite the potential downturn.
The government also has an important role to play by maintaining construction spending during downturns to counteract lower private industry spending. Following the global financial crisis, for instance, private construction spending decreased significantly. Spending by the government, however, increased between 2006 and 2009, compensating for part of the decrease in private spending. If the market experienced a prolonged downturn, construction tech companies might benefit from pursuing public projects.
Public and Private Construction Spend, Indexed to 100 in 1995

Notes: Data represents the value of construction put in place, seasonally adjusted annual rates. Data is provided by the US Census Bureau as of August 1, 2022. Data was indexed to 100 as of January 1995 to better represent trends.
In the construction tech space, VCs and CEOs should remain optimistic about the long-term prospects of the industry despite a likely more difficult fundraising environment in the near term. Construction is undergoing a period of reimagining how work is done — from automation of building processes to improved project management — providing a foothold for promising new concepts, products and startups to enable the industry's ongoing evolution.
For more information about how SVB can partner with your startup and take your ideas forward, please contact Faisal Mostamandy, senior vice president, SVB Frontier Tech team.
Acknowledgments
Thank you to Suzanne Fletcher of Zelda Ventures, Alice Leung of Brick & Mortar Ventures, Janna Colucci of Bundle, Kevin Albert of Canvas and Jack Oslan of Diamond Age for sharing their expertise and providing helpful background for this article.