The following article appeared in the Pitchbook-NVCA Venture Monitor report. Read other articles and learn more about our new partnership.
Advanced manufacturing: Can a cobot help you with that?
As the move to automate manufacturing intensifies, we are witnessing the rise of cobots. Cobots, as the name implies, are robots deployed alongside human workers to assist them in a variety of tasks, adding flexibility and cost efficiency. Investors are taking notice, as initiatives like Industry 4.0 take hold and the use of advanced manufacturing technologies explodes. The collaborative robotics market is growing at a compound annual growth rate of 57.4 percent and is now projected to reach $4.4 billion by 2023, up 25x from 2016.
Once the cornerstone of the U.S. economy, the manufacturing sector has declined precipitously from its peak four decades ago. At the sector's height, U.S. manufacturing jobs totaled nearly 20 million, or 22 percent of U.S. employment. Driven by manufacturing moving overseas and, more recently, automation, by February 2018, there were 12 million U.S. manufacturing jobs, or about 8.5 percent of all U.S. jobs. However, there is a new, emerging kind of automation that is designed not to replace human workers but instead complement them, and the jobs decline is starting to reverse.
What is a cobot?
The adoption of cobots is primarily driven by small- and medium-sized businesses. In these businesses, manufacturing tasks tend to be more flexible and operations are more easily modified, making the overall cost of integrating cobots more manageable. Cobots are designed to assist human workers with a variety of low-skill tasks, including machine tending, material handling, assembly tasks and packaging. Their presence frees up workers to focus on more advanced tasks. Cobots are designed to be "aware" of their surroundings so as not to interfere with or harm human workers. An added benefit is that there isn't a need to set up designated areas for robot-only operations, which is costly and can add inefficiencies to the production process.
Human labor vs. cobots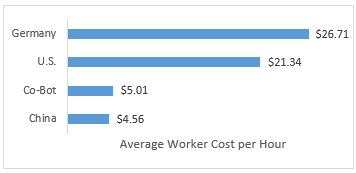 As illustrated in the chart, the hourly cost of cobots is competitive with that of manufacturing in China. This can allow U.S.-based manufacturers to add incremental capacity in an affordable way. Given the pressure to reduce the cost of manufacturing and production, the flexibility afforded by cobots collaborating with human workers makes cobots an attractive solution.
Investment opportunities grow in advanced manufacturing
The potential of machine-human interaction in the workplace is driving investor interest in this developing area of robotics. The number of venture capital investments in advanced manufacturing took off in early 2014, with a large proportion flowing to robot developers and manufacturers.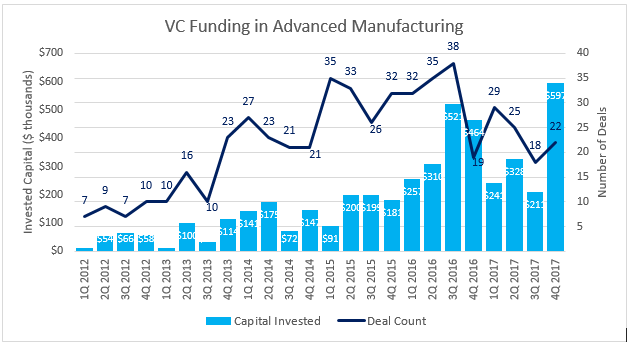 Source: Pitchbook data, SVB analysis
Investment in advanced manufacturing in Q4 2017 reached a record $597 million as more mainstream venture capital investors became active in applied robotics. Driving this trend is a growth in short-term revenue opportunities, unit economics and recurring revenue. Traditional hardware companies tended to sell their products in single transactions. These days, however, robotics companies are using the HAAS business model, which effectively spreads the cost over a contracted period. This allows robotics companies to bundle other services, including software packages, maintenance services and replacement parts. This, in turn, is boosting customer adoption, as there is either no or minimal upfront payment required. The HAAS model also gives robotics companies a more predictable revenue stream. This business model provides a clear advantage to startups that are raising private capital, compared with large established OEMs that have greater financial resources.
Rethink Robotics and AUBO Robotics are two U.S.-based, VC-backed startups leading the cobot revolution. They are competing with an international assortment of companies, including Universal Robots (Denmark); KUKA Robotics Corporation, MRK-Systeme and Bosch (Germany); ABB, MABI Robotic and F&P Personal Robotics (Switzerland); and FANUC and Kawada Industries (Japan).

As collaborative robots emerge, investors should keep in mind that they are just one piece of the automation puzzle. The advancement of cobots and robots, for example, is directly linked to developments in artificial intelligence and robotics and sensor technology. Supporting subsectors are also critical to a fully optimized automation solution. These sectors include RFID tagging, monitoring, predictive analytics, inventory and ERP systems, as well as industrial internet of things. Ultimately, the combination of these technologies will shape the factories of the future.
Companies referenced throughout this document are independent third parties and are not affiliated with SVB Financial Group.
The views expressed in this article are solely those of the author and do not reflect the views of SVB Financial Group, Silicon Valley Bank, or any of its affiliates.
COMPID 1261