Key Takeaways
Entrepreneurs are 50% more likely to suffer from a mental health condition, and the COVID-19 pandemic and subsequent quarantine are only exacerbating matters.
In 2020, private venture-backed mental health companies have already raised a record-setting $1.5B across 80 deals; these numbers are projected to grow to $2.1B over 107 deals by the end of the year.
Nearly 90% of all U.S. and European mental health startups reside in the United States. The U.K. follows at a distance, headquartering a mere 5% of companies. Germany, Sweden, Spain, and France comprise the remaining 6%.
The impact of COVID-19 on mental health and the innovation economy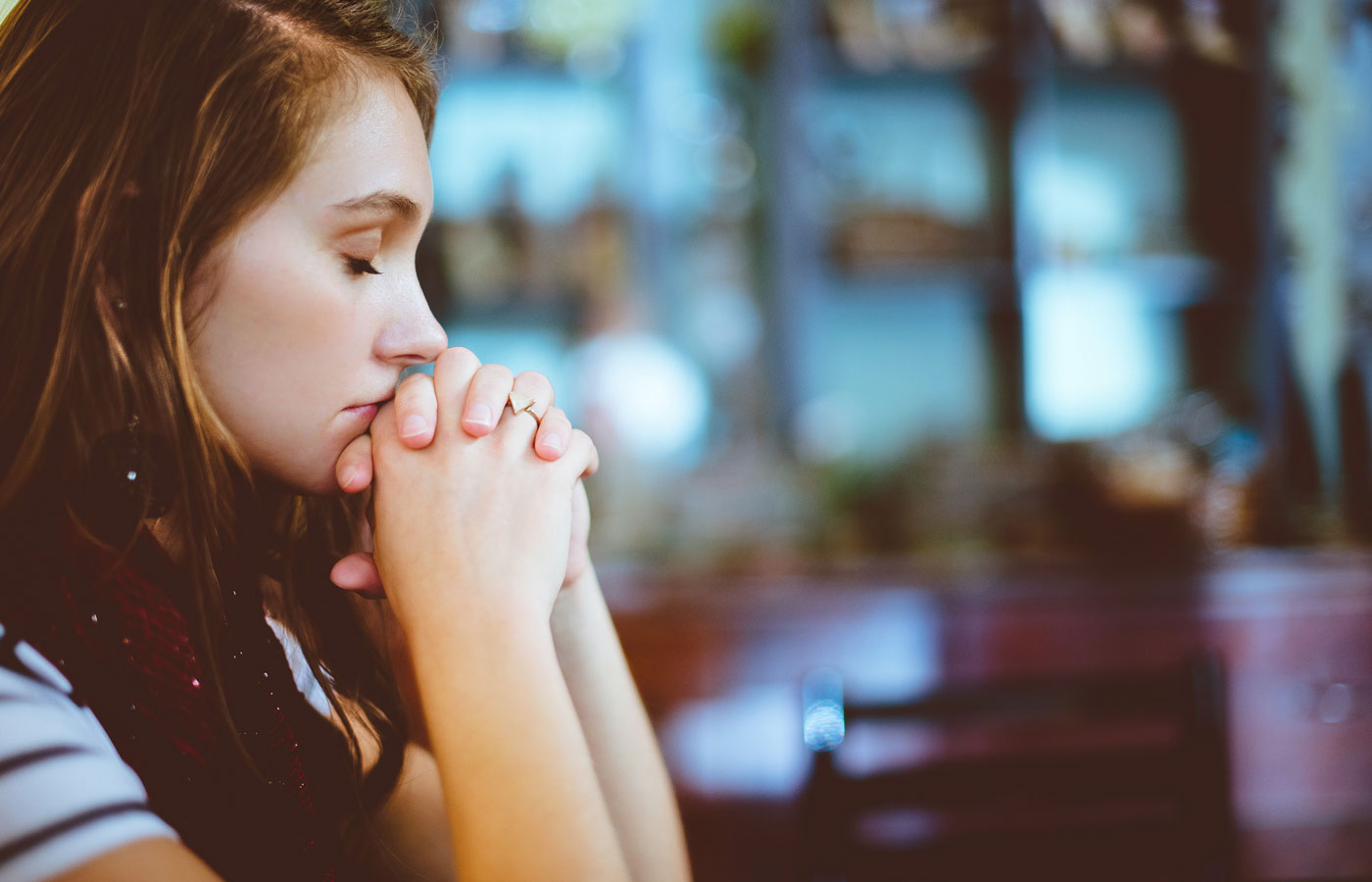 The COVID-19 pandemic and resulting economic and societal implications have taken a heavy toll on the nation's mental health. According to the Centers for Disease Control and Prevention (CDC), in June 2020 nearly 40% of US adults reported elevated mental health conditions associated with the pandemic. Younger adults, essential workers, unpaid caregivers and racial and ethnic minorities reported disproportionately adverse mental health outcomes. Mental health has become an epidemic of its own, and today's pandemic and accompanying quarantine are only exacerbating the incessant crisis.

In recognition of World Mental Health Day on October 10th, we want to shed light on mental health's growing prevalence and the catalytic effects of the pandemic, discuss investment and exit trends within the mental health sector and also recognize companies and investors who are at the forefront of the battle, dedicating their time and resources to help lessen the detrimental impact of mental illness.

While mental health was thrust into the spotlight by COVID-19, its ominous weight has been felt by the nation for decades. According to the CDC, from 1999 to 2018 the US suicide rate jumped 35%, from 10.5 per 100,000 citizens in 1999 to 14.2 in 2018. The CDC found that suicide cases among teens and young adults have nearly tripled since 1940, and suicide is currently the third-leading cause of death among 10- to 24-year-olds in the US.

To worsen matters, a 2015 study led by the University of California San Francisco (UCSF) found that entrepreneurs are 50% more likely to suffer from a mental health condition. The heightened challenges that coincide with starting a business — like raising capital, managing cash flow, hiring and firing employees and coping with self-doubt — can take their toll on one's mental health. In fact, the UCSF study states that founders are twice as likely to suffer from depression, psychiatric hospitalization and suicidal thoughts; they are three times as likely to suffer from substance use and 10 times as likely to suffer from bipolar disorder.

The COVID-19 pandemic affects mental health through a multitude of channels, including fear and anxiety about catching the virus and giving it to loved ones, the despair of a deep economic recession, involuntary social isolation driven by lockdowns and — for many — a taxing work/life balance. Thankfully, many entrepreneurs and companies are aiming to tackle the issue and introduce solutions intended to provide much-needed relief.

As an advocate of the innovation ecosystem and financial services partner to several mental health-focused companies, we are excited to see a multi-year funding upswing in the space. Just three years ago, in 2017, private venture-backed mental health startups raised $534M across 69 deals. One year later, funding increased by 43%, rising to 83 deals worth $766M. In 2019, companies began raising larger rounds as investments jumped to $1.3B over just 89 deals. Notably, the same trend of raising larger rounds has carried over to 2020. In fact, this year is already the highest-funded year to date, having completed 80 deals amounting to $1.5B with a projected 107 deals totaling $2.1B by the end of the year.
Global mental health VC deals and dollars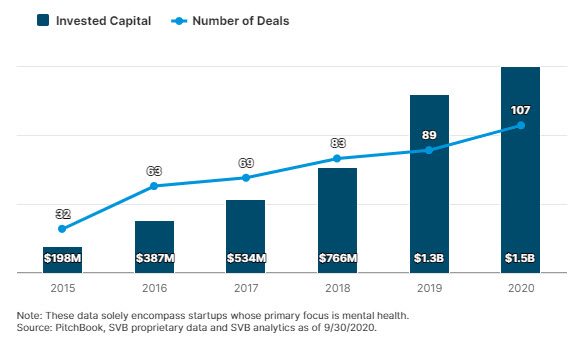 While private venture-backed mental health IPOs and M&A deals are few and far between, we have seen some promising exits. In 2019, Karuna Therapeutics, a biopharma company developing neuropsychiatric therapeutics, went public at $16 per share and is trading up +372% with a $2B market cap. Likewise, in April 2020 AbleTo — a tech-enabled behavioral health platform — announced a $470M acquisition by Optum, a subsidiary of UnitedHealth Group. Given the increasing deal activity and funding trends seen in the mental health sector, we expect to see more IPOs and M&A deals on the horizon.

On the investor front, several firms have been reading the tea leaves, acting on the skyrocketing mental health prevalence data by allocating funds to startups in the space. Over the past five years, the top investors in mental health have been accelerators and incubators, namely Y Combinator, Plug and Play Tech Center, StartUp Health and MassChallenge. Venture capital firms follow closely behind, with Alumni Ventures Group, Optum Ventures, JAZZ Venture Partners and ARCH Venture Partners also showing remarkable activity in the sector. Amid the global pandemic and given the fragility of the nation's psychological well-being, an increasing number of investors are making long-term investments in mental health solutions.

Mental illness is estimated to cost the world $16T by 2030. Fortunately, the innovation economy is stepping up to the challenge to better understand and combat this pervasive foe. Companies like Akili Interactive Labs, Click Therapeutics and Pear Therapeutics have already received the highly coveted Food and Drug Administration's (FDA) clearance for their prescription digital therapeutics, which are software-based solutions that help manage and treat mental health conditions. Other companies like Ginger.io and Talkspace use telehealth to connect patients with mental health professionals through online platforms. Below are additional examples of private venture-backed companies that are tackling mental health.
| | | | |
| --- | --- | --- | --- |
| | Name | Headquarters | Description of Product or Service |
| | AbleTo1 | New York, NY | Personalized eight-week virtual behavioral change programs |
| | Akili Interactive | Boston, MA | Self-directed video games to improve cognitive performance in kids |
| | Big Health | San Francisco, CA | Digital healthcare portal offering personalized behavioral programs and access to medical professionals |
| | Calm | San Francisco, CA | Sleep, meditation and relaxation smartphone application designed to reduce anxiety and improve sleep |
| | Click Therapeutics | New York, NY | Personalized software as prescription medical treatments |
| | Coa | San Francisco, CA | Mental health and emotional fitness therapy classes |
| | Ginger.io | San Francisco, CA | On-demand telehealth delivered by licensed physicians |
| | Happify | New York, NY | Smartphone application that offers programs and games intended to push users toward healthier mindsets |
| | Headspace | Los Angeles, CA | Smartphone application designed to teach meditation and mindfulness |
| | Ieso Digital Health | Cambridge, England | Virtual cognitive behavioral therapy for patients and real-time clinical decision support for therapists and providers to reduce variation in treatment |
| | Lyra Health | Burlingame, CA | Telehealth or in-person care delivered by a curated network of licensed therapists and coaches |
| | Mindstrong | Mountain View, CA | Biomarker panel that measures brain function, allowing clinicians to conduct evidence-based interventions and offer personalized therapy |
| | Octave Health | New York, NY | Personalized one-on-one virtual therapy intended to transform emotional well-being |
| | Pear Therapeutics | Boston, MA | Software-based digital therapeutics combining digital interventions with drugs to enhance efficacy |
| | Regroup2 | Chicago, IL | Telepsychiatry services that integrate into existing workflows and processes |
| | Silvercloud Health | Boston, MA | Virtual platform offering personalized mental wellness programs |
| | Simple Habit | San Francisco, CA | Five-minute meditation app designed to help improve overall well-being |
| | Talkspace | New York, NY | Text-based therapy that connects users and therapists one-on-one |
| | Quartet Health | New York, NY | Healthcare technology and services intended to bring together physicians, mental health providers and insurance companies to improve patients' health and drive down costs |
1AbleTo was acquired by Optum Health in Spring 2020.
2 Regroup was acquired by InSight Teletherapy in Winter 2019.
Interestingly, while mental health is a global issue, the US houses the majority of the startups in this space. In fact, 89% of all US and European mental health startups reside in the United States. The UK follows at a distance, headquartering a mere 5% of companies. Germany, Sweden, Spain and France comprise the remaining 6%. Two plausible factors contributing to this discrepancy are government funding and access to care.

In 2020, the US federal government allocated just under $6B to the Substance Abuse and Mental Health Services Administration (SAMHSA), the nation's leading mental health services agency. In comparison, England's National Health Service received double SAMHSA's funding — more than $12B — to contribute toward mental health initiatives in 2019. For reference, England's population is one-fifth that of the US population. Compounding matters, the US has a relatively small cohort of mental health workers. Just 30% of US primary care practices have mental health professionals, compared to more than 90% in most European countries. The lack of US federal aid coupled with a mental health physician shortage has created a significant demand for mental health services, opening the door for the mental health startup community to aid and reform the US healthcare system.

Given the significant mental health care gap that currently exists in the US, employers can also play a significant role in supporting their employees. Adopting practices like providing mental health leave, counseling services and childcare or caregiver support, as well as reinforcing the importance of self-care, can go a long way toward helping the CDC's estimated 50% of US adults who will suffer from mental illness during their lifetimes.

The COVID-19 pandemic is having serious repercussions on the nation's wellbeing. Together, we can demystify and destigmatize mental health by talking about it and develop solutions by conducting and funding viable, efficacious research. From delivering treatment via FDA-approved video games to connecting individuals with licensed therapists and coaches in real time, the mental health startup community embodies ingenuity at its finest, diligently developing innovative solutions to some of the most imperative impasses in the mental health space. At Silicon Valley Bank, we are proud to support this community of visionaries, and we look forward to helping mental health-focused companies and entrepreneurs continue to grow and flourish.
Resources
If you or someone you know is suffering from a mental health condition, please contact a medical professional to seek assistance. At SVB, we recently partnered with Coa to launch an emotionally fit leadership program for startup founders with the goal of helping them better navigate challenges like leading through uncertainty and mitigating COVID-19's impact on mental health. If you are a founder interested in learning more about Coa's classes, you can check them out here.