With advances in immunotherapy, oncology treatment is undergoing a paradigm shift that is dramatically changing the investment and innovation patterns around cancer-fighting drugs.

Silicon Valley Bank's Life Science and Healthcare Practice published a new report, Oncology Revolution: The Rise of Immunotherapy, that describes how quickly the landscape is shifting and what biopharma companies and investors are doing to position themselves for growth.

Immunotherapy has been studied for decades, but only recently have we begun to see tremendous clinical benefits for patients. In 2016, immunotherapy treatments captured one-third of all spending on oncology drugs, despite accounting for just 9 percent of FDA-approved oncology drugs.
Companies target high-mortality cancers
Each year, more than 600,000 people in the U.S. die of cancer. Fortunately, we're seeing new innovations in the sector that are providing meaningful clinical outcomes. For example, while breast cancer accounts for 15 percent of annual incidence and 7 percent of deaths, mortality rates have gone down by nearly 23 percent since 2000. Lung cancer, however, accounts for 13 percent of annual incidence and one in four deaths. Not surprisingly, oncology immunotherapies in development have an increased focus on lung cancer. Keytruda (Merck) and Opdivo (Bristol-Myers Squibb), the two seminal immune oncology therapies, were approved for lung cancer in 2015.
Companies are developing unique approaches to combat this prolific disease and progress is being made. Increased use of immunotherapy and non-immunotherapy treatments in combination is leading to more treatment options for patients. Drugs like Amgen's Imlygic in combination with BMS' Yervoy in advanced melanoma have shown double the response rate compared to Yervoy alone. Still, as the chart indicates, some cancers are much harder to treat than others and much work is needed to reduce mortality rates.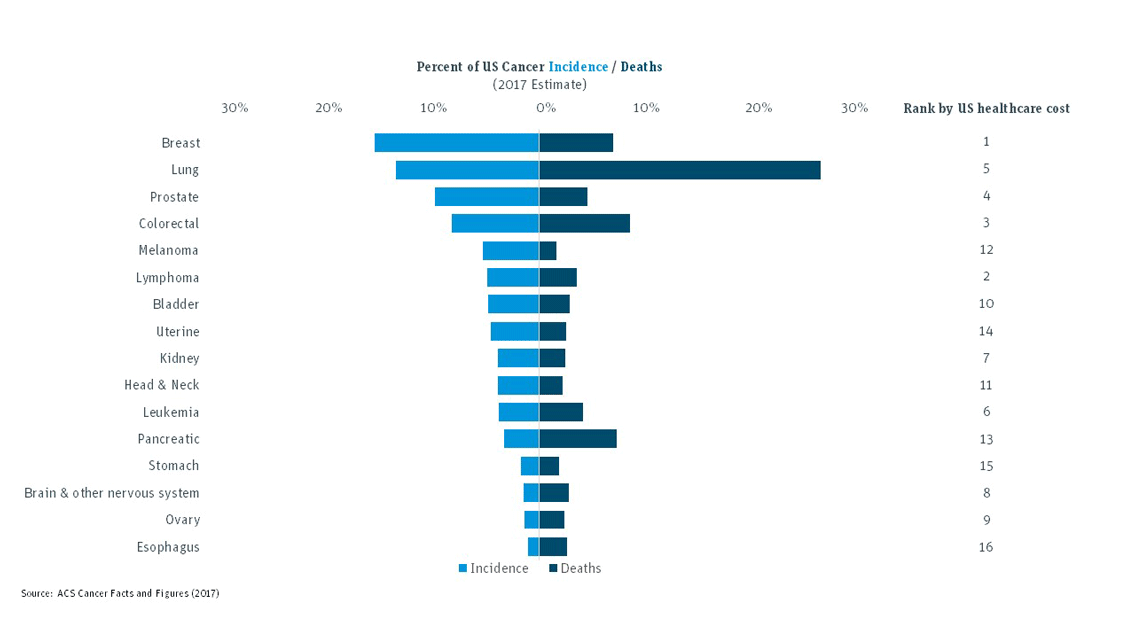 Immunotherapy dominates oncology Series A and M&A
The successes to date are driving new immunotherapy company formation, highlighted by the amount of Series A investments. Since the beginning of 2016, immunotherapy startups have garnered $1.3B in Series A commitments, accounting for nearly 75 percent of all oncology Series A investments.
Immunotherapy is now a required component of any leading biopharma company's oncology portfolio, and the acquisition appetite has grown quickly. M&A deals have risen from 31 percent of total oncology deals in 2014 to 70 percent in the first half of 2017. Gilead's $12B acquisition of Kite Pharmaceuticals, announced in August, only underscores the optimism around immunotherapy innovations.

Immunotherapy is poised for growth
From an investor's point of view, immunotherapy companies have been good bets: They are exiting earlier in drug development, while requiring less invested capital and generating a higher return on invested capital than other oncology companies.
A large and diverse number of late-stage therapies in development indicates future growth, but competition and Phase III failures make it anyone's game. There are rumblings that the space is overcrowded and ripe for consolidation, but with the large need for effective cancer treatments, we think opportunities are abound.
For patients, companies and investors, immunotherapy represents new opportunities and an encouraging new frontier for combating cancer.
Sources: SVB Proprietary Data, BiomedTracker, ClinicalTrials.gov, Pitchbook
##
Disclosures
This material, including without limitation to the statistical information herein, is provided for informational purposes only. The material is based in part on information from third-party sources that we believe to be reliable, but which have not been independently verified by us and for this reason we do not represent that the information is accurate or complete. The information should not be viewed as tax, investment, legal or other advice nor is it to be relied on in making an investment or other decision. You should obtain relevant and specific professional advice before making any investment decision. Nothing relating to the material should be construed as a solicitation, offer or recommendation to acquire or dispose of any investment or to engage in any other transaction. ©2017 SVB Financial Group. All rights reserved. SVB, SVB FINANCIAL GROUP, SILICON VALLEY BANK, MAKE NEXT HAPPEN NOW and the chevron device are trademarks of SVB Financial Group, used under license. Silicon Valley Bank is a member of the FDIC and the Federal Reserve System. Silicon Valley Bank is the California bank subsidiary of SVB Financial Group (Nasdaq: SIVB).