This article is written by Ben Johnson, head of life sciences in the early stage practice, and Dhruv K. Vig, PhD and senior associate, on the life science insights team.

The following article appeared in the Pitchbook-NVCA Venture Monitor report. Read other articles and learn more about our new partnership.
How valuable are accelerators for life science and healthcare startups? A new Silicon Valley Bank analysis finds that one in four (23%) life science and healthcare startups that raised at least $4 million in 2017 and 2018 is currently or has been involved with an accelerator or incubator.
Surprising to some, the analysis suggests that accelerators and incubators do play a significant role by providing early-stage support and sometimes a follow-on round.
The level of significance depends somewhat on the subsector. Here is the breakdown by subsector based on the 2017–2018 data: biopharma 21%, medical device 27%, digital health 36% and diagnostic/tools (Dx/tools) 46%. By comparison, about 33% of all US startups that successfully raise Series A funding go through an accelerator or incubator.
Beyond financing, startups tend to seek different benefits from an accelerator/incubator, also depending on the subsector. For example, young biopharma and Dx/tools companies value access to physical resources, primarily state-of-the-art labs and equipment. Medical device startups benefit from opportunities to collaborate with their peers on next-gen ideas. Digital health companies typically find joining an accelerator to be a useful way to build a network across sectors and industries, including consumer internet.
Overall, life science and healthcare startups are remaining in accelerators longer to take advantage of community support, talent and resources and as a result may become more attractive investments. For example, LabCentral and JLABS (the Johnson & Johnson incubator) house several companies that have closed Series A rounds.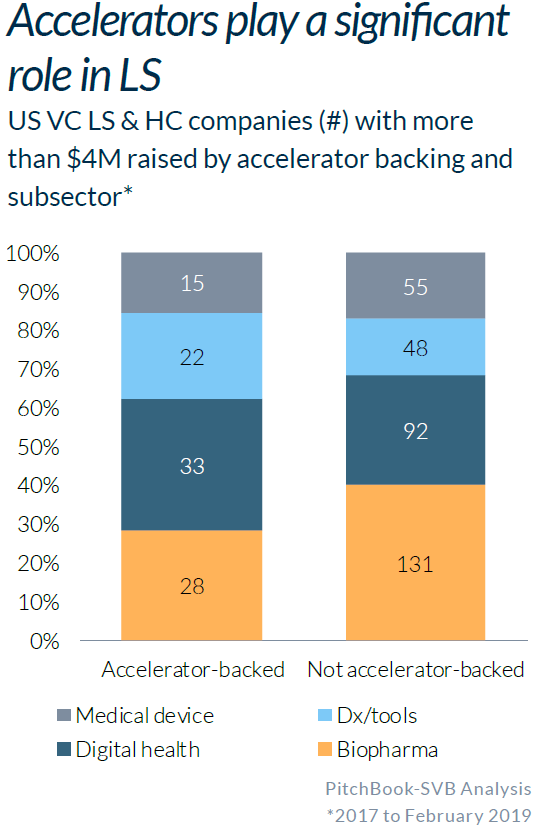 While there may be fewer new accelerators overall, the most successful ones are expanding to new locales beyond the established hubs in California and Massachusetts. JLABS, launched several years ago in San Diego, now has more than 100 active companies in San Diego, Houston and New York and has even expanded to China and Canada. BioLabs has been on a tear in the past year, opening offices in Philadelphia, Princeton, Durham and Los Angeles and a second office in Boston. TechStars is partnering with UnitedHealthcare for a new Minneapolis accelerator, due to open later in 2019 with 10 companies. The focus is on innovations in payer and care provider services involving digital health and wellness solutions.
Finally, we're seeing increased interest in global acceleration, with Medtronic's recent announcement of a medical device accelerator in Shanghai.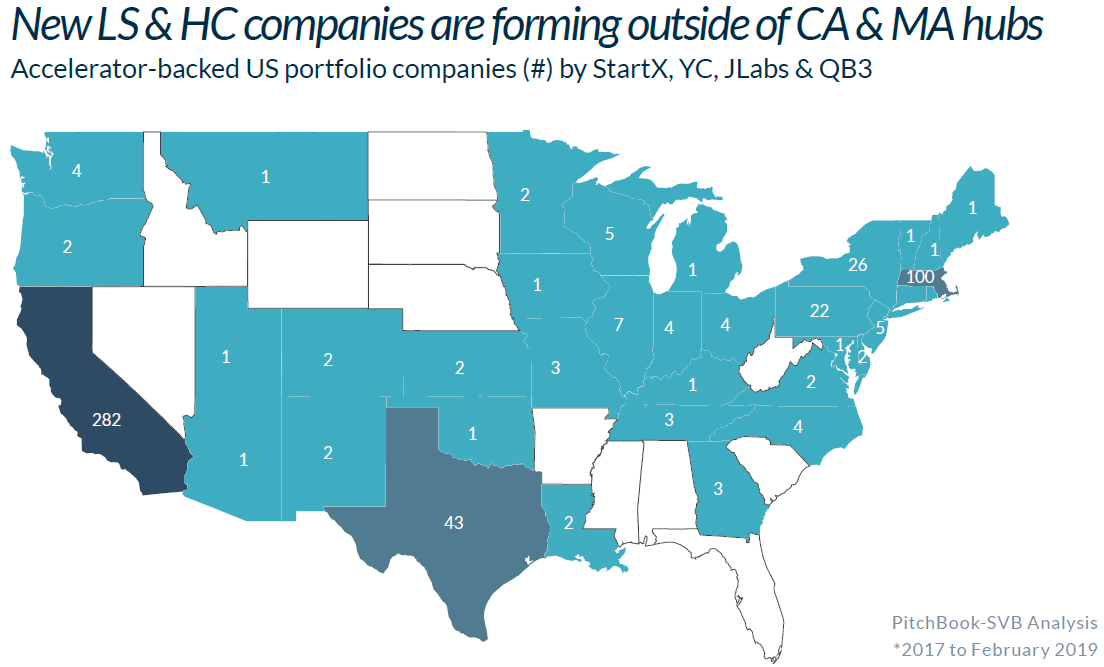 As accelerators and incubators are drawing life science and healthcare startups to some new locations, we are also seeing a correlated rise in first-time funding sources in those places. For example, New York, Pennsylvania and Texas have a relatively high number of new life sciences and healthcare companies.
These are the ingredients for growing a healthy ecosystem. Cities and states are encouraging new activity to help spur their innovation ecosystems and create jobs. IndieBio, based in San Francisco, is expanding to New York City for its second location later this year. The accelerator is receiving a $25 million inducement from New York State. Separately, New York City property owners are outfitting buildings for cutting-edge lab spaces.
In some cases, life science and healthcare accelerators hold the promise to help a region's ecosystem grow in size and impact by extending the broader culture of innovation and promoting new sources of economic development.