Key Takeaways
Total healthcare investment dollars in 1H 2021 hit $47B, more than double 2020's first half pace.
Healthcare IPO activity remains strong, with 81 in the first half of 2021, compared with 111 in all last year.
While the COVID-19 pandemic adversely affected industries like dining and travel, it ushered in unprecedented innovation in the healthcare sector. In fact, 2020 was a record-breaking year for healthcare investments, driven by new innovations amid pandemic-driven economic uncertainty. The sector has seen continued growth again this year, as outlined in my new report, Healthcare Investments and Exits.
I recently discussed the report's key findings and the future of healthcare investment with Julie Grant, General Partner at Canaan Partners, and Christopher Moniz, Head of Northwest and Northeast HealthTech and Medical Devices at Silicon Valley Bank. Anjalee Khemlani, Senior Reporter at Yahoo! Finance, moderated the conversation.
Watch the on-demand webinar now.


Healthcare venture capital is breaking records
Venture capital fundraising in the healthcare sector continues to set and break records, driven by years of strong returns. During 2020, more than $16 billion was raised by firms dedicated to venture healthcare investment, a record amount at the time. Then, during just the first half of 2021, more than $21.8 billion was raised in healthcare, smashing 2020's full-year record. Many healthcare funds now raise capital every two to two-and-a-half years, faster than other industries.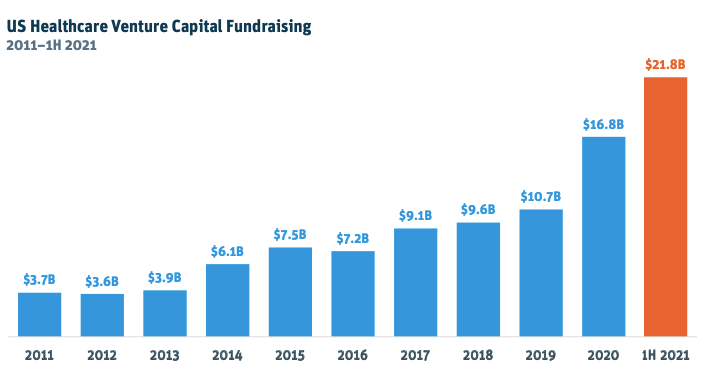 HealthTech and biopharma lead VC investment
Investment in venture-backed healthcare companies throughout the U.S. and Europe set new records in the first half of 2021. First quarter of 2021 was up 50% compared with the record-setting third quarter of 2020. In the second quarter of 2021, investment was even bigger. The massive investments were led by interest in biopharma, which has garnered about half of healthcare investment this year. The healthtech sector is also attracting investors, with more money raised during the first half of 2021 than in all of 2020.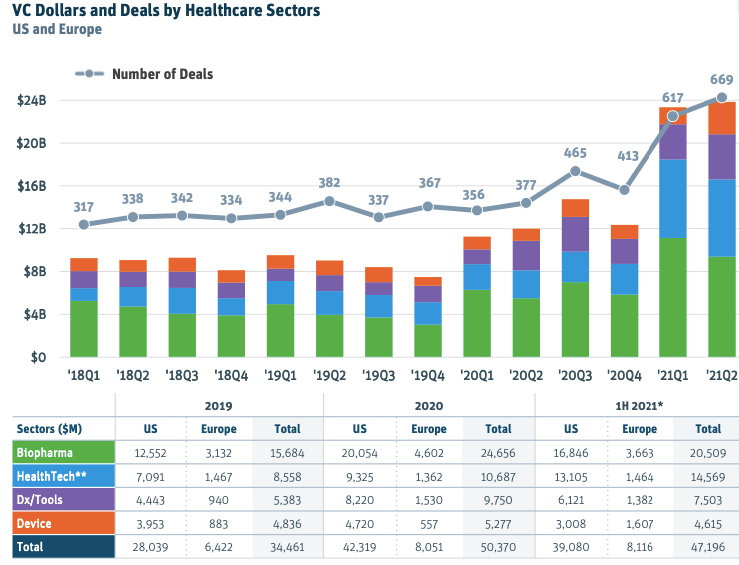 Silicon Valley Bank. (2021). VC Dollars and Deals By Healthcare Sectors US and Europe. Healthcare Investments and Exits: Healthcare Investments and Exits Accelerate in 1H 2021.
DX/Tools investors lean toward later stages
Investment dollars in the DX/Tools, sector has been driven by larger, later-stage deal activity. R&D tools financing led investment with $4.3 billion in the first half of 2021, more than double the investment dollars of the other two dx/tools subsectors. Late-stage investment firms have been active, with many hedge funds and large private equity firms leading new financings of venture-backed deals in the past 18 months, including BlackRock and SoftBank, both new additions to the most active investor list. This activity has helped the highest valued private companies in the dx tools sector continue to raise capital, with a median step-up in valuation of 2.1x between financing rounds.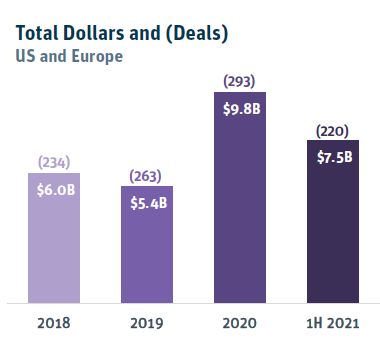 Silicon Valley Bank. (2021). Total Dollars and (Deals). Healthcare Investments and Exits: Healthcare Investments and Exits Accelerate in 1H 2021.
Early-Stage investment in devices rebounds
After two years of decline, Series A investment in devices is rebounding. The dollars invested and deals closed in the first half of 2021 are nearly equal to those completed in all of 2020, even though corporate investment in Series A was down. Interesting early stage trends have emerged in cardiovascular monitoring, neurostimulation, and brain/computer interface technologies.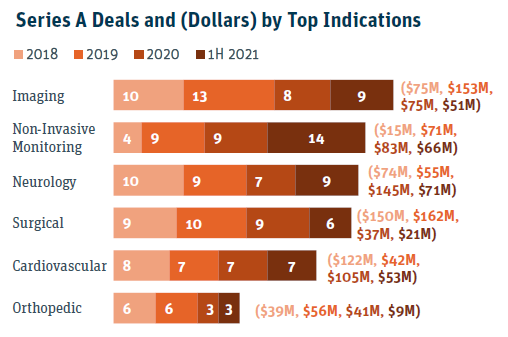 Silicon Valley Bank. (2021). Series A Deals and (Dollars) by Top Indications. Healthcare Investments and Exits: Healthcare Investments and Exits Accelerate in 1H 2021.
Non-invasive monitoring, neurology and imaging led overall sector activity, with many large deals backed by private equity and hedge funds. Additionally, new venture investors have shown an interest in Series B funding—a positive sign for Series A companies since it has typically been difficult to find new investors at this stage.
Venture-backed healthcare: De-SPAC analysis
Despite growing interest in special purpose acquisition companies (SPACs), companies that went public using a SPAC have not performed as well as those that went public using a traditional IPO. Among the 36 venture-backed healthcare SPACs announced since 2020, 12 have completed the de SPAC process. Eleven of those are trading down from their de-SPAC valuation at mid-year 2021. By contrast, companies that used a traditional IPO are trading up 40% or more.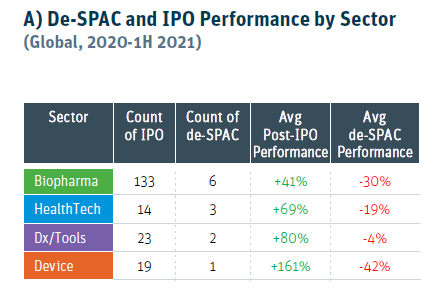 Silicon Valley Bank. (2021). A) De-SPAC and IPO Performance by Sector. Healthcare Investments and Exits: Healthcare Investments and Exits Accelerate in 1H 2021.
Regardless of these trends, companies that have agreed to merge with SPACs showed an average step-up valuation of more than 2x from their last private round and have plentiful cash on hand via private investment in public equity (PIPEs), which means that these companies should have ample time to increase shareholder value in the public market.
Biopharma IPO valuations have dipped compared with 2019 and 2020
Healthcare IPO activity remains strong, with 81 IPOs in the first half of 2021, compared with 111 in all last year. However, in biopharma, the median pre-money valuation of IPOs was down 5%, and proceeds were down 27%. Post-IPO performance has also lagged: Median post-IPO performance in biopharma is at just 7% for 2021 IPOs, compared with more than 100% for the IPO classes of 2019 and 2020.

The slow performance of 2021 IPOs could be because biopharma specialist investors aren't keeping up with the pace of IPOs, while generalist investors may be more interested in opportunities to invest outside the healthcare sector as the economy opens back up.

Silicon Valley Bank. (2021). C. 1H 2021 Largest IPO by IPO Market Cap. Healthcare Investments and Exits: Healthcare Investments and Exits Accelerate in 1H 2021.
Healthcare investment outlook for the 2H 2021
Based on these observations from the first half of the year, here's what I expect to see in the second half of 2021:
Fundraising and investments continue at a strong pace, with $30 billion in healthcare VC fundraising and more than $65 billion invested in healthcare companies in 2021.
Biopharma investment declines slightly, with a total of 80 IPOs and five or six private M&A deals worth $1 billion or more.
HealthTech investment slows as investors prepare their existing portfolios for exit. We forecast 15 IPOs in 2021 and an additional five SPAC or M&A deals worth $1 billion or more.
Record investment in the dx/tools sector and strong M&A activity.
Aggressive investment in devices, with increased valuations and more dollars raised. We anticipate six to eight IPOs in the second half of the year.
Evaluating massive investment and the ongoing impact of the pandemic
Given the record-breaking amount of money being invested in the healthcare sector, webinar attendees expressed some concern over whether valuations are sustainable. The following are some of their questions, along with our panel's responses.
Why is so much money flowing into healthcare?
The pandemic has been a huge spur to innovation in the healthcare sector, which jumpstarted investments. In addition, the closely knit network of healthcare VC investors was able to continue executing due diligence and keep deals moving along despite the pandemic induced disruptions.

Is there concern about healthcare companies' high valuations?
Most people would agree that there's some concern about high valuations. I believe they have been warranted based on IPO valuations and performance over the past few years, although we have seen a trend of diminished IPO performance so far this year. As Julie Grant mentioned, the healthcare industry has a history of consistently high returns, which I believe supports high valuations—especially when you consider the innovations that emerged during the pandemic. However, if IPOs slow down or muted post-IPO performance continues in the second half of 2021, the record valuations we have seen will likely trend downwards.
"The healthcare system hasn't evolved as fast with adopting technology," Christopher Moniz added. "Last year, with COVID, that changed." The sector's tech integration has created new and larger areas for growth, especially in healthtech.
Will the SPAC phenomenon continue?
SVB is going to continue to watch the SPAC market closely, especially since we found that SPAC performance lagged IPOs. Moniz expressed concern about the timeline attached to SPACs, which must close a deal and de-SPAC within a set amount of time. That timeline could create pressure to overvalue a company or take one public too early, he cautioned.
Many biotech companies are choosing to go public with a traditional IPO rather than a SPAC because the terms can be more appealing, according to Grant. Overall, SPACs are not pricing life science companies as highly as they price tech companies that have raised a similar amount of capital. "The dynamic in terms of the tech ecosystem versus the life sciences ecosystem is pretty dramatic," Grant said. As a result, more biotech companies have stuck with a traditional IPO route.

How does the large amount of money currently being invested in biopharma companies affect Series A financing, talent searches and the competition for deals?
Series A rounds, which are happening at earlier stages in a company's growth, have consistently gotten bigger. Companies with no assets have raised hundreds of millions of dollars, which is largely based on the talent these businesses have available to them, Grant noted. "They neither have technology nor science, but they have people," she said.
This pattern continues, with many companies still at a pre-clinical stage even during their Series B funding round. Although these companies don't yet have clinical data, investors are excited about the technology and the opportunity to exit in the near time remains viable, as both the IPO and M&A market continues to be receptive to very early stage stories.

What are the trends in diagnostic tools investment?
The sector has been defined recently by artificial intelligence–assisted technologies and machine learning interacting with biotech advances. Grant, Moniz and I agree that there is a lot of value in true AI and machine-learning platforms, but that these technologies are often overstated. Still, where there is real innovation, AI and machine-learning advances can enable new biopharma companies and strengthen the healthcare sector overall.

What effects might the delta variant have on the second half of 2021?
During the pandemic, healthcare innovation — and thus investment — has been front and center. Not only has healthcare innovation improved patient experiences and outcomes, but it has also provided an economic opportunity during a time when many sectors of the economy are struggling. Healthcare investing could continue to serve as an intriguing innovation option for investors even if there are additional economic shutdowns due to the delta variant.
Learn more about the future of healthcare exits
For more information on healthcare investing and exits in 2021, watch the webinar and download the full report.