Key Takeaways
The current supply shortage of chips is causing much anxiety for semiconductor companies trying to meet the demand.
It will take years and tens of billions of dollars to add enough capacity to have a meaningful impact on supply.
Venture investment in US semiconductor startups has been gradually increasing - reaching $2.6 billion invested across 75 companies representing.
Shortages drive record investment in semiconductor startups

The COVID-19 pandemic and its impact on millions of people's lives has been catastrophic and well covered by the media. Aside from people's health, the economy was greatly impacted in part because of significant supply chain disruptions. A lack of containers caused docking ports, dock workers and drivers' goods to get stuck around the globe and unable to reach their destinations. One of the most important items disrupted was semiconductors, which at the same time was experiencing record demand from a digitizing economy accelerated by the pandemic. It is probably fair to say that the extent of applications of semiconductors was not fully understood, with the impact felt not only across traditional products like gaming consoles, TVs and laptops, but also non-traditional products like cars and white goods. The current supply shortage is causing much anxiety for semiconductor companies trying to meet the demand for their chips. This unprecedented demand is driving a new wave of investment in the US for semiconductor startups.
"While semis are only a small part of a BOM of things like autos, they have an outsized impact on the supply chain"

Andy Kau, Partner, Walden Catalyst

Since shutting down or running at reduced capacity, many fabrication plants (fabs) are back up and running, but additional capacity is still needed to catch-up. While Texas Instruments, Taiwan Semiconductor Manufacturing Company (TSMC) and Intel are all looking to build new fabs, it won't happen overnight. Texas Instruments' most recent proposed fab is expected to take three years to complete at a cost of nearly $30 billion. Intel just announced a new $20 billion fab complex in Ohio, set to begin construction in late 2022. There are also startups—like Flexciton and other stealth companies—working on technologies to make existing fabs more productive, but again, these will not make a difference in the near-term. So, it will take years and tens of billions of dollars to add enough capacity to have a meaningful impact on supply. One note of caution I heard from a prominent player in the industry was regarding overordering—sometimes to a magnitude of four or five times with the hope of canceling shipments should demand not materialize. This could severely throw off the supply/demand dynamic, so to counter, chip producers are increasingly requiring orders to be noncancellable.
Semiconductor fabrication plants utilization rate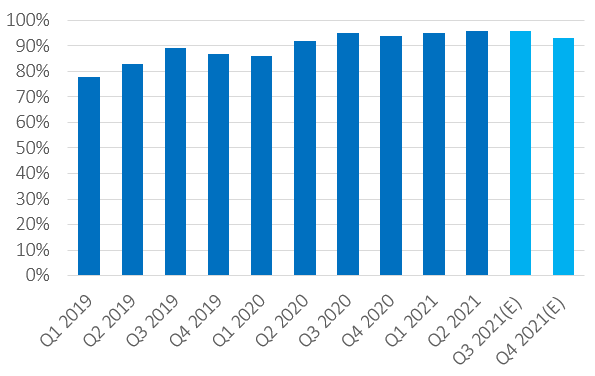 Source: Semiconductor Industry Association
The government is a key supporter of the domestic semiconductor industry. (It should be. Semiconductors were the fourth biggest export in 2020). Bipartisan legislation, the CHIPS for America Act, was introduced in 2020 and enacted in early 2021 under the National Defense Authorization Act (NDAA), which authorizes investments in domestic chip manufacturing and research initiatives. There could be over $50 billion available to help increase US semiconductor manufacturing via the US Innovation and Competition Act. If funded, this is a good move for the long term, but not much help for the existing crisis. The consensus I am hearing from clients and investors is that they expect this supply shortage to last into late 2022/early 2023. Some are a bit more optimistic that it could start to get better by mid-2022 while others argue it could linger into 2024. Personally, based on what I am seeing and hearing, I think semiconductor supply shortages will continue into early 2023.

US semiconductor venture activity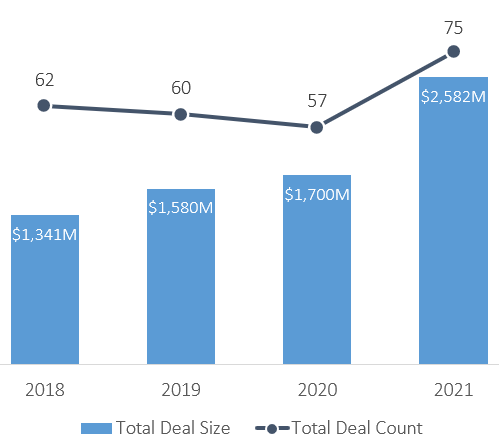 Source: PitchBook and SVB Proprietary Taxonomy

Venture investment in US semiconductor startups has been gradually increasing. In 2021, investment really took off reaching $2.6 billion invested across 75 companies representing a 93% increase over 2018 or a CAGR of 24%. This heightened demand pushed the average deal size up from $21.6 million in 2018 to $34.4 million in 2021. Funding comes from a mix of institutional VCs and corporate VCs (CVCs). Leading the way on the institutional side are Celesta Capital, Walden International and Sutter Hill Ventures. Perhaps more than any other sector, the participation of strategics is significant. Intel Capital ranks as the most active investor, with high levels of involvement from Applied Ventures (Applied Materials), Qualcomm Ventures, Samsung Venture Investment, Dell Technologies Capital and GV (Alphabet). Similar to CVCs, Family Offices is making some bets including S-Cubed Capital.
With all this chaos on the supply side, why is investment in semiconductor startups increasing so dramatically?
Semiconductors are a vital bill of material item for many emerging and growing technologies. Take electric vehicles, which on average have 2,000 chips, double that of an internal combustion vehicle. Add self-driving capabilities and that number increases again. A Tesla has 3,500 or more chips in it. This trend is relevant to other technologies like cell phones (5G), gaming systems, IoT and smart home devices plus crypto activities. The explosive growth of Artificial Intelligence (AI), specifically the adoption of the technology across verticals, is related. Cerebas Systems, Sambanova and Groq, all AI chip manufacturers, rank among the highest for amount of capital raised to date, $723 million, $1.1 billion and $363 million respectively. Some of the AI chip companies initially funded in 2015-2017 are now generating revenues, and a number expect to go public in the next 12-24 months. M&A also ticked up in 2021 as consolidation started to happen within the industry. The two largest deals were Qualcomm's $1.3 billion acquisition of NUVIA and Marvell International's $1.1 billion acquisition of Innovium. We expect to see more private semi companies acquired at healthy valuations in 2022.
"The chip shortage has accelerated the industry's focus on compute efficiency. End users are gravitating towards AI-specific solutions rather than commodity components to attain the benefit of this efficiency. And investors are rewarding companies who are taking this approach."

Rodrigo Liang, CEO, SambaNova Systems

For a sector that saw a decade of relatively low investment levels up to 2017, and even with the supply shortages and manufacturing headwinds, semiconductor venture investment is back in vogue. Considering the continued proliferation of technologies requiring semiconductors, I do not see any slowdown in sight. If you are working on semiconductor technology or would like to find out how SVB is supporting the industry, please contact me.