Revolutionizing construction with fully autonomous heavy equipment
About Built Robotics
SVB is excited to share this success story for Built Robotics. Built invented the Exosystem™, an aftermarket upgrade that transforms heavy equipment into fully autonomous robots.
The bold idea
Noah Ready-Campbell grew up in Vermont, working construction on summer breaks with his dad, a building contractor. After establishing an ecommerce startup that eBay bought in 2015, he began thinking of a new business idea. He recalled the hot, hard work of his high school summers, when he would often tell his father that it made more sense to have machines help with some of the work.

Noah dived deep into the construction industry: the declining productivity, the rising costs, the labor shortages, and the dangers of the job. Why not take advancements in robotics seen in other industries and apply it to construction to make it safer, smarter and more productive? Working with contractors, operators and engineers, he developed his first prototype with his co-founder, Andrew Liang, by borrowing sensors from self-driving cars combined with a software stack built from the ground up exclusively for construction applications. In 2016, Built Robotics was born and by 2018, the first autonomous piece of heavy equipment from Built was doing demolition work on I-5.

As it quickly expanded from the first prototype, Built Robotics continued to automate equipment, such as excavators, dozers, and loaders. Built's first applications of autonomy rebuilt roads, created land for new housing, and laid foundations for wind turbines throughout the Great Plains. The machines helped to take workers out of harm's way to create a safer jobsite. The company has always worked methodically and thoughtfully to build a reputation for safety.


Silicon Valley Bank is our partner. We trust them, and we rely on their expertise and advice for everything: banking, asset management, debt financing, corporate cards, and more. They have consistently demonstrated a thorough understanding of deep tech and robotics, and they've always been steady and reliable partners through all the ups and downs that come with building a company.
Noah Ready-Campbell
Founder & CEO
Built Robotics' technology works hand-in-hand with skilled workers on jobsites. To that end, Built created a new role on the jobsite: robotic equipment operator (REO). Leveraging their years of experience in construction, machine operators take training and courses to become a REO. Once trained, they work with the autonomous equipment to help maintain and plan the robot's work, while freeing up their time to pursue more complex, higher-value tasks. With REO training, operators can elevate their positions and skills and stay competitive with the latest changes in construction technology.
The partnership
Noah and SVB had been introduced while developing his first company, Twice. In SVB, Noah discovered another exceptional team, equally committed to the success of Built Robotics. From the beginning, the SVB team understood his vision for Built Robotics and was eager to support its innovation.
The solution
SVB has been a strategic and supportive financing partner for Built Robotics, offering a variety of debt products to accelerate its growth at every stage, including a Series A led by NEA and a Series B led by Next47.

Most recently, in April of 2022, Built Robotics received $64 million in a Series C funding round led by Tiger Global to bring its total funding to over $100 million.
The impact
Today, the Built Robotics team operates from its headquarters in San Francisco together with an office in Australia, and a dedicated research and testing facility in the Peninsula. Noah and his team have built strong relationships with some of the world's largest construction companies. They also developed a long-term partnership with the IUOE, one of the largest construction unions, to train and certify their members to operate the Exosystem. With Built's technology, robots take on the challenges of operating from a Nebraska snowstorm to a 100-degree day in Central Australia. The robots help improve jobsite productivity, keep workers safe and tackle some of the biggest challenges in building new energy, housing and infrastructure for the twenty-first century.

Demand is booming for this early innovator in the construction robotics space. And as other companies experiment with robotics for construction and mining, Noah is quick to offer support and advice — including introductions to his trusted bankers at SVB.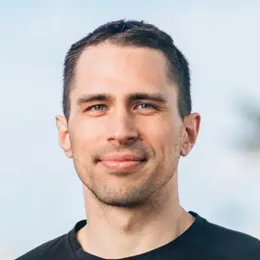 Noah Ready-Campbell
Founder & CEO
Headquarters
San Francisco
Goal
Transform construction equipment into autonomous robots with easy-to-install aftermarket upgrades.
Funding
Venture debt and equipment loans
Industry
Construction robotics
SVB Hardware and Frontier Technology 
Discover how SVB supports forward thinkers at the cutting edge of innovation.
Learn more
Insights to inspire you
---
Discover the latest thought leadership content and insights from experts in the community.