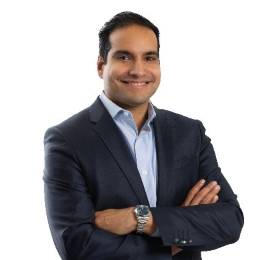 Shez Samji
Managing Director, Global Fund Banking
Silicon Valley Bank Canada
Office
Professional Summary
Shez Samji is a Managing Director for Silicon Valley Bank in Toronto. In his role, he works closely with existing and new venture capital and private equity firms across Canada. He also leads SVB's relationships with public and late stage private companies in the Canadian technology sector, providing bespoke lending solutions, as well as guidance as an active and trusted partner. With SVB, Shez is positioned to leverage his deep understanding of client needs to increase their value by parlaying the bank's unique platform, unparalleled expertise and powerful global network.

Prior to SVB, Shez was a vice president at Third Eye Capital, Canada's largest private debt and special situations investor. Shez has more than ten years of private equity and credit investing experience. He began his career at BMO Capital Partners, the Bank of Montreal's principal investing division.

Shez lives in Toronto with his wife and daughter. Outside the office, Shez serves on the Investment Committee for Community Development Venture Fund, a nonprofit micro-loan company founded to support entrepreneurship, particularly among immigrants to Canada.
Contact Information