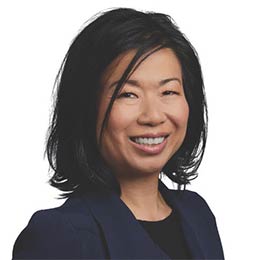 Jane Leung
Chief Investment Officer
Private Bank
Office
Professional Summary
Jane Leung is Chief Investment Officer for SVB's Private Bank and Wealth Advisory business. She brings more than 20 years of experience to the tech and life science industries' top innovators and changemakers. She is passionate about the markets and helping clients navigate through their complexities. Jane is dedicated to working with clients to develop long term strategies to manage and grow the wealth that they have worked so hard to get.

Previously, she was the CIO at Scenic Advisement, a boutique investment bank focused on working with entrepreneurs and early investors to bring liquidity to the private markets. Prior to joining Scenic, Jane held a variety of senior roles at BlackRock/iShares where she was the Head of Asia Pacific iShares and Index Equity. Prior to running iShares Asia, Jane was a Senior Portfolio Manager for BlackRock's U.S. Equity Index business and held portfolio management and analyst roles at Barclays Global Investors, Berger & Associates and Donaldson, Lufkin & Jenrette.

Jane also strongly believes in the power of mentorship and sponsorship and is active in women's leadership development initiatives and The Athena Alliance. She is also dedicated to the continued innovation in the financial industry as a Board Member of the CFA Society of San Francisco.

Jane earned her Bachelor of Arts degree at the University of California, Los Angeles, is a Chartered Financial Analyst® (CFA) charterholder and a Certified Financial Planner (CFP®).