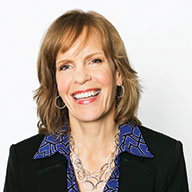 Ann Lucchesi, CFP®, CEP
Relationship Manager
Private Bank | Northern CA
Office
Professional Summary
Ann Lucchesi is a Relationship Manager and Managing Director for SVB Private Bank, serving as a trusted advisor of client relationships and their investment needs, putting together strategies regarding equity compensation, educating clients on the tax nuances surrounding their ownership and helping them plan around their concentrated positions.

Prior to joining SVB, Ann served as an independent consultant in the equity compensation field specializing in helping companies with their unique issues surrounding equity plans. Ann's previous experience includes many years in investment banking focused on technology and life science companies helping develop liquidity plans and manage the wealth creation process. She has extensive experience in working with affiliates of publicly held companies and the various issues that affect them during and after the IPO process. While working in Corporate Services, she worked extensively with clients on 10b5-1 selling plans, selling restricted securities, guiding companies on their equity plans and executing corporate buyback plans.

Ann currently holds an MBA from Haas School of Business and has a CFP® and CEP (Certified Equity Professional) certifications. Ann grew up in Oregon, receiving a B.S and B.A from Oregon State University before moving to the Bay Area and launching a career in the Financial Services Industry.

The individual named here is both a representative of Silicon Valley Bank as well as an investment advisory representative of SVB Wealth Advisory, a registered investment advisor and non-bank affiliate of Silicon Valley Bank, member FDIC . Bank products are offered by SVB Private Bank, a division of Silicon Valley Bank. Products offered by SVB Wealth Advisory, Inc. are not FDIC insured, are not deposits or other obligations of Silicon Valley Bank, and may lose value.
Contact Information