Key Takeaways
With enough startups working on compelling and conscientious solutions, construction just might be the next industry to experience an innovation awakening.
Construction has reached an inflection point where new technological advances may unlock increased productivity and environmental sustainability.
Construction tech faces several hurdles from high upfront costs to the primitive nature of many construction sites.
Is now the time for the construction industry to adopt innovation?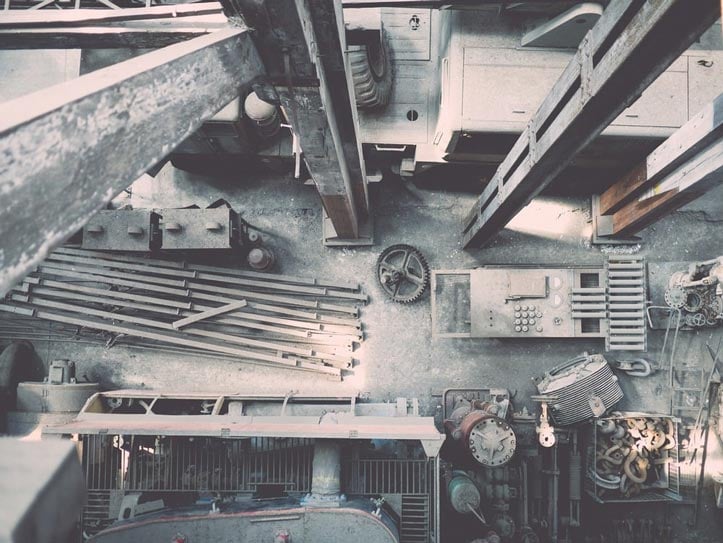 This year has been one to remember (or forget). We have had a global pandemic, social unrest, devastated economies, environmental disasters and a tumultuous election. These events caused dramatic shifts that have significantly affected life in 2020. For instance, the COVID-19 pandemic has had many expected and unexpected consequences. While all industry sectors prepared for the worst, for many the reality was not as bad as feared. Some benefited substantially from remote work, with previously nascent or stalling industries taking off overnight. Just look at Zoom, the video communications tool, which went from 10 million daily participants in December 2019 to more than 300 million in April 2020. And this is not the only sector to benefit; also look at telehealth, food delivery, eSports, EdTech, cybersecurity and gaming. One sector, however, is still looking for a push in the right direction: construction tech.
Land use is a complex and contentious topic. In inner cities, where the need for housing is most intense, issues like zoning, land costs, developer preference and anti-growth policies all limit the amount of affordable housing available. For commercial real estate, the transition to remote work has led many companies to reduce their real estate footprint, especially in high priced metropolitan areas. For instance, San Francisco's office vacancy rate reached its highest level – 14.1% – since 2011. Considering these dynamic factors, predicting demand for construction projects is difficult, with a bad calculation resulting in significant costs overheads (i.e. workers). Running construction operations is also tough; worker safety, project timelines and quality control all carry significant repercussions if not done right. It really feels like tech solutions could elevate a number of these problems plaguing the construction industry.
Market map of construction tech startups
The contemporary definition of "construction tech" has been around for 15+ years, but rarely have the technologies or innovations that comprise the sector come to the fore. So, what is construction tech? It's any company that is working on hardware or software solutions for the construction and infrastructure industries. These range from construction robots and survey drones to prefabricated structures and augmented-reality applications.
The benefits from construction tech applications are clear – for instance technologies like robots and drones can remove humans from high risk situations (like surveying), excel in key tasks (like quality control) and provide an on-demand work force (versus unpredictable local labor). Promising innovations include mass timber and digital electricity. "Mass timber" is a generic term for engineered wood products with properties superior to their native form, used as the primary structural elements of buildings. "Digital electricity" is the delivery of electricity through ethernet cables, leading to much safer and more flexible wiring schematics for structures. Both innovations can dramatically reduce the cost of construction and are more sustainable.
Veev is a company who is combining several innovations into one product – a prefabricated building method. Highly focused on health, cost and sustainability, Veev has created a walled system that incorporates durable and antimicrobial materials with a new way of providing heat and cooling, for efficiency and reduced bacterial transmission. In addition, it has an integrate sensor ecosystem that can be updated wirelessly to provide future-proof upgradeability. This amalgamates into a living space that is easy to assemble, digitally enabled and healthier.
US venture construction tech investment


Source: PitchBook

Investment in construction tech has been steadily increasing over the past decade, with the marquee Katerra deal a 2018 standout. For context, the run rate for 2020 is $965 million. In contrast, the number of residential projects completed in the US in 2019 was 1.3 million, which works out to approximately $500 invested in construction tech per residential project.
So, why hasn't construction tech gone mainstream? According to McKinsey, construction has the lowest digital adoption of any industry save agriculture and hunting. A few factors in play make innovation in the construction industry difficult: the upfront costs, who pays them and stakeholder hesitation to adopt. Having an internet connection onsite, for example, is a massive benefit for streamlining the quality assurance process and viewing building plans digitally, instead of printing out a 20-pound roll of drawings. Several companies, including Verizon, DeWalt and Etheric Networks, offer onsite connectivity; the question is who pays for it and how costs are syndicated.
Barriers to adopting new technologies (% of respondents)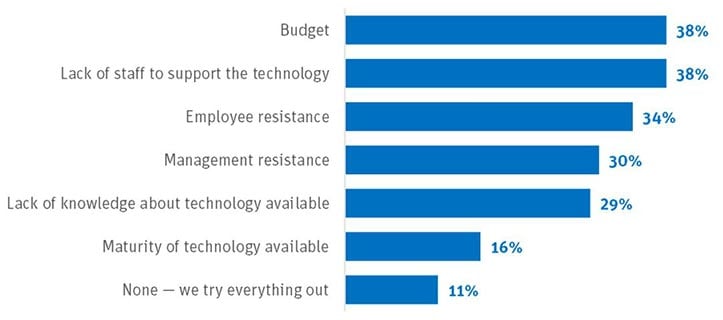 Source: Raconteur
As shown in the chart above, in addition to cost, other major hurdles include stakeholder hesitation and a lack of support staff. For context, construction sites run on tight schedules, with penalties and fines for missed milestones written into contracts. Anything that might jeopardize finishing on time is generally avoided. This might paint a sorry picture for startups building innovations for the construction tech industry, but not all is lost.
Take building information modeling (BIM), for example. BIM is based on 3D digital models that allow architects, engineers and site workers to more efficiently plan, design, build and manage construction projects. The number of construction companies that have adopted BIM went from low single digits in 2011 to 74% in 2018, so the appetite is there — and industry professionals recognize the importance of innovation. In terms of improving productivity and speed of delivery, 77% and 72%, respectively, agree that digitization has a vital role to play, and 70% believe that companies that fail to adopt a digital way of working will go out of business.
The facts of the matter
When looking at technological adoption of the construction industry, the key takeaway for me is proving to stakeholders the value of the solution. The industry knows that it is trailing and will make investments, as seen with BIM. With enough startups working on compelling and conscientious solutions, construction just might be the next industry to experience an innovation awakening.
Silicon Valley Bank has helped many startups tackle problems similar to those construction tech is facing. If you'd like to know more about how SVB can help make your startup a success, please reach out to connect.