Key Takeaways
Advanced manufacturing technologies will not only improve the quality and quantity of production, but will afford unprecedented flexibility with regard to the location of production.
Companies that currently rely on complex and distributed supply chains may have the opportunity to drastically simplify them, while enabling more creativity and customization, especially for IP-rich products.
The pandemic has been a time of disruption, instability, and even shortage. Now is the time to think about how and where we make our stuff.
How tech at the frontier of manufacturing might change how and where we build


Industry has never been more global. Our economy has evolved to be reliant upon transnational supply chains with high interdependence.

This has been largely in the name of cost-efficiency, a key factor being that transportation costs become negligible at scale. Free trade underpins much of the system. This status quo was forged on the back of solid economic theory (comparative advantage and trade) and the observation that interdependence is a great way to encourage peace (see the E.U.). The idea of moving the other direction, toward a more localized system of production and assembly, tends to evoke memories of pre-WWII isolationism. I share this concern; more cross-border interaction and human connection is better than less. An entirely domestic system of production is bad for everyone.
But we need to evolve the conversation beyond the politicized narrative that to support reshoring is, in every case, radically isolationist. In this piece, I hope to highlight opportunities that have arisen for reshoring production and the associated benefits experienced by many of our frontier technology clients today.
Status quo or different approach?
The status quo for most companies building hardware entails plugging into distant sources of production which ensure scale and cost-efficiency. There are some questions worth posing about this status quo, whether you are an entrepreneur, an investor, or a concerned citizen:
Does the status quo cause more complexity than is necessary?

Does the status quo pose risks if a crucial supplier in the chain fails or leaves?

Does the status quo limit your ownership and creative flexibility?

Is the status quo fragile in the event of a crisis?

Is the status quo unethical?
Your answer to all these questions may be "no" regarding your supply chain. But in an age of PPE shortages, supply chain disruptions, and unprecedented trade uncertainty, now feels like the time to ask them again. For hardware businesses manufacturing overseas, the domestic manufacturing slate is clean. Those choosing to build out localized facilities can start from scratch incorporating the most cutting-edge technologies without having to worry about risking downtime of an existing line. As COVID catalyzes a shift to domestic, this dynamic should help hardware manufacturers to incorporate new disruptive manufacturing techniques and avoid running into The Innovator's Dilemma.
The role of advanced manufacturing
Advanced manufacturing is hard to define in a sentence. It encompasses a handful of technologies including 3D printing, robotics, the Internet of Things (IoT), VR-simulation technology, and the application of big data. These technologies are conducive to reshoring, especially for IP-rich, differentiated products. A key feature of these technologies is that they can be deployed everywhere. These innovations provide optionality with respect to the location of production; if a more automated approach provides cost benefits, then offshoring might not be necessary.
VC Investment in U.S. Startups Related to Advanced Manufacturing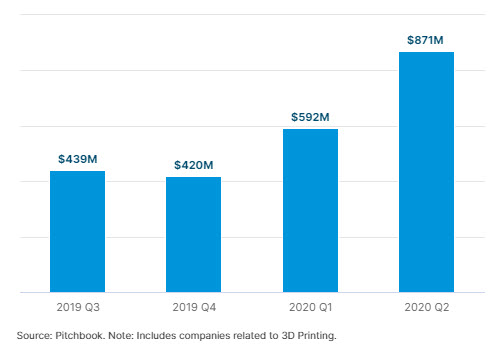 Advanced manufacturing spans many industries but may have tailwinds in "sensitive" industries such as defense related technologies or those contracting with governments. Take the example of SpaceX, a major provider of launch services to the U.S. government. In April 2020, TechCrunch announced 3D printing startup Velo3d had "managed to land one of the most technically demanding contracts in the manufacturing industry – supplying 3D printers to none other than the world's most successful new private rocket company, SpaceX". The U.S. government is an important contributor to advancing domestic manufacturing. This includes many federal programs such as the Manufacturing USA program, whose institutes utilize $183M of government funds each year with a minimum of 1:1 matching by private partners to fund R&D in advanced manufacturing. Now maybe a good time to take advantage of initiatives like this. In the private sector, a growing sum of R&D investment is being directed toward manufacturing.
Private Investment in R&D Related to Manufacturing IP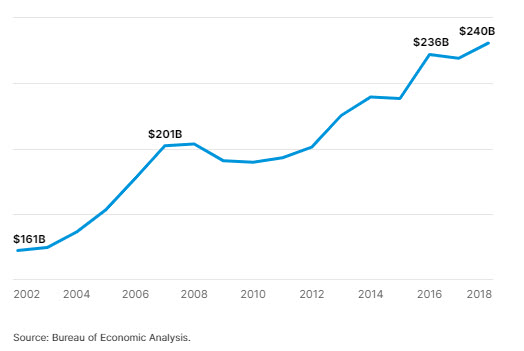 Rapid prototyping
One of the most exciting possibilities of advanced manufacturing is the ability to make flexible, turnkey decisions with respect to product development. Rapid prototyping refers to techniques which fabricate models of products or product parts in very short periods of time. This has many benefits for hardware startups. Beyond the intuitive benefit of developing better and faster, keeping this process local reduces IP risk.
Rapid prototyping is valuable in various hardware verticals. It can help with aesthetic or functional features for consumer products. It can also help with smaller electronic components. An emerging cohort of companies, including Plethora and Tempo Automation, provide rapid prototyping solutions. These platforms typically take computer-aided designs and rapidly turn out parts (or even complete products).
Micro factories and other local solutions
What are the actual mechanics of integrating advanced manufacturing into your production? One impediment to localizing production for many is that the necessary capital expenditure is prohibitive. This is less of a problem for the largest contract manufacturers, but smaller and/or specialty players frequently run into a chicken and egg problem where they need to expand output capabilities before landing a large customer. Thus, a problem that needs solving for many is lowering the financial barrier to entry into domestic manufacturing.
A host of companies are building platforms for other companies trying to do set-up microfactories, or microfactory principles. In her recent article, my colleague Ann Kim mentioned Bright Machines, which is an example of this microfactory platform approach. Bright Machines provides microfactory-as-a-service to help manufacturers automate more of their production line without having to put up cash for traditional equipment purchases.
A major trend that has begun to emerge is the distribution of output across a global network of small factories, as opposed to shipping goods from one major locus of production to a global set of customers. This allows companies to cater to customer needs in individual locales. The World Economic Forum has noted this benefit stating: "Simply put, corporations must increasingly think globally (in terms of emerging customer needs) but build locally (in terms of executing those needs)."
Bring production in house
Some companies have benefited not just from a shift to domestic manufacturing, but also to vertical integration. In tandem, these shifts can give many companies a whole new level of creative control over product development and can be an important part of the strategic journey. As part of our Q4 2019 Venture Monitor Report, I wrote about the cost savings and efficiencies experienced by SF-based startup Density after deciding to move manufacturing of its complex sensors (which comprise over 800 subcomponents) in-house to a self-owned facility in upstate New York. Companies with hundreds of product parts benefit by saving the cost of mark-up on every component, in addition to the increased control and agility.
Looking ahead
I am optimistic about the future of manufacturing, not because every company will integrate advanced tech locally, but because most companies will have the option to do so. That will be the primary result – optionality. In some cases, like primary industries such as mining, the story will be different. The law of comparative advantage will not disappear; some countries will retain fundamental expertise in the production of certain products, but there will be many more options. At the end of the day, cost is what drives a consumer to make a buying decision in most cases. I am hopeful that the advancements we are seeing in manufacturing technologies will level the cost to produce an equal playing field that is location agnostic. The choice is yours, and we want to help you get there. If you'd like to know more about SVB's role in this space, including our solutions for financing capital expenditure I'd love to catch up.