Power within a nation is best administered by a large, disparate group of informed stakeholders. Currently, Western ideals of democracy and capitalism are duking it out in the court of public opinion as countries from all systems weigh the benefits of freedom vs. the terrors of instability. Turkey, Argentina, Brazil, Mexico, Canada, China and the US each grabbed headlines recently as stakeholders angled to obtain or retain the keys of the kingdom.
What's in Play?
Trade wars continue to keep the market guessing as the US and China employ sticks and carrots ad infinitum to their global entourages. The showdown between the world's largest economies creates more risk and much more opportunity for companies that can interpret changes as they come. Given the longer-term implications of these rounds of fighting, several larger Western companies are backing away from China. They are finding mostly open arms in India, Vietnam and Latin America as easy successors to the standard export/import plays first brought into being after President Nixon's historic visit to the Middle Kingdom in 1972.1
Brexit negotiations drag on, and on and on with continued hesitation on both sides surrounding immigration and trade. Despite whispers of a new Brexit vote, the British Prime Minister maintained her position that the people have already spoken. The EUR and GBP continue to be extremely volatile with the hard deadline of March 29, 2019 for Brexit looming much too close for comfort than many thought possible last year.
What's Next?
The Fed will announce a rate decision on September 26. Markets are currently betting nearly nine to one on an additional hike to 2.25 percent despite President Trump's concerns about higher interest rates stifling the US economy.
Any separate NAFTA agreements with Canada would be bullish for both currencies. The disruption, in what is usually a very chummy relationship, is putting most of the tightly entwined institutions of both countries' economies on edge.
Elections in Brazil begin in early October and many non-establishment candidates are making headlines with how they will build Brazil's institutions and encourage more foreign investment. The markets will be closely watching the outcome, as well as Argentina's new austerity efforts, to gauge whether the new governments of both countries will move ahead or remain in limbo.
What Happened?
Bullish market sentiment lifted the US stock market to all-time highs in August2 in spite of international geopolitical buzz kill.
Last-ditch efforts by Mexico and the US to find a way forward on NAFTA resulted in Mexico scoring an agreement many had written off as impossible. Wages, automobile production and steel figured prominently in the agreement. Canada continued to hold out for a better deal.3
Turkey's economy continued to spiral downward as inflation hit 18 percent. This, after the lira has already lost more than 40 percent of its value this year, spreading panic across the markets. Turkey has remained politically stable despite the upheaval, and despite key institutions weakening as president Erdogan continues to consolidate power.
Brazil's equivalent of the Smithsonian went up in flames on September 2. The country's continued inability to balance its books and find leaders who can sell tough decisions seemed to underscore the huge loss of more than 200 years of culture and history for the struggling nation. The BRL weakened past 4.15 despite massive central bank intervention to stanch the losses.
The South African government doubled down on suspicions that it's considering outright seizure of land owned by white farmers in an attempt to empower the non-white population. As expected, the market frowned on a sovereign nation eliminating the safeguards of land ownership without compensation on the basis of race. Continuing the emerging market pain, the rand plummeted to levels not seen since the Gupta corruption story broke two years ago.
Protecting and Growing Your Business
Navigating foreign exchange for a growing business can seem like a Sisyphean task. Leverage the expertise of SVB FX, recently ranked by Bloomberg as the second most accurate FX forecaster in the world.4 Our highly skilled FX team can help you leverage unique expertise from across SVB to get you the information and ideas you need to protect and grow your international business efforts.
Learn more:
Read out latest FX Risk Advisory: FX forward Strategies for Volatile Emerging Markets.
Learn about the tailored services SVB offers for your foreign exchange needs.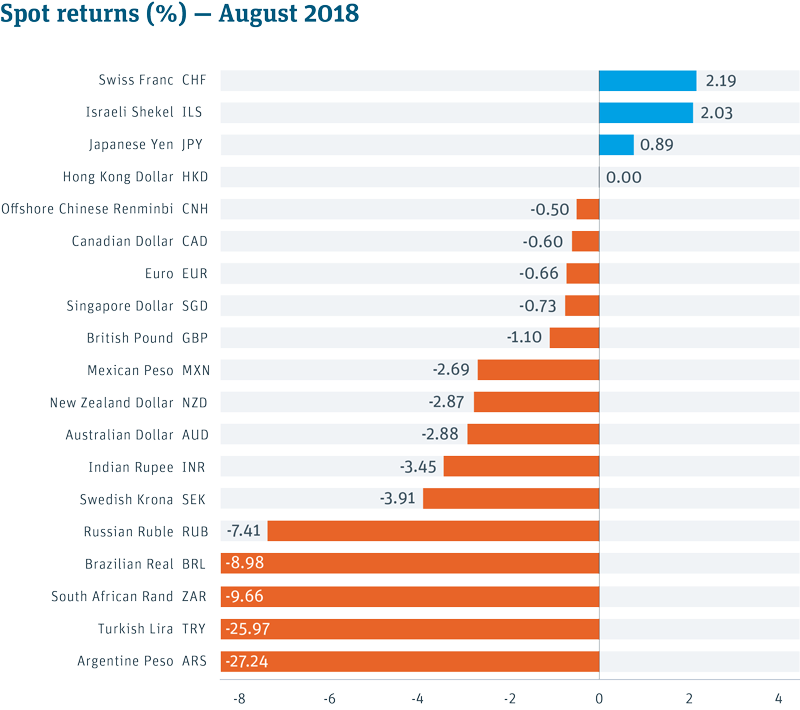 Sources:
1 Financial Times, 2018
2, 3 The Wall Street Journal, 2018
4 Bloomberg, Q2 2018
Bloomberg Q2' 2018 FX forecasters are ranked based on three criteria: margin of error, timing (for identical forecasts, earlier ones received more credit) and directional accuracy (movements with the currency's overall direction). The rankings which were based on Bloomberg's foreign exchange forecasts (FXFC), were for forecasters who provided forecasts for Q2' 2018 in at least three of the four preceding quarters but no later than one month prior to June 30, 2018.
Scores were calculated each quarter for the three criteria, which were weighted 60 percent, 30 percent and 10 percent, respectively. The final score for each currency pair was the time-weighted average of the four quarterly scores.
The best overall forecasters were identified by averaging the individual scores for each firm on all 13 currency pairs and all four quarters. Forecasters had to be ranked in at least eight of the 13 pairs to qualify for the overall ranking (58 firms qualified). All ranking tables display the top 20 percent of the forecasters who were eligible, to a maximum of 10 names.

© SVB Financial Group. All rights reserved. Silicon Valley Bank is a member of the Federal Reserve System. Silicon Valley Bank is the California bank subsidiary of SVB Financial Group (Nasdaq: SIVB). SVB, SVB FINANCIAL GROUP, SILICON VALLEY BANK, MAKE NEXT HAPPEN NOW and the chevron device are trademarks of SVB Financial Group, used under license.

This article is intended for US audiences only.
The views expressed in this article are solely those of the author and do not reflect the views of SVB Financial Group, or Silicon Valley Bank, or any of its affiliates. This material, including without limitation the statistical information herein, is provided for informational purposes only. The material is based in part upon information from third-party sources that we believe to be reliable, but which has not been independently verified by us and, as such, we do not represent that the information is accurate or complete. The information should not be viewed as tax, investment, legal or other advice nor is it to be relied on in making an investment or other decisions. You should obtain relevant and specific professional advice before making any investment decision. Nothing relating to the material should be construed as a solicitation or offer, or recommendation, to acquire or dispose of any investment or to engage in any other transaction.
Foreign exchange transactions can be highly risky, and losses may occur in short periods of time if there is an adverse movement of exchange rates. Exchange rates can be highly volatile and are impacted by numerous economic, political and social factors, as well as supply and demand and governmental intervention, control and adjustments. Investments in financial instruments carry significant risk, including the possible loss of the principal amount invested. Before entering any foreign exchange transaction, you should obtain advice from your own tax, financial, legal and other advisors, and only make investment decisions on the basis of your own objectives, experience and resources.