A breakdown of the brief history of Proptech and a look into what the future might hold
Real estate is the largest asset class in the world, larger than stocks and bonds combined. Savills estimates the value of all global real estate at $228 trillion. Real estate and construction represented 17.5% of US gross domestic product in the first quarter of this year. It is also a highly fragmented industry fraught with inefficiencies: the deep intermediation of the home-buying process, the challenge of procuring disparate documentation to close transactions and the exclusivity of access to investment opportunities, to name a few. Throughout the life of a real estate asset, from dirt to disposition, countless parties are involved — all taking a cut of the huge value at stake. These vested interests cause inertia and have led the industry to be somewhat insular. This is perhaps why real estate was one of the last sectors of the economy to receive its dose of tech disruption. Yet in real estate, as in other industries, no matter how ingrained and protected the status quo, a forced evolution has proven imminent.
Residential rents continue to increase as a proportion of the average American's budget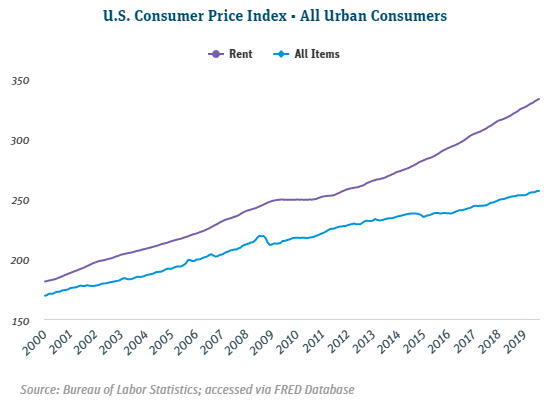 As the cost of housing skyrockets, increased efficiency brought about by technology is needed more than ever. Venture capital investors seem to agree: VC investment in the space has increased for 12 straight years, standing at over $7 billion in 2019 (as of 9/18/2019).
Venture capital investment in real estate technology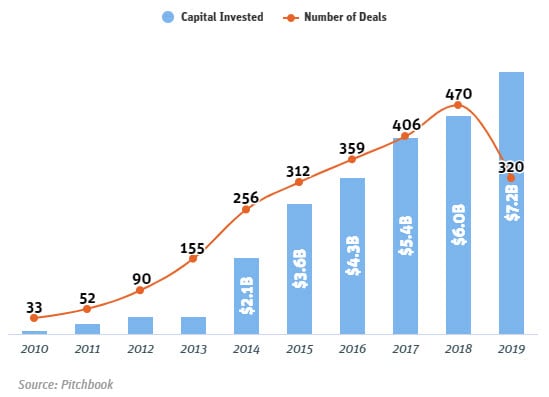 The fertile investment environment has been buoyed in no small part by proptech-focused VCs such as Fifth Wall and MetaProp NYC, both of which are led by experienced former industry participants. So, innovation occurred more slowly than it probably should have, but it is now in a state of full acceleration. Let's take a look at how this innovation emerged, what it looks like now and what it promises in the future.
The emergence of property technology
Tech started creeping into real estate in the 1980s and 1990s, mainly around data analytics software and market research tools. Entrepreneurs realized that advances in computing could be leveraged to gain informational advantages about the attributes and patterns of certain markets. A good database of comparable properties and associated rents, prices and other metrics gives significant advantage to a range of real estate professionals, from developers to agents. CoStar and LoopNet emerged from this first wave (CoStar subsequently acquired LoopNet in 2011). In our view, this was the first wave of property technology, or Proptech 1.0.
Proptech 1.0 was more than just analytics, however. Rudimentary software solutions emerged for different processes along the property life cycle. Yardi Systems (1984) developed the first such software for property management. Ellie Mae (1997) and Procore (2003) enabled mortgage origination and construction, respectively. Another important set of companies in the first wave was online listing sites; Redfin (2002) and Zillow (2004) are two examples of companies that brought residential real estate listings to the internet.
Altogether, these companies used tech to add significant value to the world of real estate but did not fundamentally change underlying business models. With Proptech 2.0, companies started doing the latter.
Proptech 2.0: From enablement to disruption
Similar to the evolution of fintech, Proptech first meant the digitization and tech-enablement of legacy processes. Eventually, entrepreneurs began exploring the potential of technology to fundamentally alter and reimagine these systems. How might machine learning be leveraged to determine the market value of a home so that an immediate cash offer can be made? Could a crowdfunding platform raise money for real estate investment deals? Though not all of these entrepreneurs look to the very frontier of tech to find their value propositions, questions like these lie at the heart of Proptech 2.0.
Notable Proptech 2.0 companies by area of focus

Many Proptech 2.0 companies are taking innovative approaches to residential transactions, which tend to take brokers out of the picture. Offerpad, Opendoor and ZHOME Innovation are exemplars in a new segment of companies that buy homes at algorithmically determined prices, usually closing within 24 hours. These companies then typically make minor repairs — their market data tells them which ones are the highest value-add — and resell the house. A highly innovative (and realtor-threatening) feature we see on these platforms is app-based instant unlocking of the home so that prospective buyers can tour it at their own convenience.
Another segment in the realm of residential transactions comprises companies that buy or guarantee the purchase of homes on behalf of prospective buyers, helping them avoid costly bidding wars. Names in this space include Flyhomes and ZeroDown. These companies' precise models vary, but they all drive efficiency and disintermediation in home buying.
In the area of real estate investment, democratization has been the core mission. Institutional-grade investments in the asset class have historically been just that — by and for institutional investors. A growing set of companies are bringing these opportunities to the individual investor.
Challenging the traditional real estate investment fund model, Cadre has made perhaps the biggest splash in this space by allowing participating investors to select the deals they would like to be in on and surfacing those deals with an advanced analytical back end. Cadre hit a premoney valuation of $735 million in 2017 and has partnered with Goldman Sachs to service its private wealth clients. Many other companies are helping retail investors gain exposure in different ways. PeerStreet, for example, focuses on real estate debt.
The final segment we place into Proptech 2.0 resembles the earlier process management software solutions but takes things up a notch. Take Qualia, whose software brings all parties involved in a transaction onto one unified platform, drastically simplifying the closing process. Texas-based Darwin Homes developed a property management platform that handles the tenant search and approval process, and then maintenance, rent collection, inspections and evictions. These solutions promise to streamline historically disjointed, tedious and time-consuming processes such that they can be rolled into "one-stop shops" and even automated.
Emerging technologies will bring forth the next wave of Proptech
Proptech 3.0 represents the application of frontier tech — like AI assistants, augmented and virtual realities, drones, blockchain and 3D printing — to real estate. Some instances of this application are still essentially theoretical, but their logic is clear; for example, a distributed blockchain ledger containing the complex information needed to instantly execute a real estate transaction is ostensibly superior to what we have now: various siloed information that must be manually pulled together. The barriers to such a system are ample, and breaking them would require unified effort from many stakeholders. Yet other Proptech 3.0 models are more within striking distance.
OJO Labs develops a virtual real estate advisor and has raised $71 million to date. Companies like OJO Labs are, interestingly, trying to reintroduce an element that may have been left behind in the digitization wave — the human, conversational element of home buying and selling. Advances in natural language processing may enable the restoration of this element without sacrificing the efficiency gains of digitization.
Virtual reality is another frontier with significant potential for real estate applications. It can be used to visualize properties still not built, helping increase confidence for home buyers or investors in real estate developments. It can be used to visualize properties that are already built but distant from the prospective buyer or otherwise inconvenient to see physically. VR is perhaps the most progressed segment within 3.0. Matterport's media platform includes tools for real estate and construction, and the company has raised $116 million to date, including from M12.
Drones can capture imagery that can be used to generate insights about building conditions, characteristics and potential hazards. Betterview has used this imagery to build a platform for real estate professionals to leverage for more-informed decisions about where and what to build.
3D-printed homes?
3D printing is an extremely powerful technology that could solve some of the deepest problems in real estate. Expanding the housing supply with cheaply constructed but high-quality dwellings using 3D printing could help solve housing crises throughout the world. A landmark achievement in this space, featured in Time magazine, came when in just 24 hours San Francisco–based Apis Cor built a 400-square-foot home in Russia capable of withstanding high winds and heavy snowfall. Austin-based ICON, whose last valuation was $22.5 million, makes devices capable of printing 600- to 800-square-foot homes in the same amount of time.
The tangible nature of real estate, as well as its human elements, makes it an exciting industry for frontier technology to be leveraged. Ironically, the industry that was last to be tech-enabled may be one of the first to integrate our most advanced technology in the coming decades. The enormity of the asset class and its importance to human life make it imperative that such integration takes place.
Do you agree? Want to learn more? Let's connect. Silicon Valley Bank has a unique place in the global innovation ecosystem and seeks to play an active role in building the next generation of game-changing Proptech companies.