In SVB Analytics' new insights report, DigitalHealth: Opportunities for Advancing Healthcare, we examine how empowering consumers is key to fixing the healthcare system. Patients want to be active decision makers, and evidence shows that engaged patients lead to lower healthcare costs and better outcomes.
This presents market opportunities for digital health startups that are developing patient-focused tools and services that provide relevant information necessary for informed decision making. Studies show that patients today are seldom provided enough relevant information on their medical diagnoses or treatment, and cost options. But the demand for this information is growing. More than 90 percent of adults say they want to be actively involved in decision making with their doctors, and 24 percent want to be completely in charge.
The benefits of being engaged are measurable. Research suggests low levels of patient engagement lead to higher emergency room costs and a greater chance of hospitalization. Healthcare costs for the least-engaged patients are 21 percent higher than those for the most-engaged patients. In addition, the least-engaged patients are subject to higher rates of medical errors due to poor—or a complete lack of—communication with healthcare providers. They also are less likely to seek care for a serious condition, and are less likely to follow a medical professional's advice.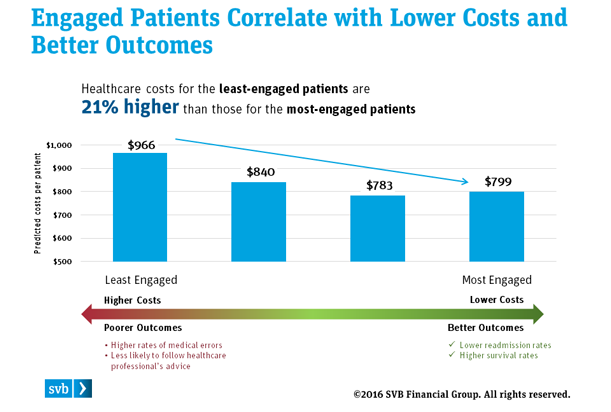 Becoming an educated health consumer is not easy. Even with more information, patients still often lack basic health literacy to use the information to their best advantage. Digital health opportunities also include providing access to online educational material and training on how to improve healthcare management and decision-making, including wellness and preventive health techniques.
---
Sources:
Literacy:
Ritsema TS, Bingenheimer JB, Scholting P, Cawley JF. Differences in the Delivery of Health Education to Patients With Chronic Disease by Provider Type, 2005–2009. Prev Chronic Dis 2014; ;11:130175. DOI: http://dx.doi.org/10.5888/pcd11.130175
Blumenthal-Barby, et al. The Neglected Topic: Presentation of Cost Information in Patient Decision Aids. Med Decis Making May 2015 vol. 35 no. 4 412-418
"America's Health Literacy: Why We Need Accessible Health Information." US Department of Health and Human Services. 2008
Costs: http://www.amjmed.com/article/S0002-9343(05)00011-2/abstract
Outcomes: http://www.ncbi.nlm.nih.gov/pubmed/12144984
Engagement:
"Chronic Care: A Call to Action for Health Reform." AARP Public Policy Institute.
Suzanne Mitchell, et. al. Patient Activation and 30-Day Post-Discharge Hospital Utilization. Journal of General Internal Medicine. 2013. 2014 Feb;29(2):349-55. doi: 10.1007/s11606-013-2647-2.
Judith H. Hibbard, et. al. "Patients With Lower Activation Associated With Higher Costs; Delivery Systems Should Know Their Patients' 'Scores.'" Health Affairs February 2013 vol. 32 no. 2 216-222. doi: 10.1377/hlthaff.2012.1064
David H. Gustafson et al. An eHealth System Supporting Palliative Care for Patients with Non-small Cell Lung Cancer: A Randomized Trial. Cancer. 2013 May 1; 119(9): 1744–1751; doi: 10.1002/cncr.27939
Last paragraph: "The State of Patient Engagement and Health IT" HIMSS. 2014.
This material, including without limitation to the statistical information herein, is provided for informational purposes only. The material is based in part on information from third-party sources that we believe to be reliable, but which have not been independently verified by us and for this reason we do not represent that the information is accurate or complete. The information should not be viewed as tax, investment, legal or other advice nor is it to be relied on in making an investment or other decision. You should obtain relevant and specific professional advice before making any investment decision. Nothing relating to the material should be construed as a solicitation, offer or recommendation to acquire or dispose of any investment or to engage in any other transaction.
SVB Analytics is a member of SVB Financial Group and a non-bank affiliate of Silicon Valley Bank. Products and services offered by SVB Analytics are not FDIC insured and are not deposits or other obligations of Silicon Valley Bank. SVB Analytics does not provide investment, tax, or legal advice. Please consult your investment, tax, or legal advisors for such guidance.