The convergence of healthcare and technology has arrived. Healthcare stakeholders are seeking solutions to survive and thrive in a fast-changing regulatory and clinical environment. At the same time, enabling technologies are becoming widely adopted. The healthcare ecosystem is aligning around critical areas to bring widespread advancements through digital health solutions. However, what is digital health? SVB Analytics has defined Digital Health as solutions that use digital technology to improve patients' health outcomes and/or reduce the cost of healthcare.
For SVB Analytics' new report, " Digital Health: Opportunities for Advancing Healthcare," we mapped the digital health ecosystem through an examination of the challenges faced by each stakeholder, and grouped companies based on the digital health solution provided. (The list of companies shown is not exhaustive.)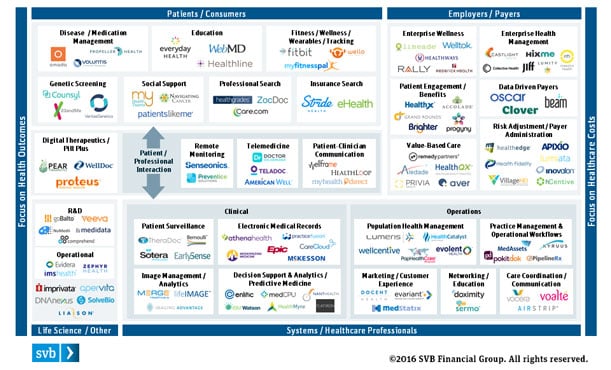 The technologies were segmented into four categories:
Patients/Consumers
Employers/Payers
Life Sciences/Other
Systems/Healthcare Professionals
The map's vertical axis plots increasing care delivery involvement from top to bottom. On the horizontal axis, technologies and solutions on the left are more focused on improving outcomes, whereas those on the right focus more on cost savings.
In the report, we examine the challenges faced by employers, payers, healthcare professionals and systems, and consumers in further detail.
In forthcoming reports, we will dive deeper into the trends and opportunities for each stakeholder.
This material, including without limitation to the statistical information herein, is provided for informational purposes only. The material is based in part on information from third-party sources that we believe to be reliable, but which have not been independently verified by us and for this reason we do not represent that the information is accurate or complete. The information should not be viewed as tax, investment, legal or other advice nor is it to be relied on in making an investment or other decision. You should obtain relevant and specific professional advice before making any investment decision. Nothing relating to the material should be construed as a solicitation, offer or recommendation to acquire or dispose of any investment or to engage in any other transaction.
SVB Analytics is a member of SVB Financial Group and a non-bank affiliate of Silicon Valley Bank. Products and services offered by SVB Analytics are not FDIC insured and are not deposits or other obligations of Silicon Valley Bank. SVB Analytics does not provide investment, tax, or legal advice. Please consult your investment, tax, or legal advisors for such guidance.