Daily FX Update
---
SVB's Daily FX Update provides insight into the factors driving today's foreign exchange currency movements. Our FX Team is consistently ranked by Bloomberg as one of the best FX forecasters in the world for accuracy.
Currency pairs where SVB FX is currently ranked in Bloomberg's Top 10 World Ranking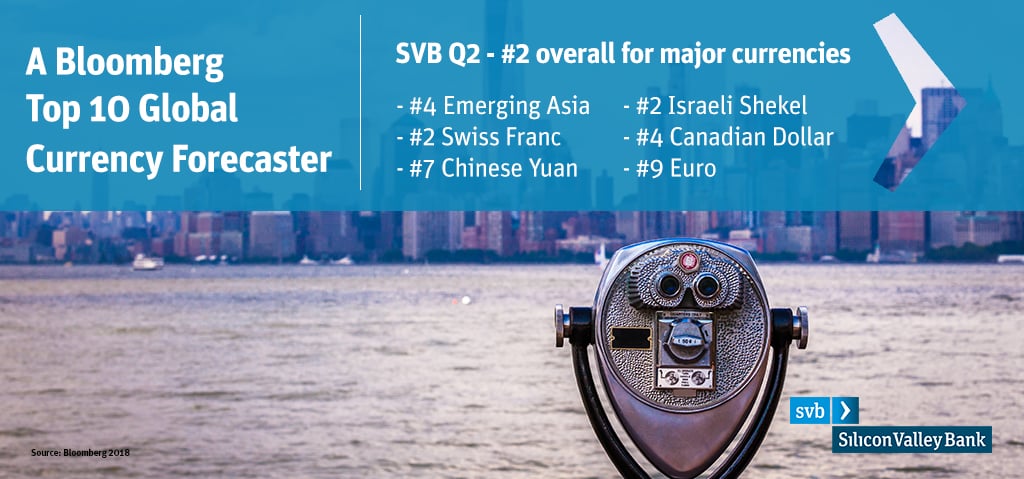 Subscribe to receive the Daily FX Update in your inbox.
By providing your email address and clicking on the Subscribe button below, you consent to receive emails from Silicon Valley Bank for your chosen categories. You also consent to the terms of our Privacy Policy. If you have privacy questions, you may contact us at privacy@svb.com. You can withdraw your consent at any time.
Thank you for subscribing to SVB's Daily FX Update.
For more analysis on FX markets or information regarding SVB's FX services:
Source: Bloomberg 2018
Bloomberg Q2' 2018 FX forecasters are ranked based on three criteria: margin of error, timing (for identical forecasts, earlier ones received more credit) and directional accuracy (movements with the currency's overall direction). The rankings which were based on Bloomberg's foreign exchange forecasts (FXFC), were for forecasters who provided forecasts for Q2' 2018 in at least three of the four preceding quarters but no later than one month prior to June 30, 2018.
Scores were calculated each quarter for the three criteria, which were weighted 60 percent, 30 percent and 10 percent, respectively. The final score for each currency pair was the time-weighted average of the four quarterly scores.
The best overall forecasters were identified by averaging the individual scores for each firm on all 13 currency pairs and all four quarters. Forecasters had to be ranked in at least eight of the 13 pairs to qualify for the overall ranking (58 firms qualified). All ranking tables display the top 20 percent of the forecasters who were eligible, to a maximum of 10 names.
Now Let's Get Started
---
See how SVB makes next happen now for entrepreneurs like you.