How to be a successful entrepreneur
Entrepreneurship isn't a job, it's a calling. Now on his fifth startup, Joe Meyer has lived through all of the ups and downs of turning ideas into businesses.
"After two initial start-up failures earlier in my career it would have been very easy for me to give up and go down a "safer" career path; but fortunately I stuck with it," he says. Two start-ups later (which were acquired by AOL and Apple respectively), Joe is now the founder and CEO of New York-based, ExecThread, Inc. – a venture capital-backed platform that connects top professionals to job openings that aren't listed on the mass-market career sites, and in doing so exposes them to the "hidden job market".
Meyer is happy to share lessons he has learned along the way, specifically, how to find success as an entrepreneur.


Embrace your passions


Meyer says that the best entrepreneurs are usually the ones who choose a service or product about which they are passionate and knowledgeable, and one that they believe can be vastly improved. ExecThread is no different in that Meyer felt the pain of executive recruiting as both a candidate and hiring manager and based on his own frustrations with the process he decided to attack the pain points.
"For every successful entrepreneur on the cover of Inc., or Forbes, or Fortune, there's a whole graveyard of failed entrepreneurs. Don't do it to get on the cover of a magazine, or because it's cool to say you're an "entrepreneur". Do it because you truly think you can make a difference, because you do think you can innovate. And only do it if you have the passion, conviction and perseverance to overcome a perpetual set of challenges and bumps in the road that are sure to surface from the early days onward."


Experience only gets you part of the way


"Even if you are spring-boarding from a success, each new venture is different and there's simply no guarantee that a new venture is going to be successful," he says. Meyer says it takes the same grit and persistence, no matter how many times you've launched a startup. "It doesn't get easier every time, it almost gets harder," he adds.
Meyer likes to say that day-to-day startup life can be summed up as "ongoing turbulence", but the key is to keep the plane afloat. "In any one day you can be extremely down and you can also be extremely up," says Meyer. The trick is finding balance. You can't get too high, nor too low. "It's like a boxer – if you think you're going to get defeated you might as well not even step in the ring," he says.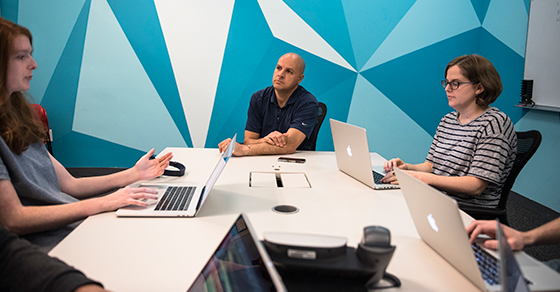 It's like a boxer – if you think you're going to get defeated you might as well not even step in the ring.
Joe Meyer
Founder and CEO of ExecThread
Build a motivated team


As a company leader, he says guiding and motivating a team is critical for success. Taking a somewhat contrarian point of view, Meyer doesn't think motivation is necessarily derived from free lunches and a game room in the office. As an employee himself over the years, he says, "I wanted to be given a ton of responsibility, I wanted to be given autonomy, I wanted to be compensated well, and I wanted to be treated with respect." So, there are no pool tables or bean bag chairs at ExecThread; because employee satisfaction and fulfillment comes from how much you enjoy the job you were brought on to do; not by how many fringe benefits are thrown at you. He says what motivates the best people is "a job that they truly own that has a direct impact on the company, and a "cause → effect" nature to it."


Nurture your relationships


At a business dinner a decade ago, Meyer sat between two strangers. "That one night I made two very important relationships" that would come in handy several years later, he says. One became a lead investor in ExecThread, and the other is his ExecThread's banker, the head of Silicon Valley Bank's New York office.
When he launched ExecThread, Meyer went straight to best-of-breed providers, and SVB was at the top of his list for banking. "There was no doubt in my mind that SVB has the best reputation in the commercial banking space, and delivers value to its clients that go beyond traditional commercial banking services" he says.
Joe Meyer
CEO and Co-Founder, ExecThread
Headquarters
New York, NY
Let's Get Started
Are you an innovator seeking a bank partner to help you move your big idea forward?
Contact Us