Revolutionizing rental property management
About Hemlane
SVB is excited to share this founders' story about
Hemlane, Inc.
, a technology company that equips rental owners to manage their properties remotely using online tools that collect rent, coordinate property maintenance and track expenses. The company is headquartered in San Francisco.
In this video, Hemlane, Inc. CEO and Co-founder Dana Dunford shares her startup journey and launch of the rental property management platform with integrated fintech — and finding the right banking partner to support her company's long-term growth.
Hemlane delivers rental property management with sleek UX and fintech
Dana Dunford hadn't planned to leave corporate life when she entered Harvard Business School in 2013. But as graduation neared, job offers from two previous employers — Apple and Google/Nest — had new competition.
It had all started with Harvard professor Thales Teixeira's lectures about decoupling services to offer customer savings and steal market share from industry leaders (he has since written a best-selling book on the topic).
That's how Dana spotted an opportunity when friends and family members vented about managing their rental properties. The problem, they said, was that they had only two options: handling everything themselves or hiring a management company that charged 10% of their rental revenue for doing it all: advertising openings, scheduling showings, screening tenants, running background checks, collecting rent and overseeing maintenance.
And while nobody wanted to take a call about a backed-up toilet on a Friday night, most wanted to handle some tasks themselves to save money and better understand their expenses. "When you purchase a real estate investment, it's not like stocks, where you just put money into it and watch it," Dana says. "You're buying a physical asset, and you want it to be something that you have more control over."
Frank Liu, a mutual friend and startup entrepreneur with a Stanford MS degree in management science and engineering, was in on those conversations, too. While he started tinkering with software ideas, Dana dug in to research the industry, learning that 72% of rental properties1 are self-managed. She also discovered that rental property owners in America increased from 8.3 million to 10.7 million2 during and after the mortgage crisis of 2007 and '08.
"Rental property management was a huge market that had been untapped by technology," Dana says.
The vision she and Frank shared: employing fintech to reduce costs and simplify property management in the same way robo-advisor digital platforms had disrupted investing.
A startup is born
Dana recalls Thales's patient mentorship at a weekend brunch he and his wife hosted at the Harvard Faculty Club. While she and her classmates kicked around ideas, he sat back, allowing the conversation to reveal their passions and skills. "He listened to me ramble for 15 minutes before asking, 'Have you ever thought about X,Y, Z?'"
Energized by the session, she poured her findings into a group project that earned the top grade in a design innovation course. Shortly after that, Thales asked if she would stop by his office, where he presented her with a convertible note for $30,000 that she and Frank could use if they pursued the startup together.
Lying awake in her Boston apartment, Dana ticked off the costs to her personal life: disposable income, nights out with her husband, Tahoe ski weekends with girlfriends, cheering on the San Francisco Giants back home with her sisters.
Taking a job with Apple or Google would guarantee 9-to-5 workweeks and weekends off. "But it was kind of like, 'Gosh, I've already been there. I've already done that....'"
Graduate school, Dana realized, had changed her. And now she had a promising concept, a mentor who believed in her and a once-in-a-lifetime tech partner. She made the decision in her final semester. At 29, she entered a risky financial space dominated by men.
Dana had wisely built a strong network of friends including Gavin Myers, a co-founder of real estate disrupter Prudence Holdings (now Prudence Ventures). "He's always said, 'Don't compare yourself to anyone else. Just keep your head down and keep going.'"
She also had thousands of LinkedIn connections, and she reached out to all of them, asking if they would connect her with friends who owned rentals. That positioned her to find pain points and test the online tools Frank was developing.
The solution: Revolutionize rental property management
By March of 2018, Hemlane (inspired by hem, or "house" in Swedish and the imaginary lane that separated their business from the others) was up and running. A user-friendly system walked landlords through steps to set up rent, record expenses and request maintenance and repairs. "We made it super easy, so they don't have to think about it."
Hemlane also provided owners with income and profit-and-loss statements, a lease ledger and a statement of cash flow. And while traditional models hold rental payments in trust accounts for up to 15 days before paying out owners, Hemlane's transferred tenants' payments directly to owners, a major convenience for landlords and a differentiator for the business.
Dana and Frank also used financial technology, or fintech, systems to send reminders that would help renters avoid late fees and make paying rent easier.


The tenants loved it because they could click a button, integrate their bank account quickly, set up auto-pay and have reminders of lease renewals and everything in the system to make the financial tracking and payment processing experience better.
Hemlane's fintech systems also made the startup attractive to investors, Dana says, because "sticky" products like payment processing systems help retain customers.
As Frank continued to perfect the system, Dana handled marketing, account management, tech support ("People don't understand this button...") and sales. Even after they were able to begin hiring staff, she coordinated repairs. "My husband didn't like it because my phone would ring at 2:00 a.m., and it would be a landlord testing that we have 24/7 repair coordination," she laughs. "But that was the impetus of understanding what people needed and were willing to pay for."
It's also how she and Frank concluded that some functions will always be best handled by people, who can reassure renters dealing with broken toilets, beeping smoke detectors and other unwelcome surprises. Dana also makes sure it's not just talk. "If you submit a maintenance request, our team is on it."
Series seed to Series A during a global pandemic
In December of 2019, Hemlane announced it had completed a $2.5 million Series Seed financing round led by Gavin's company. When the COVID-19 pandemic hit a few months later, the company pivoted quickly, setting up new processes and educational programs to help landlords and tenants navigate an uncertain time.
First, they emailed property owners, advising them to offer alternate payment plans or let tenants out of their leases without termination fees if their incomes had been impacted by COVID-19. They also set up a "suspend" button in their online payment system to make it easier when tenants needed to declare and document their inability to pay rent or switch to a revised payment plan due to COVID-19.
They hosted webinars on Zoom to update customers on federal guidelines designating who could legally delay rent payments and who could not. And they followed up with live Q&A sessions and blog posts in which real estate lawyers answered customers' questions.
These measures, Dana says, helped Hemlane property owners keep rent payment defaults below the national average. "Usually when things go wrong in our industry, it's because there's so much tension between landlords and tenants. And usually, it comes back to people not understanding one another. That's where the power of technology can be used to build a better bridge."
That in turn kept Hemlane moving forward during a difficult time in the rental industry, positioning it for a successful Series A funding round in 2021 co-led by Asymmetric Capital Partners and Prudence Ventures.


SVB was super founder-friendly in a lot of ways. Those first couple of years we had almost no money in our bank account, and they gave us free checking and waived so many fees. That is really helpful when you're just starting out.
Dana Dunford, Co-founder and CEO
Hemlane partners with SVB
Early in the Hemlane journey, a friend at satellite startup Skybox Imaging recommended SVB as a banking partner. "He said, 'They're not just a bank. They're going to help with your funding and your raises and other things as well,'" Dana says.
She's glad she took his advice. "SVB was super founder-friendly in a lot of ways. Those first couple of years we had almost no money in our bank account, and they gave us free checking and waived so many fees. That is really helpful when you're just starting out."
Dana has also appreciated SVB bankers' agility at every step, from setting up accounts to hammering out loan agreements. "They have responded right away with anything I have needed."
In October 2021, SVB offered $3 million in venture debt to round out investors' commitments of $9.17 million in the company's Series A funding round. They're big numbers, but the company is already posting $210 million in annualized payments.
Dana and Frank's strong network and focus on innovation continue to serve the company well. A new option they're considering: working with SVB's Fintech Accelerator Group to develop their own payment infrastructure. "It would be an incredible savings," Dana says.
Dana still loses sleep now and then, but it's not over whether she should have taken the easier career path. "I haven't looked back," she says. "But sometimes I wonder whether Frank and I would have pulled all those all-nighters if we hadn't wanted this to be Thales's best investment."


To see more real-world growth stories, read SVB's new e-book, Strategies for Growth Beyond Series A. Discover the latest market trends in our report, The State of Fintech.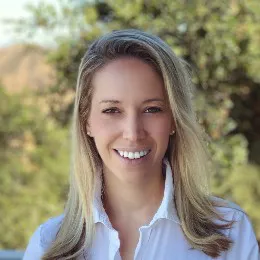 Dana Dunford
Co-founder and CEO
Headquarters
San Francisco, California
Company Size
18 employees
Goal
Offer flexible property management options for rental property owners, landlords and real estate investors.
SVB Solution
Venture debt
SVB Fintech Practice
Discover how SVB supports Fintech companies at all stages of growth.
Learn more
eBook: Strategies for growth beyond Series A
Get the eBook with insights from founders, CEOs and venture capitalists and receive tangible recommendations to consider post Series A.


Insights to inspire you
---
Stay up-to-date on what's happening across the innovation ecosystem.