Key Takeaways
Omnichannel will be the dominant strategy for brands in the post-pandemic world.
Physical stores are becoming critical touchpoints to convert customers when deploying an omnichannel approach.
Commerce companies will explore the potential for Web3 and metaverse trends through partnerships and acquisitions.
In retail, what's old is new again. Derived from lockdowns and social distancing, the COVID-19 pandemic changed consumer behavior, accelerating the adoption of online shopping. Over 18% of U.S. goods were purchased online in 2021, up 10 percentage points since 2012.
Forced into rethinking their strategies quickly, brands are blending their online and offline presences leveraging an established approach — omnichannel. Adopting an omnichannel strategy requires creating a coordinated, seamless shopping experience across multiple channels, re-envisioning the role of physical stores in the process.
In fact, the deployment of different flavors of omnichannel retail strategies and the merging of the physical and digital realms may be one of the most significant retail industry trends happening today, according to our latest consumer report The Future of Retail: An exploration of emerging trends redefining the retail industry. For a brief overview of the findings, watch the explainer video.
Consider these recent events, new store openings in 2021 were greater than store closings for the first time in five years. In fact, Macy's paused several planned store closings when it realized its e-commerce sales were higher in markets where it had brick and mortar locations. At the same time, e-commerce companies are increasingly embracing physical locations as not only an effective and complimentary sales channel, but also a way to shape customer experiences and capture behavioral data.
The evolution of omnichannel [infographic]
The state of omnichannel today is the result of a more than 25-year-long evolution. The infographic below charts the development of the approach, from the dawn of e-commerce to today's omnichannel world.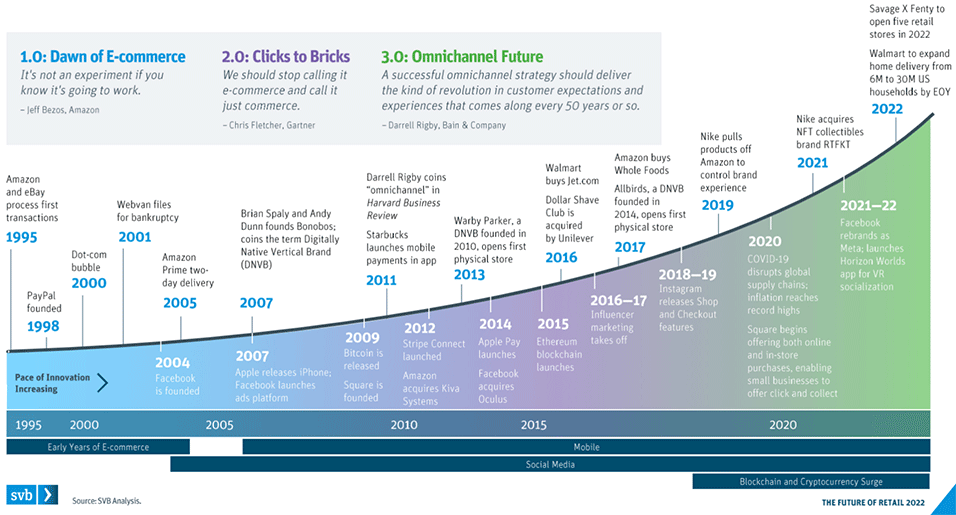 Its roots were planted in 1995, when Amazon and eBay processed their first transactions. Ten years later, Amazon introduced the Prime two-day delivery option. In 2011, four years after Apple released its first iPhone, Darrell Rigby, a partner at Bain & Company, coined the term omnichannel, the same year Starbucks launched its mobile payments app, thereby connecting the digital and physical realms.
A flurry of omnichannel developments followed, such as Warby Parker's opening of its first brick and mortar store in 2013, Walmart's purchase of Jet.com in 2016 and Amazon's 2017 acquisition of Whole Foods. After the pandemic arrived in 2020, a heightened need for a seamless offline and online customer experience arose, along with experimentation with NFTs and forays into the metaverse.
Predictions for the future of retail
What does the future of retail hold? The report offers these forecasts:
All in on omnichannel. To compete with increasing digitization, retailers will need to be everywhere the customer is. As a result, omnichannel will become the dominant strategy for brands. By 2025, 31% of online commerce will be fulfilled by omnichannel in the U.S., up from 22% in 2020, according to Colliers.

Personalization. Customers will expect increasingly personalized experiences. With that trend in mind, the report predicts more partnerships, investment and M&A by commerce companies to help tie online and offline experiences to meet expectations for personalization.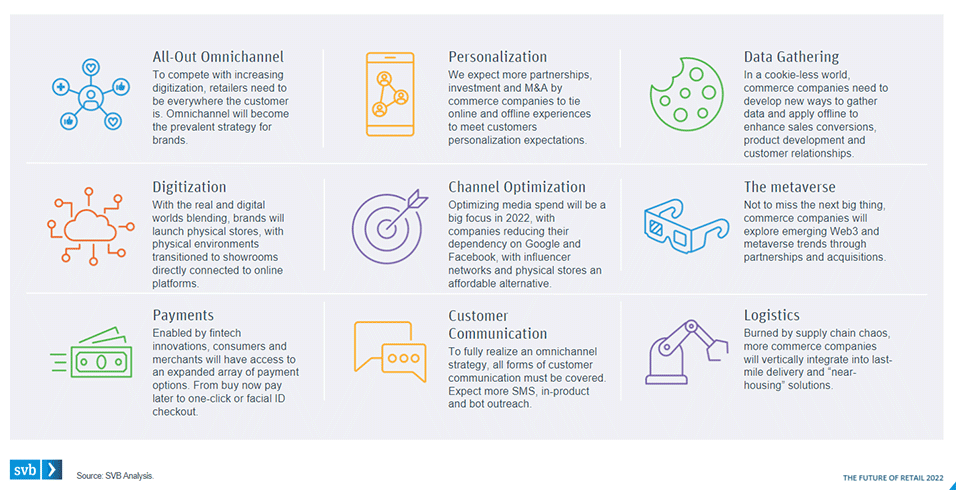 Source: SVB The Future of Retail, pg. 15.
Data gathering. Changes to Apple's operating system and Alphabet's proposed ban on third-party cookies will force commerce companies to develop new ways to gather data, utilizing offline channels to enhance sales conversions, product development and customer relationships. Brands will use data from such technologies as beacons, mobile apps, self-service kiosks and virtual mirrors to build consumer profiles.

Digitization. With the real and digital worlds blending, brands will launch brick-and-mortar stores designed as showrooms that are directly connected to online platforms. Physical stores will increasingly become critical touchpoints to convert customers when deploying an omnichannel approach.

Channel optimization. Optimizing media spend will be a big focus in 2022. Companies are reducing their dependency on Google and Facebook, as influencer networks and physical stores offer affordable alternatives.

Tapping the metaverse. As they seek to capitalize on emerging tech developments, commerce companies will explore the potential for Web3 and metaverse trends through partnerships and acquisitions.

Advances in payment systems. Enabled by fintech innovations, consumers and merchants will have access to an expanded array of payment options, from buy-now-pay-later to one-click or facial ID checkout.

Customer communication. To fully realize an omnichannel strategy, retailers must consider all forms of customer communication. That will mean more SMS, in-product and bot customer outreach.

Changes to logistics. Battered by supply chain chaos, more commerce companies will vertically integrate into last-mile delivery and "near-housing" solutions. Already, there has been a significant jump in investment in last-mile delivery and warehouse technology startups.
Thanks to the acceleration of online commerce, brought on by responses to the pandemic, brands are increasingly turning to an omnichannel strategy to maximize their interactions with customers and create a holistic brand experience.

I invite you to download The Future of Retail report for a closer look. Topics include the rise of omnichannel, investments, M&A and IPOs insights and much more. To learn more about how Silicon Valley Bank supports consumer internet companies, visit Consumer Internet website, or contact me directly via my contact card.