The struggle for oil-and-gas service companies to remain relevant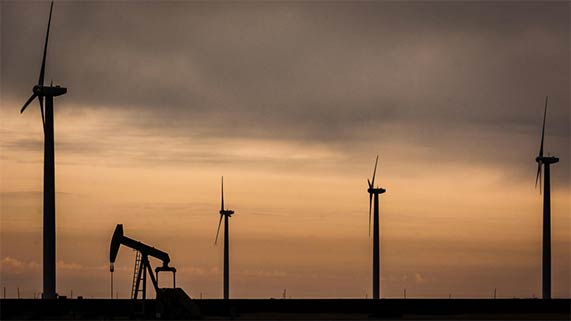 Tectonic shifts in the energy sector have resulted from technological advances such as utility-scale electric storage, low-cost renewable energy production and efficient combined-cycle natural-gas plants. In a bid to remain relevant in an increasingly decarbonized energy sector, major oil producers such as BP, Total and Royal Dutch Shell have led investment and acquisitions in innovative cleantech companies. Yet oilfield service companies, which perform ancillary services such as providing work crews, chemicals, tools and heavy machinery, have failed to make the same investments to evolve their business models. Oilfield service companies represent a $250 billion industry that is struggling. Since 2015 in North America alone, 185 oilfield service companies have filed for bankruptcy; this past July, Weatherford International, the fourth largest oilfield service company, filed Chapter 11 with $8 billion in debt.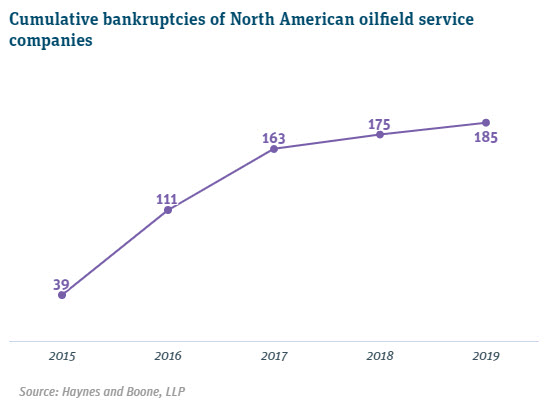 Oilfield service companies are responsible for the upstream inputs used in the production of oil and natural gas, including many of the jobs related to hydrocarbon production. So, with increasing bankruptcies comes increasing uncertainty for many who rely on the industry for employment. The bankruptcies stem from a toxic mix of decreased margins and falling revenues. The 185 companies that have filed for bankruptcy represent $65 billion in cumulative debt, which in many cases is never fully repaid.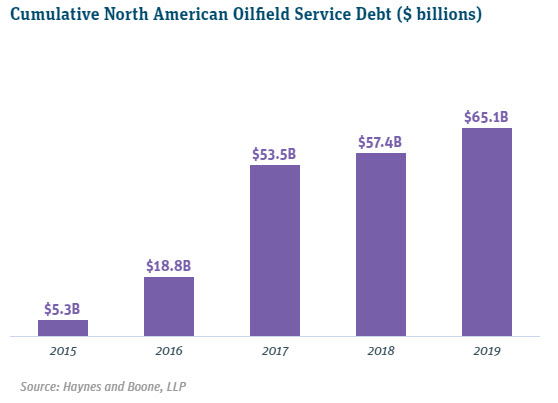 In the face of low commodity prices, oilfield service companies have experienced increasingly tight margins. Investors and financiers seek innovative companies that can adapt to changing business environments by leveraging technology to improve operational efficiency, decrease costs, widen margins and improve corporate environmental, social and governance (ESG) goals. Innovation is not limited to the realm of the high-tech Silicon Valley startups; it has grown to include the industrial sector as well. In a recent survey of Canadian oilfield service companies, 36% say they are currently facing the disruptive impacts of technology, 17% believe they will face those impacts in the next year and 19% believe they will feel the impacts in the next two to five years.
Low commodity prices have pushed oil-and-gas operators, responsible for exploration, drilling and extraction, to quickly adopt new technologies that may improve tight margins. Yet while oilfield service companies realize that innovation will disrupt the sector, incumbent oilfield service companies have struggled to implement new technology and have seen their margins continue to decrease.
There are two major ways that the oilfield service industry will feel the impacts of technological innovation. First is through the disruption of their current capital-intensive business model by nimble tech companies that have higher margins and can scale quickly. Second, as innovation continues to push energy markets to electrify using renewables, the fossil fuel industry will decline. This trend has pushed oil majors such as BP, Total and Royal Dutch Shell to lead investment and acquisition in the cleantech space. This has led Royal Dutch Shell to declare its goal to become the world's largest electricity company.
Top corporate investors in cleantech energy companies
| | |
| --- | --- |
| Corporate Investors | Deals LTM |
| | 6 |
| | 6 |
| | 5 |
| | 4 |
| | 4 |
| | 3 |
| | 3 |
| | 3 |
While oilfield service companies cannot prevent macrotrends toward renewable energy, they can seek to advance their business by turning to innovation. Incumbent oilfield service companies are old: Their senior leadership has turned over multiple times, and they have historically failed to innovate internally. Thus, to remain relevant, some companies may turn to acquisition of new technology developed by startups in the innovation economy.
As witnessed across industries, applying new technology to old businesses can substantially improve margins. Over the past five years, traditional B2C service companies have commanded a multiple of 1.64× (valuation ÷ median revenue), while tech companies in the service business achieve 3.66× multiples in shorter time horizons, and it is common to see multiples between 6× and 8×. Investors realize the benefits of technology as it drives outsized returns on investment due to lower entry costs and higher return metrics on key performance indicators. Thus, investors are seeking tech-enabled oilfield service companies over traditional business models.
The application of such technologies as artificial intelligence (simulation of human thought processes by machines) and digital twins (digital models of physical infrastructure), which can be used to improve production optimization and for preventive maintenance, will dramatically influence how oilfield service companies operate. These technologies stand to dramatically improve the oilfield service industry. This innovation is exemplified by companies such as GoExpedi, which combines an e-commerce platform with supply chain modeling that can ensure that critical parts for oil rigs are provided when they are needed, thus improving efficiency, increasing margins and decreasing the risk of environmental catastrophes, such as oil spills, gas flaring and uncontrolled fugitive emissions.
Not only are public market shareholders demanding innovation to reduce cost structures and improve efficiency but more investors are increasingly turning to ESG strategies. In 2018, 26% of total US assets under professional management, one in four dollars, were invested through ESG strategies. Norway's $1 trillion sovereign wealth fund is divesting from 134 companies that develop oil and gas, but it will still hold shares of Royal Dutch Shell, which plans to spend $1 billion to $2 billion on clean energy investments annually, and BP, which has a substantial clean energy and innovation division.
Technology in the oil-and-gas industry can dramatically improve efficiency and safety, which translates to decreased greenhouse gas emissions and less likelihood of environmental disasters. While the environmental costs of climate change caused by greenhouse gas emissions are external to traditional economic decision-making, the value of these costs is substantial and is not ignored by the large number of investors who are turning to ESG strategies. Much of the money divested from traditional asset classes in ESG strategies finds its way into technology-based companies, spurring further growth in the innovation ecosystem. Cleantech investment has also grown dramatically in the past 10 years.
This money not only flows into improving the efficiency of oil and gas but also includes innovations in the energy industry at large. Innovation in clean energy and renewables is fundamentally changing the energy market. Investment in renewables is estimated to reach $10.2 trillion by 2050, as wind and solar are now the cheapest energy source across more than two-thirds of the world. Since 2010, the price of electricity storage has decreased by 85% and is now a competitive alternative to natural-gas peaker plants that ramp up to meet peak demand. Energy storage has seen large investments, with companies such as Energy Vault raising $110 million this year and battery storage companies such as Form Energy raising a $40 million series B in August, led by oil-and-gas giant Eni.
As competition in renewable energy markets increases and margins decrease, companies are turning to IoT, AI, and cognitive computing to optimize production and power preventive maintenance, lowering costs and improving margins.
Finally, as the negative externalities of carbon are increasingly accounted for in carbon markets through cap and trade, carbon taxes or other mechanisms, carbon capture technology will become increasingly important and may potentially allow fossil fuels to remain relevant while producing fewer greenhouse gas emissions responsible for anthropogenic climate change.
The oilfield service industry is increasingly squeezed by low commodity prices and an inability to innovate. The high numbers of bankruptcies and large losses in the past four years illustrate this decline. In the medium term, innovative companies will take an increasingly larger market share of the oilfield service industry. Long-term trends, however, dictate an overall slowdown of the oil-and-gas industry, as technology in the transportation and energy system become increasingly electrified and renewables, coupled with storage and other technologies, provide a larger share of that electricity. While oil-and-gas majors in recent years have bullishly pursued investments and acquisitions in disruptive technology, oilfield service companies have struggled to innovate and have paid the price. To remain relevant, oilfield service companies must turn to the innovation economy to enable continued growth in a changing business environment.
At Silicon Valley Bank, we have deep expertise working with oil-and-gas companies combined with strong ties to the Silicon Valley ecosystem. If you are working in this space and would like to learn more about SVB's role, please reach out to chat.