Animal husbandry cannot meet increasing demands of the future


Source: Business Insider
In 2016, more than
4,000
new vegan, dairy-free or vegetarian products were released, with more options being added by the day. Consumers are actively seeking alternatives to animal products that do not sacrifice taste, which is the top reason why US adults are willing to consider plant-based proteins. And advances in food science and technology have led to the development of alternatives whose taste and appearance rival the animal-based versions.
The increasing demand for alternative proteins is the result of the growing awareness of human health, environmental damage and poor animal welfare linked to animal products. The widespread use of antibiotics in animal husbandry has led to antibiotic-resistant strains of bacteria, which according to the World Health Organization are one of the biggest threats to global health, food security and development. Animal products are a major contributor to greenhouse gas emissions and require large quantities of water relative to plant-based proteins. A study by the Oxford Martin Programme on the Future of Food found that reducing meat consumption and switching to plant-based foods could result in economic benefits of well over
$1 trillion
resulting from improved human health and reduced environmental damage.
Water consumption and CO2e production per serving

Sources: IME, United States Department of Agriculture and University of Michigan
The resource intensity of meat production has led to concerns over the future sustainability of the food system. The global population is projected to grow around 25% to 9.7 billion people by 2050. A growing middle class in China and the developing world equates to more demand for meat. The United Nations projects that the global population-adjusted growth rate for meat consumption will increase by 1.6% annually through 2030, fueled by developing nations. Thus, there are significant concerns over food security and sustainability given the resource intensity of meat, which creates a market opportunity for sustainable products.
The current market value of alternative protein products — $2.2 billion — is quite small relative to the total value of the meat market at
$1.7 trillion
. Consumer interest in alternative protein products is growing, as
76%
of Americans believe that plant-based foods are healthy. New diet trends have created a significant market opportunity for alternative protein products. Plant-based meat and dairy products are projected to grow at
20.3%
compounded annually between 2018 and 2024.
Interest in alternative diets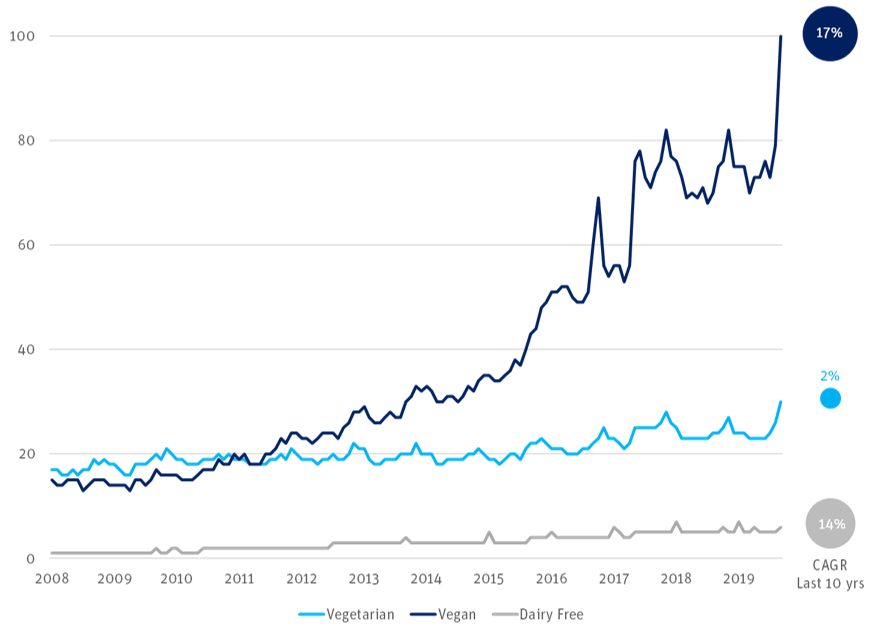 Source: Google Trends
The vast landscape of alternative protein spans products derived from insects, algae, vegetables and lab-grown meat. For the sake of analysis, however, it is helpful to divide alternative proteins into two primary categories: plant-based meat and dairy products and cellular agriculture. Plant-based meat and dairy combine plant-based materials to mimic the flavor and texture of meat. Cellular agriculture encompasses both efforts to grow animal-derived cells to replicate real meat products as well as fermentation processes to derive proteins and fats from cells. Currently, most alternative protein products fall under the category of plant-based meat and dairy.
Top private plant-based meat and dairy companies by total amount raised
Source: PitchBook
Perhaps the most notable plant-based meat and dairy company is Beyond Meat, which has rapidly expanded its market share, signing contracts with such major companies as Denny's, Del Taco and Carl's Jr. Beyond Meat has wowed consumers with its realistic taste and meat-like appearance. From its initial public offering price of $25 per share, the stock price has increased more than 230% and has outperformed many of 2019's IPOs.
Major food companies like Kellogg's, Nestlé and Tyson Foods recognize that the market is changing and that they must innovate to compete with Beyond Meat and other plant-based alternatives. "Today's consumers are seeking more protein options, so we're creating new products for the growing number of people open to flexible diets that include both meat and plant-based protein," says Tyson CEO Noel White.
Kellogg's released its Incogmeato brand, Nestlé created its Awesome Burger and Tyson launched its Raised & Rooted brand. Major conglomerates developing plant-based meat products pose a significant threat to startups, as large companies have brand recognition, economies of scale and significant capital to fund R&D and marketing.
Plant-based dairy alternatives have also quickly expanded their market share, especially among younger generations. According to the McKinsey Dairy Consumer Survey,
73%
of Millennials and Gen Zers reported using dairy-free alternatives in the past year. The rise of alternative dairy products has put pressure on the dairy industry. Per capita milk consumption decreased 26% since 2010, and the dairy industry as a whole experienced a lackluster compound annual growth rate (CAGR) of just 0.6% across all milk-based products. These factors have pushed America's largest milk company, Dean Foods, to file for Chapter 11 bankruptcy, while companies like Ripple, producers of pea milk, and Kite Hill, producers of yogurt and cheese products, have grown rapidly and successfully tapped into growing consumer demand.
Investors recognize the opportunity in alternative protein products. Over the past six years, capital invested in plant-based meat and dairy products has experienced a 44% CAGR. The majority of this capital has gone to top companies such as Beyond Meat, JUST and Impossible Foods. The top companies have developed a substantial moat given the high cost of entry, but as the market grows and matures, additional companies, including the large corporations previously mentioned, will move into the space, increasing competition.
Deals and investment in alternative protein products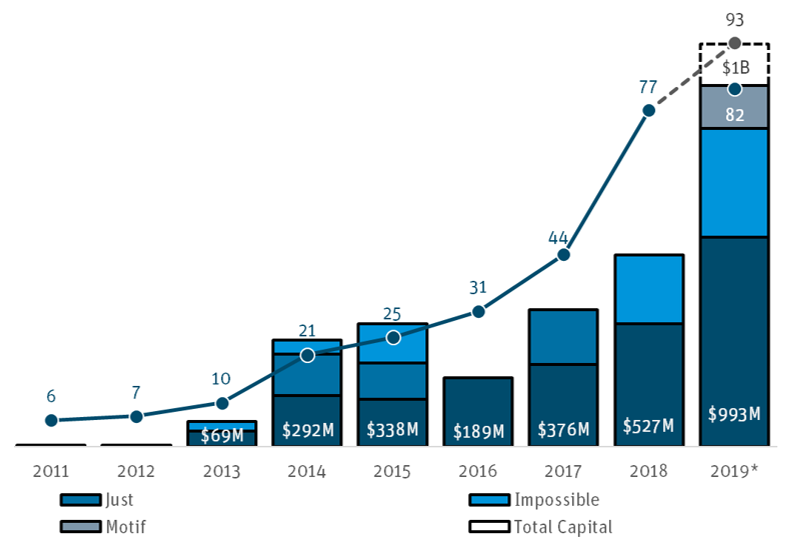 Source: Pitchbook
While plant-based meat and dairy products comprise the lion's share of the alternative protein market, the market is headed toward cellular agriculture that uses cells to produce more sophisticated protein products. Companies such as Perfect Day, which is developing milk proteins, and Clara Foods, which is developing egg proteins, have harnessed cells to produce realistic alternatives.
Cellular agriculture has also enabled the production of lab-grown meats, which offer a humane, sustainable and possibly healthier alternative to traditional animal products without sacrificing taste or imposing dietary restrictions. Cellular-based meat companies are still in the early stages of developing products and scaling production, so costs remain high and the taste and texture still have room to improve. Current lab-grown meat products are mostly replicating loins and cuts that lack intermuscular structures, and critics claim that lab-grown meats lack the complexity of flavor. The future of lab-grown meat will require improving flavor, decreasing costs and developing more-complex cuts.
Companies such as Mosa Meat, Finless Foods and Memphis Meats have made significant advances in producing lab-grown meats and have attracted investment from large agriculture and food companies like Cargill and Tyson, but despite their promise have a long way to go to reach the supermarket shelves.
Top private cellular agriculture companies by total amount raised
Source: PitchBook
Despite the growth in the industry, there is meaningful pushback to meat alternatives. The disruption of the meat industry threatens profits and people's jobs. The meat industry employs roughly
527,000
people directly and 5.4 million people indirectly. While lab-grown meat will likely require a smaller, more educated labor force, plant-based foods will not likely decrease the number of jobs, as agriculture will persist.
Nonetheless, Mississippi and Arkansas recently passed laws that attempt to ban plant-based products from being labeled as milk or meat. While the Mississippi law was overturned in court, both laws reflect the industry's fight against disruption by new players and the significant sway of the meat and dairy lobbies. In 2018, agribusiness spent
$78.1M
lobbying to protect its US interests.
Beyond industry pushback and political opposition, the alternative protein industry faces skepticism from the public, as
51%
of Americans believe that a meal is not complete without meat, and many people believe, despite contrary scientific evidence, that eating meat is required for a healthy diet. Furthermore, stigmas over the connection of meat consumption with masculinity represent barriers to adoption, but high-profile athletes and celebrities who are vegans or vegetarians are changing these beliefs.
Beyond societal beliefs and stigmas, some argue that plant-based products are overprocessed. Producers of plant-based meat and dairy products, however, counter that raising meat requires antibiotics, hormones and other harmful contaminants that processed vegetables do not contain.
While there is still pushback to alternative protein products, the number of new products and companies, capital invested and consumer interest in alternative diets continue to grow. As product offerings improve and people become more receptive to alternative proteins, the industry will take an expanding share of the meat and dairy market.
It is still unclear how the future meat market will shake out; we see the possibility for the meat market to eventually become stratified by the type of production and consumption. In the future, industrial meat production in factory farms with antibiotics, hormones and residual contaminants, catering to the lower end of the mass market, may occupy the bottom rung of the sector. Plant-based and lab-grown meats that offer a sustainable, humane and healthy alternative to animal husbandry may solidify a position as the protein source of choice of the vast middle class. Finally, the highest-value products may be the more expensive and status-validating specialty meats such as grass-fed, free-range, antibiotic- and hormone-free products, similar to the position that wagyu beef occupies today.
At Silicon Valley Bank, we embrace the future of the food industry. We have deep expertise working with foodtech companies and strong ties to the Silicon Valley ecosystem. If you are working in this space and would like to learn more about SVB's role, please reach out to chat.
With contribution from Josh Wagner.