Healthcare Investments and Exits Report
PERSPECTIVES ON GLOBAL HEALTHCARE INNOVATION
---
What's driving innovation in life science and healthcare? SVB is committed to serving the ecosystem by providing industry-leading reports featuring proprietary analysis and targeted outlooks to help companies and investors achieve their goals. Twice a year we publish deep-dive analyses describing fundraising, investment, M&A and IPO activity of private, venture-backed biopharma, medical device and diagnostic/tools companies. Our deep relationships with top life science and healthcare entrepreneurs and investors inform our insights and give us a vantage point unlike any other bank.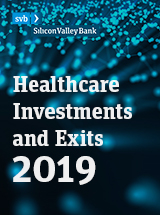 Last year saw new records for venture fundraising and investment in life science and healthcare. Download our annual report to read our analysis plus our outlook for 2019.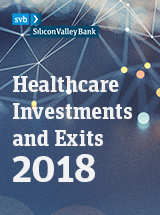 Now Let's Get Started
---
See how SVB makes next happen now for entrepreneurs like you.