Key Takeaways
Despite an initial slowdown due to the pandemic, VC investment in AVs is set to match last year's record mark as investors realize the opportunity in a COVID-19 world to heavily leverage AV technologies to fight the pandemic—as well as the knock-on benefits that companies could realize in the long run.
AVs ability to pivot their businesses to delivering essential goods, such as groceries and medical supplies, has helped get them back on the road—a necessary development to continue pushing toward ultimate scale and adoption.
The pandemic has enlightened a broader audience to the immense potential of AVs, serving as a catalyst for greater opportunities and an accelerator for AV companies to sue their technologies and adoption with our everyday lives.
SVB explores the impact of COVID-19 on the funding environment for autonomous vehicle technology, and why 2020 might have accelerated society towards a driverless future.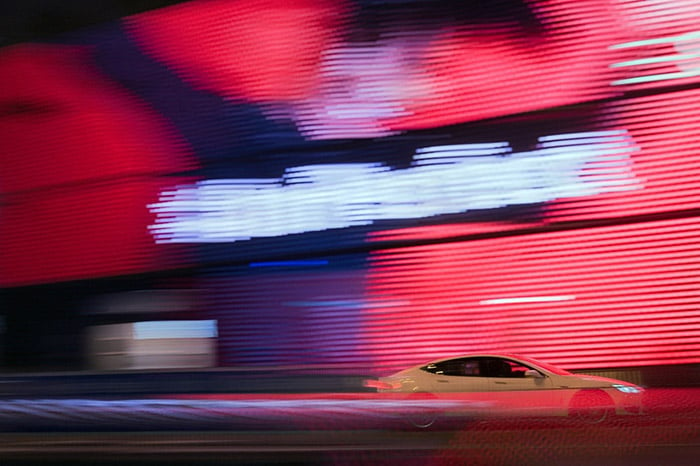 Source: SVB Marketing Studio
It is safe to say that most of us are breathing a sigh of relief that 2020 has come to a close. The past year was unlike any other, full of unique and unprecedented challenges that turned our lives — and the innovation economy — upside down. Even as the global pandemic continues to present difficulties going into 2021, it has simultaneously provided certain industries in the venture ecosystem with immense opportunities for growth.
Although startups initially prepared for the worst, for many the reality was much brighter than expected. Previously nascent or stalling industries seemingly took off overnight, and dominating tech behemoths have seen their leads only strengthen. Amid all the noise, however, one industry has seen a surprising boost this year: autonomous vehicles (AVs).
As the pandemic took shape, VC investment didn't play favorites, as funding scaled back across all industries and regions. Investors assessed the damage, focused on cash management and operations and evaluated which companies to support moving forward. This led to an especially pointed slowdown in emerging and advanced technologies, including AVs, which are somewhat unproven and tend to be capital intensive — potentially throwing a wrench into the speed of innovation in the space. Global venture investment in AVs saw its weakest quarter and lowest deal count since 2017.
Global VC investment in AVs by quarter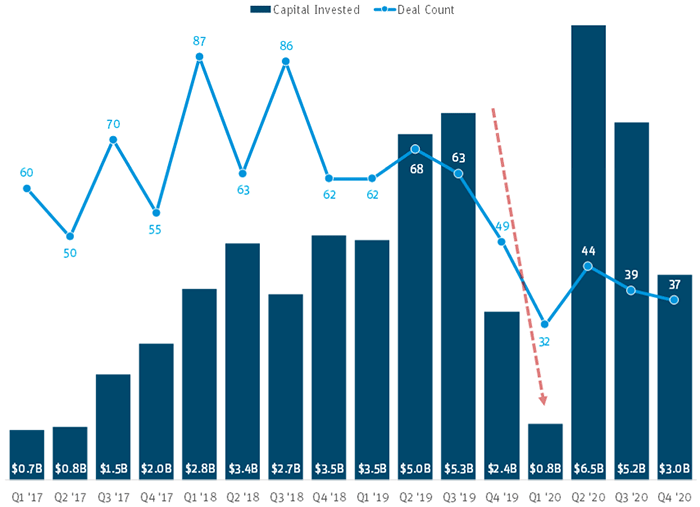 Source: PitchBook
It's worth noting that investment in this niche tends to be somewhat clunky historically and is driven by outsized rounds. The steep drop (in just two quarters) highlights the impact of COVID-19, as investors hesitated to deploy large sums in an uncertain environment in less established industries and technologies.
As Jim Adler, founding managing director at Toyota AI Ventures, puts it, "The autonomy tech space is not for the faint of heart — it requires a significant long-term commitment, and it's likely to see more challenges in the short term. When COVID-19 hit, investors who were not in it for the long haul wanted or needed to get out immediately. Consolidation was happening anyway, but COVID-19 precipitated tough decisions, leaving only the most committed investors."
Fears surrounding suspended testing of AVs, stalled partnerships and delayed regulatory issues and approvals were top of mind for those in the sector. As the dust settled and investors got clarity of the new normal, however, the longer-term prospects of AVs became promising. This helped spur a jump in funding in Q2 and Q3, putting 2020 back on pace to match the record funding of 2019.
Global VC investment in AVs by year

Source: PitchBook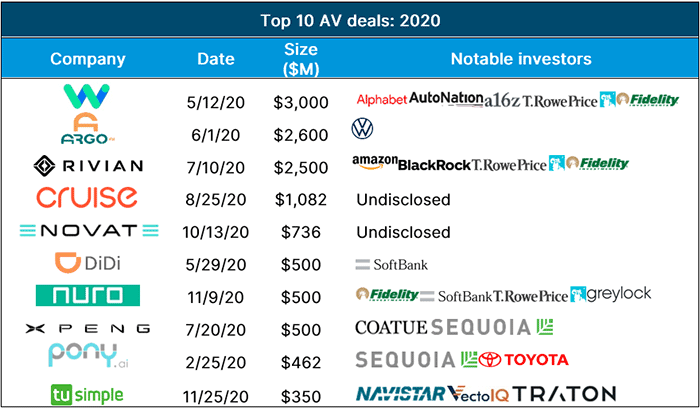 So, what caused the boost in funding for AVs? On paper, a lot of it was driven by strategic corporates and crossover investors who were jumping back into venture — bucking a historic trend of being labeled "tourist investors" in response to economic downturns. Additionally, Asian AV startups attracted significant dollars, as China continues to emphasize AVs and smart cities while also benefitting from being the first country to truly emerge from pandemic-related lockdowns. At a higher level, what drove investors back was the opportunity in a COVID-19 world to heavily leverage AV technologies to fight the pandemic — as well as the knock-on benefits that companies could realize in the long run.
At face value, AVs might have been viewed as a modest early winner of the new normal as a way to help support, facilitate and enable physical distancing — a plus for consumers who have infection risk top of mind when considering transportation. Over the longer term however, AVs' true opportunity is to play a critical role in contactless delivery of essentials and necessities: meals, groceries and medical supplies. Self-driving-car companies had initially paused on-road testing in the US, as it was not considered an essential business; but by pivoting their business to deliveries (at least for the time being), they were able to get back on the road — a necessary development to continue pushing toward ultimate scale and adoption.
Jim Adler further comments: "The pandemic has heightened the need for autonomous vehicle technology, and it's easier for society as a whole to recognize the benefits of AV technologies in everything from delivering essential goods to autonomous taxis and shuttles.… I believe that speed is often a startup's only superpower, and the best startups will react to changing circumstances — and changing needs — as quickly as possible. Those startups will develop their tech faster from the increased demand for solutions that would benefit from autonomous technology."
Indeed, Toyota AI Ventures' own portfolio hosts a great example of this pivot in action. May Mobility has adapted by installing a host of new sanitization and safety processes in its autonomous public shuttle service. Elsewhere, Toyota Motor-backed startup Pony.ai has been delivering groceries in California from local e-commerce platform Yamibuy, as well as meals to local emergency shelter programs. Other companies, such as Cruise and UPS-backed TuSimple, have supported food bank efforts across the US, while SoftBank-backed Nuro has been delivering medical supplies to temporary COVID-19 hospitals and facilities in California.
Although these services aren't generating top dollar for the companies, they are playing a crucial role in gaining exposure and experience, testing features and building partnerships and ultimately gathering data to further improve their safety, efficiency and adoption. This is especially important as core operations are getting back on track.
Waymo opened up its driverless taxi services in Arizona, and Cruise is seeking regulatory approval to deploy Cruise Origin driverless shuttles in San Francisco. Just last month, Aptiv-Hyundai joint venture Motional (founded in March 2020) received regulatory approval to test fully driverless vehicles in Nevada.
This is all to say that in some way the pandemic has awakened the immense potential of AVs, serving as a catalyst for greater opportunities and an accelerator for AV companies to fuse their technology and adoption with our everyday lives. While hurdles remain — namely regulatory approvals, public trust and the future of remote work — it's clear that AV growth potential is undeniable, and a public that (pre-pandemic) thought of AVs a folly of science-fiction eagerly awaits their arrival.
Silicon Valley Bank is the bank of innovation economy and works with a wide variety of companies that together are creating the technologies for a driverless future. We regularly publish reports (check out our 2019 Mobility Report) and host events on this topic and a variety of other sectors, so don't miss out and be sure to subscribe to our mailing list today!