Key Takeaways
2021 may prove to be an inflection point in slowing large tech companies' growth and power consolidation.
Interest in antitrust enforcement and reform is broadening on Capitol Hill.
In highly consolidated industries, increased regulation could significantly impact exit optionality and potential.
The technology sector has flourished since the millennium – and its giants along with it. Facebook, Amazon, Apple, Netflix, Google (Alphabet) and Microsoft — collectively FAANGM — now account for roughly a quarter of the S&P 500, a seven-percentage point increase from the end of 2019, with four of these six companies valued at market capitalizations over one trillion dollars. And even with all the challenges of 2020, big tech showed no signs of a slowdown. In the fourth quarter alone, Apple booked 111.4 billion dollars in revenue — for context this is 2% of US gross domestic product (GDP) and a 21.5% jump from 2019. Stock prices followed suit, with each company outperforming the S&P 500 by 10% to-60% in 2020.
Large technology companies have also been critical to growth in the venture ecosystem. In many ways, these giants are the masters of scale, holding the keys to the digital kingdoms of search, social, work, entertainment, health, communication, commerce and creation. FAANGM has acquired 181 VC-backed startups over the last five years and, despite the general slowdown in M&A in 2020, these six names announced 28 VC-backed acquisitions in 2020. Indeed, the first six months of 2020 saw the fastest pace of acquisitions since 2015 and the highest median deal size since 2016.
Yet even as the COVID-19 pandemic shows its first signs of receding, the prospect for continued growth — or exit — by acquisition may not be as certain as before the pandemic. As it relates to M&A, 2021 may prove to be a true inflection point in slowing the previously unbridled growth and power consolidation of large technology companies. In the last year alone, the Federal Trade Commission (FTC) discouraged 12 deals from closing; five of the transactions were blocked and another seven abandoned due to antitrust concerns. By December of 2020, the Department of Justice (DOJ) filed a monopoly lawsuit against Google, challenging their allegedly monopolistic conduct in search and search advertising. In that same month, the FTC filed a monopoly lawsuit against Facebook challenging some of its prior acquisitions, as well as other conduct. Indeed, in the last decade, we've seen a 47% increase in the average days to close for US technology company M&A – suggesting some correlation between regulatory scrutiny and slowed deal pacing.
At the same time, interest in antitrust enforcement and possible reforms is broadening on Capitol Hill. In recent weeks, Sen. Amy Klobuchar (D-Minn.) introduced The Competition and Antitrust Law Enforcement Reform Act. This is an ambitious bill that would, among other things, shift the burden of proof from the government to the merging parties if the buyer has more than 50% market share and the deal involves a likely competitor or market disruptor. The bill also substantially increases funding to both the FTC and the DOJ's Antitrust Division. Sen. Josh Hawley (R-Mo.) recently proposed a "preemptive prohibition" on acquisitions by "big tech" companies. The House seems similarly invested in the issue, having conducted a 16-month bipartisan investigation of these issues during the last congressional session. Last October, the House Judiciary Committee's Antitrust subcommittee issued a lengthy report summarizing their findings and recommendations ("Competition in Digital Markets"), and although the two sides did not agree on most matters, a House Republican response made clear that there was bipartisan alignment on some foundational issues. These included technology companies' using "killer acquisitions" to remove up and coming competitors from the marketplace. The House antitrust subcommittee returned to the issue by holding another hearing just last month.
The interest and willingness of the White House to engage on these issues will become more evident as it fills key positions, but there are early indications that antitrust will be a priority. During the Attorney General confirmation hearing, Judge Merrick Garland reflected on his past antitrust work, promising Sen. Klobuchar his commitment to "vigorous" enforcement of antitrust laws. Even more telling, perhaps, are President Biden's most recent nominations of two noted scholars to important administration posts: Tim Wu to the National Economic Council as a special assistant for technology and competition policy, and the expected nomination of Lina Khan for the FTC. Both Khan and Wu have been lauded as vanguards of the Antitrust movement, with Khan gaining notoriety first for her paper "Amazon's Antitrust Paradox" and later for her work as a staffer for the House Judiciary Committee's Antitrust subcommittee, and Wu for his sophisticated critiques of big tech business models and his coining of the term "net neutrality." Khan has written about the need to use all the tools in the "antimonopoly toolbox," and indeed, one could argue the FTC hasn't used many as of late. It's tempting to discount the possibility of monumental change to the law or enforcement landscape. Yet true bipartisan interest in enhanced scrutiny and restrictions makes compromise more likely based on common areas of interest, whether it be specific enforcement or discrete reform.
In this way, 2021 may bring major changes to the exit trajectories of VC-backed startups, as well as the acquirer landscape. For entrepreneurs and investors alike, these shifts warrant thoughtful consideration. Over the last five years, strategic M&A has accounted for, on average, approximately 80% of VC-backed exits. In highly consolidated industries — depending on how these are defined — increased regulation could significantly impact exit optionality and potential. Certainly, in the specific tech sectors below, many of FAANGM far exceed proposed 'bright line' thresholds of 50%, which could limit their ability to make further acquisitions.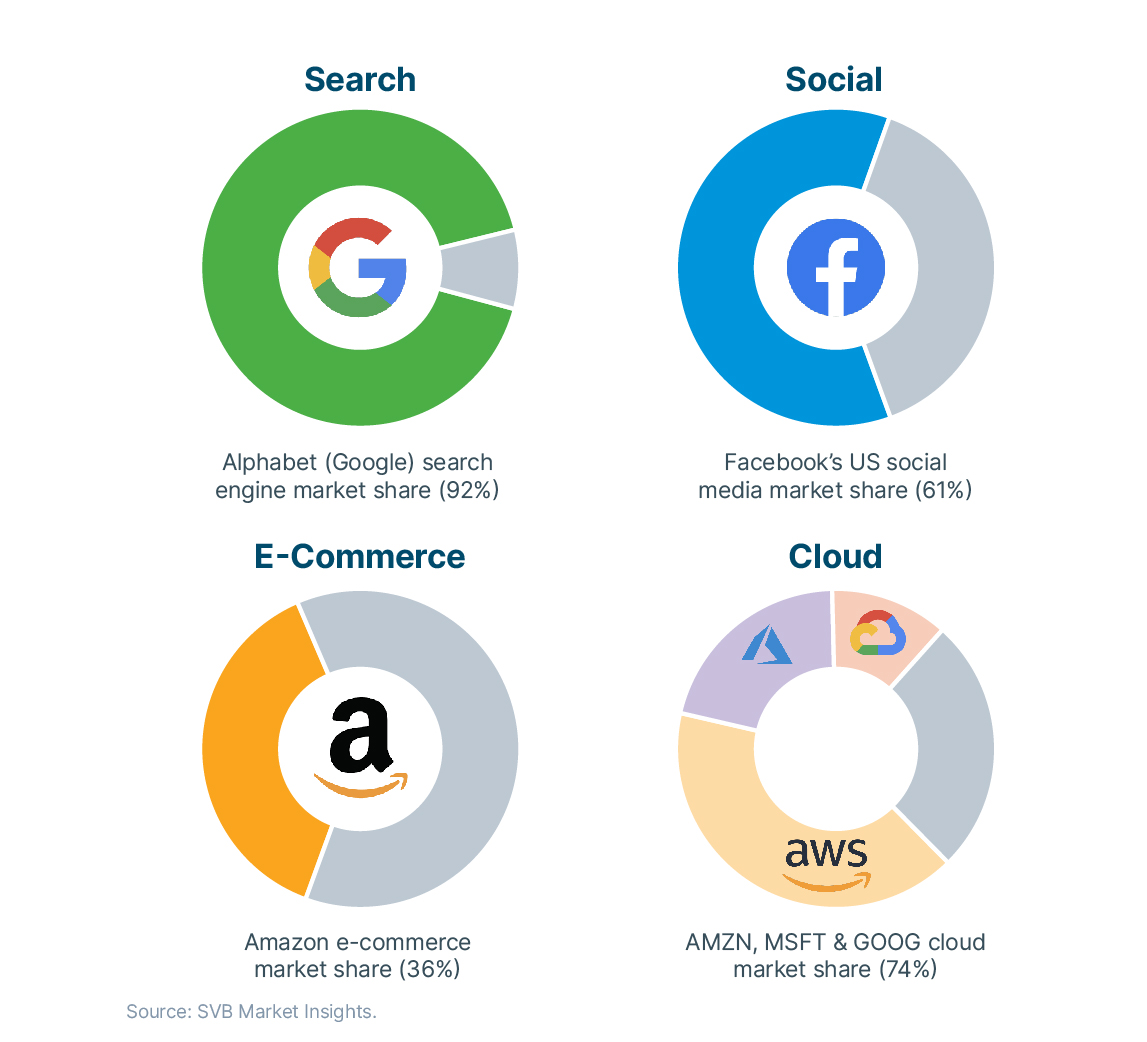 Europe may provide some useful tells on the future of antitrust in the US; unfortunately for large technology companies that may indicate a ramp up in regulation around data-sharing and utilization as well as hefty penalties. Since 2016, the European Union as well as its individual countries have imposed more than 20 billion euros in fines and other financial penalties against large technology companies for competition, antitrust and state-aided abuses.
As it relates to data, the European precedent on antitrust implies there may be significant impact on data-sharing within the broader technology sector in the future, particularly as governments and regulatory bodies seek to expand consumer privacy standards and strengthen guardrails. If Facebook, Amazon, Microsoft, Google (Alphabet) and Apple (FAMGA) lobbying expenditure is any indication, there is recognition these shifts have the potential to be monumental to the innovation ecosystem in the future. This cohort has ramped up lobbying efforts over the past decade. And it's no surprise that Amazon and Facebook, two companies at the heart of data privacy concerns, spent record amounts on lobbying in 2020.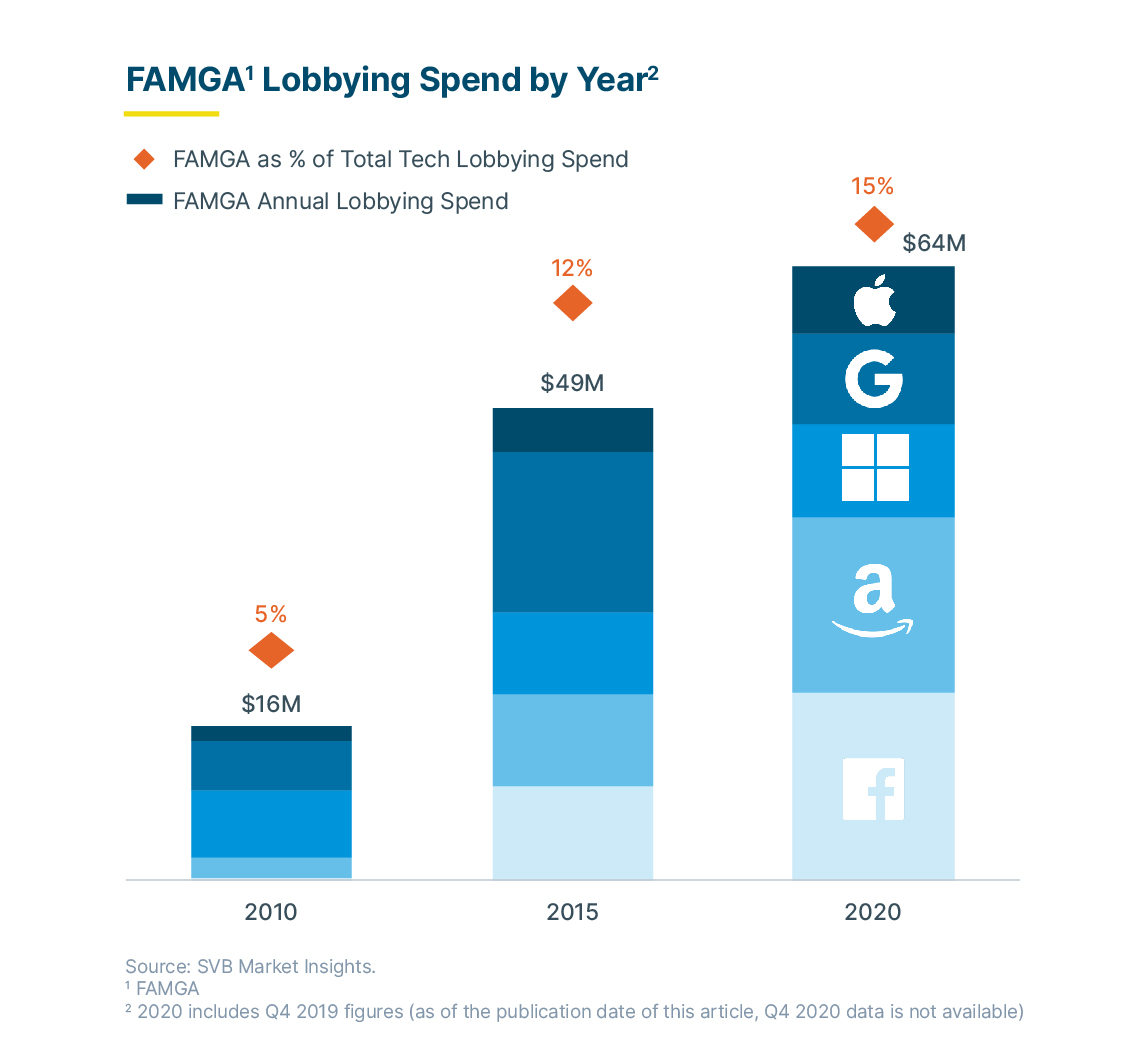 Only time will tell exactly how and to what extent big tech and the venture ecosystem will be impacted. As the global leader in the innovation economy, we are committed to supporting the venture ecosystem and increasing our partners' probability of success via our deep industry expertise and unique network.
Our corporate relationship management team not only serves as the connective tissue between SVB's client ecosystem and the most active corporate investors, acquirers and partners of today, but also provides insight into the trends of tomorrow. If there are ways we can partner to be of help, please don't hesitate to reach out.