Business Credit Cards
SVB corporate cards aren't your traditional business credit cards. Our card products are designed to help you manage your financial needs better and scales as your business grows.
Already an SVB client*? Get started
Interested in an SVB card and not a client?
Business credit cards for startups
SVB has worked with many startups across the innovation economy. As the bank of choice for innovators, we understand what it takes to support growing businesses like yours.⁶ Our products are designed to meet your needs at every growth stage of your company. Benefit from integrations with top expense management and digital wallet solutions.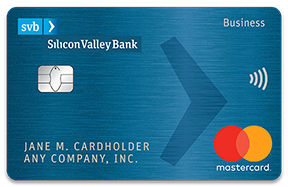 SVB Innovators Card
Whether you are just starting up or raising your Series A, B, or C round of funding, the SVB Innovators Card gives you the flexibility you need while allowing you to streamline digital payments and spend management to run your business.
Learn more
A business card designed for founders and finance teams
No personal liability
2x rewards guaranteed, no cap, or redeemable cash rewards points1 gift cards, merchandise, and travel
No annual or employee cards fees
Already an SVB client*?
Get started
Interested in an SVB card and not a client?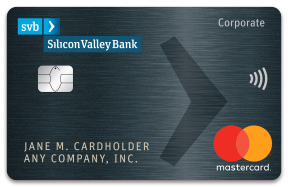 SVB Multi Card Mastercard
Providing the convenience of combining a purchasing card and a T&E card, the SVB Multi Card helps your company scale spending capacity quickly and with increased security.
A business card designed to help get more done
Built-in options of virtual card numbers
Flexible, transaction specific spending control limits
Cash back rewards2 through annual revenue sharing payments
Business Credit Card Tools
Our card solutions give you easy-to-use tools to help you stay focused on your business goals and financial objectives.
Consolidate finances with spend management integration
Automatically sync your transactions with apps like QuickBooks, Expensify, and Xero through a unique PIN to gain immediate visibility into your business finances and consolidate expenses.
Extra convenience with contactless purchasing and ghost cards
Tap your card anywhere there is a contactless symbol for faster purchasing or use ghost cards for better tracking and accountability.
Consolidated real-time account view
Centrally manage all your banking needs with visibility into your accounts and transactions with an SVB Online Banking dashboard.
Leverage your card as a strategic payment tool
Consolidate spending and expenses with ease and security by using our integrated payment platform that enables physical, online or virtual card payments.
Ready to get started with SVB business credit cards?
Learn how SVB card products can help your business operate efficiently and scale rapidly. Already an SVB client*? Get started
Interested in an SVB card and not a client?
Get more value out of your business credit card
Together with our clients across the innovation economy, SVB is uniquely positioned to help you get the best value out of your company's card program. Get best practices, tips and tricks from clients advancing spend management in today's digital world.
How SVB can help your business grow
Our banking products can help support you as you look to unlock new opportunities no matter your stage of growth – call us today to learn how SVB can help your business.
Corporate Cards
SVB Corporate Cards3 are designed to help you better manage your spending and payments transactions, while you scale and grow your business.
Business Checking
Easy-to-use banking services4 that let you focus on building your business.
Global Banking Services
Banking, investment and advisory services designed to support your business as you look to expand globally.
Global Merchant Services
Accept payments now and streamline accounts receivable in the long run with an integrated and seamless global payments platform.
Lending
Flexible, tailored financing solutions3 to help you fuel your business strategies.
Foreign Exchange Services
Foreign exchange services5 to help you optimize currency moves and manage risks better in international markets.