The Super Bowl highlighted the fact that a stellar background isn't always enough for a reigning champion to overcome a determined enemy. The key parallel in global markets is New England Patriots' longtime quarterback Tom Brady and Germany's dogged Chancellor Angela Merkel.
Merkel had to accept a whole new team to broker a coalition government after four months of deadlock. Germany's position as powerhouse of the eurozone and its continued centrality to world markets are leading many to speculate that the fate of the euro will likely follow the Patriots' — largely thanks to President Trump's brand of diplomacy.
In an ideal world, FX markets would trade on solid economics and trade. But, the globe we're working with is allowing passion and bravado to 'Trump' nearly everything else. The resulting hyper volatility presents challenges and opportunities for corporates around the world to play offense and defense with their global balance sheets — or run the risk of being on the losing side of a winnable match.
US Share of Global Trade1
| Trading Partner | Total Trade ($M) |
| --- | --- |
| China | 598,475.00 |
| Canada | 500,869.00 |
| Mexico | 484,429.00 |
| Japan | 201,505.30 |
| Germany | 162,406.10 |
| United Kingdom | 113,598.80 |
| South Korea | 113,321.70 |
| France | 79,685.80 |
| India | 66,572.90 |
| Switzerland | 60,700.50 |
| Italy | 60,617.70 |
| Ireland | 60,028.80 |
| Netherlands | 56,382.40 |
| Brazil | 51,786.90 |
| Vietnam | 50,821.36 |
What's in Play?
Germany has a government again after a four-month absence. By yielding several high-level cabinet posts to her coalition partners, Merkel was able to begin her fourth run as Germany's chancellor — and keep the far right out of the government, if not the Bundestag. Whispers of palace intrigue or any jitters would likely push the euro much weaker in the near future.2
Trump stunned the world by announcing major tariffs on steel and aluminum. The move underscored the president's strategy of making the US more competitive vs. China. But, it's likely to draw retaliatory measures from the EU, Canada and Brazil if upheld. Based on past experience, it's doubtful to assume Trump would punt this measure — despite its potential threats to the US economy.3
FX markets largely brushed off Chinese alarms related to President Xi following Putin's playbook for staying in power indefinitely. The CNY has gained over three percent vs. the USD since last December. Given China's reliance on exports and its goal of 'internationalizing' the renminbi, expectations of a market cooling event on par with Deflategate are minimal. The currency looks poised to gain value.4
What's next?
The U.S. jobs report is due on March 9. Assuming payrolls are in line with expectations, the USD should bounce — especially with unemployment at a 17-year low. This would give more credence to future rate hikes by the Fed — as early as their next meeting on March 21.
Brexit back-and-forth is expected to continue as both sides work toward re-election and the best outcome for their respective countries. British Prime Minister May rejected an EU offer that would have put most of British Northern Ireland under EU regulatory control. Apparently, switching jerseys mid-match is frowned upon in London.
Cryptocurrencies continue to progress toward acceptance. The SEC has started issuing subpoenas for information in what some are considering a first step towards normalizing the upstart industry — threatening to fundamentally change the world financial system. While the cryptos themselves leave governmental regulators around the world scratching their heads, many investors and companies are exploring crypto tokens as a healthy step in the adoption direction.5
What Happened
Italian elections returned an undeniable push towards populism — with the upstart Five-Star Movement taking the most seats (31 percent) and other Eurosceptic candidates largely trouncing their pro-EU rivals. The challenge now becomes forming a government when the parties are sitting this far apart.6
Incoming Fed Chairman Powell presented a rosy view of US economic prospects in two days of testimony. Markets had assumed a maximum of three rate hikes this year by FOMC, but left the meeting merrily betting on four.
NAFTA negotiations moved to Mexico City. Union activists in the US met with President Trump, underlying the desperate state of affairs on the three-nation trade pact. The US quarterback move — reaching across the line to the traditional center of the rival party — might presage a Hail Mary attempt as negotiations drag on and on.
India stole China's crown as the world's fastest growing major economy, posting a 7.2 percent gain in the three months ending December 2017. China isn't far behind — at 6.8 percent for the same period — and is likely to redouble efforts to reclaim the economic Heisman.7
Sadly, Syria is still dominating headlines as the world's heavy hitters continue to duke it out in the small Middle East nation. Russian President Putin is using the conflict as a way to burnish his 'new Russia' approach — aimed at a return to Soviet-style dominance — even if it means condoning Syria's renewed use of chemical weapons against opposition civilians. Russia, Turkey, Iran, Israel and the US are all fairly bellicose on this field.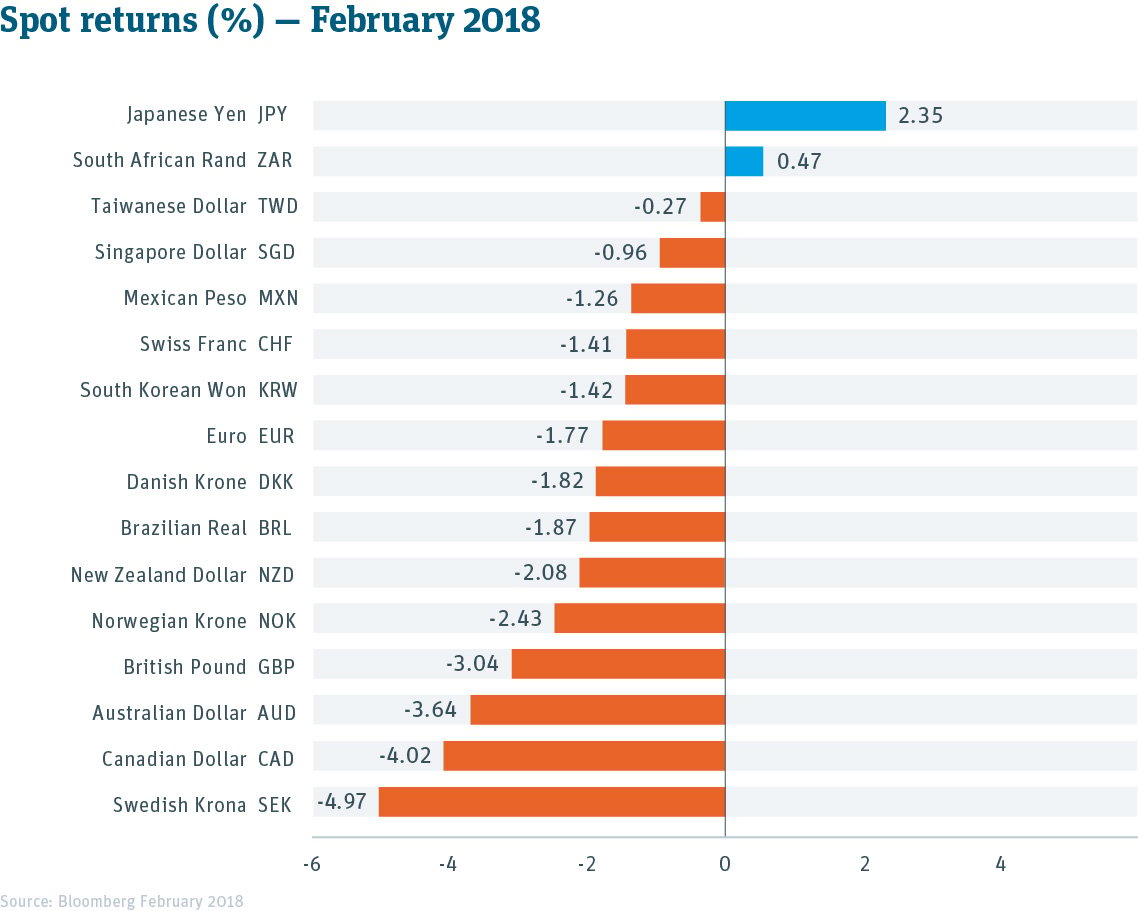 A Parting Perspective
We don't often see Statue of Liberty plays in American football these days, but given the risk of the German chancellor's coalition failing, you can be sure that the chances of volatility / excitement — depending on your perspective — are on the increase.
Minimizing Risk, Optimizing Returns
Whatever your perspective, you can count on Silicon Valley Bank for FX capabilities that can help your company minimize foreign currency risk and optimize returns. Our advisors and traders utilize the latest currency hedging tools to help you buy, sell and operate effectively in an increasingly integrated global marketplace — and gain a competitive advantage while managing global currency risk.
This article is intended for U.S. audiences only.
©2023 SVB Financial Group. All rights reserved. Silicon Valley Bank is a member of the FDIC and the Federal Reserve System. Silicon Valley Bank is the California bank subsidiary of SVB Financial Group (Nasdaq: SIVB). SVB, SVB FINANCIAL GROUP, SILICON VALLEY BANK, MAKE NEXT HAPPEN NOW and the chevron device are trademarks of SVB Financial Group, used under license.
The views expressed in this email are solely those of the author and do not reflect the views of SVB Financial Group, or Silicon Valley Bank, or any of its affiliates. This material, including without limitation the statistical information herein, is provided for informational purposes only. The material is based in part upon information from third-party sources that we believe to be reliable, but which has not been independently verified by us and, as such, we do not represent that the information is accurate or complete. The information should not be viewed as tax, investment, legal or other advice nor is it to be relied on in making an investment or other decisions. You should obtain relevant and specific professional advice before making any investment decision. Nothing relating to the material should be construed as a solicitation or offer, or recommendation, to acquire or dispose of any investment or to engage in any other transaction.
Foreign exchange transactions can be highly risky, and losses may occur in short periods of time if there is an adverse movement of exchange rates. Exchange rates can be highly volatile and are impacted by numerous economic, political and social factors, as well as supply and demand and governmental intervention, control and adjustments. Investments in financial instruments carry significant risk, including the possible loss of the principal amount invested. Before entering any foreign exchange transaction, you should obtain advice from your own tax, financial, legal, accounting and other advisors, and only make investment decisions on the basis of your own objectives, experience and resources.