Key Takeaways
Fixed income markets seem like a replay of a familiar movie, as we adjust to the second rising-rate environment of the past five years.
Rising rates can lead to unrealized losses on previous purchases, but they also present an opportunity to earn more yield on new investments.
Some strategies to reposition a fixed income portfolio for higher interest rates can include an allocation to shorter maturities, defensive duration targeting, a barbell of cash and longer maturities, and an increased allocation to spread product.
This month's main article, We've Seen This Script, takes a closer look at the impact of rising rates and strategies to position a fixed income portfolio for a rising rate environment.

Also included are the following themes:
We've Seen This Script
Eric Souza, Senior Portfolio Manager
It's not Halloween season without trick-or-treating and, for me, horror movies. My go-to is the Halloween franchise with Michael Myers. But no matter what film you are watching, we pretty much know the outcome, which leaves you with the feeling that you have seen that particular movie before. Fixed income investors can probably relate.

Rising rates can be a nightmare (taking the form of declining principal balances and unrealized losses) for any previous purchases. However, we should not lose sight that it's also an opportunity to add some additional yield to an existing portfolio. Of course, we have seen this movie before as we are now in the second rising-rate environment of the past five years. Although the Federal Reserve's latest forecast shows one rate increase by the end of 2022, the Fed Fund Futures market is forecasting a more aggressive Fed with two rate hikes by the end of next year (see Chart 1).

Chart 1: Number of Rate Hikes Implied by Fed Funds Futures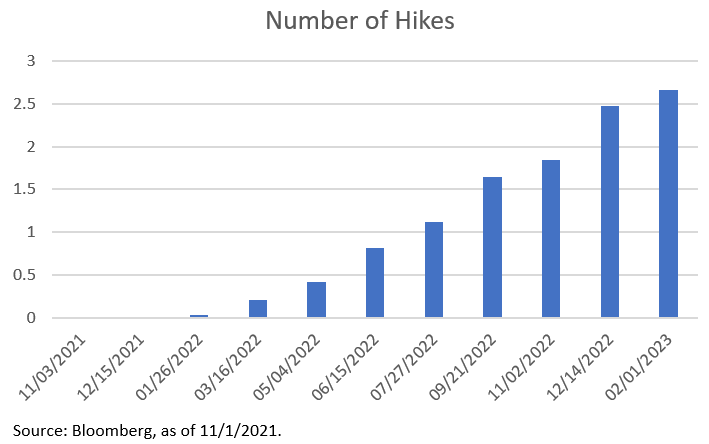 We are not here to debate how aggressive the Fed will or won't be in 2022 as we know that future decisions will be data dependent, most notably based on inflation. Moreover, we have already seen a rise in yields for those maturities that will be most impacted by future monetary policy moves (the 2-year to 5-year part of the curve). So while the pace and trajectory of rising rates is still to be determined, the basic script is already written. And given that we are all familiar with this story, investors may want to think about how best to reposition.

Chart 2: Yield Divergence, Treasuries Less Than One Year vs Two Years and Above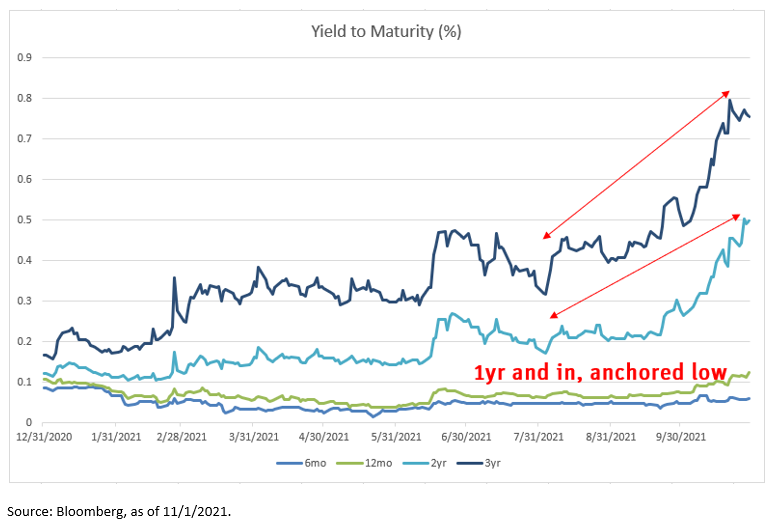 Rising Rate Portfolio Themes
To help mitigate the impact of future unrealized losses and position portfolios to take advantage of more attractive yields, we typically implement the following themes in a rising rate environment:
Increase allocation to shorter maturities/overnight investments: In a rising rate environment, you want to have a steady number of bonds maturing to reinvest into higher rates. In addition, an allocation to overnight investments, such as money market funds and repurchase agreements (repo), helps mitigate the impact of lower prices to a portfolio, while also providing another opportunity to invest some of the cash into higher-yielding bonds.
Get defensive with duration targeting: For longer duration strategies, we will target a portfolio's duration (a measure of interest rate sensitivity) to be either neutral or shorter than the relative benchmarks duration. Determining whether to be neutral or short will depend on things like the maximum maturity targeted for the portfolio, as well as how aggressive we feel the Fed is going to be in raising rates.
Increase allocation (i.e., overweight) to spread product: Corporate bonds traditionally outperform in a rising interest rate environment as the improvement seen in the economy translates to positive earnings for corporations, which in turn leads to spread tightening. In addition, asset-backed securities (ABS) allow us to diversify away from corporations and provide spread stability in different interest rate environments, while lifting the overall credit quality of the portfolio due to the strong (typically AAA) rating of ABS.
Consider a Barbell Strategy
Typically, the very front end of the curve remains anchored low until the Fed lifts the federal funds rate. In that environment (which we are currently in), we prefer to use a combination of cash for liquidity purposes and investments beyond one year, which offers attractive yields relative to shorter maturities. The bonds beyond one year will have a natural roll-down effect in portfolios and will also help mitigate price volatility as they get closer to maturity. This will also allow for attractive reinvestment opportunities in a rising rate environment.
Although it is difficult to predict interest rates with any degree of accuracy, by actively managing portfolios, we can manage risks, increase net income and maintain ample liquidity for cash needs in the face of rising interest rates. Since our area of focus here within SVB Asset Management is front-end fixed income portfolio management, we are not frightened by any higher rate horrors. In fact, we look forward to the ways we might be able to generate higher portfolio income for our clients.
Credit Vista: The Silver Lining of Rising Rates
Tim Lee, Senior Credit Research Advisor
With the Fed set to begin normalizing monetary policy, corporate America appears well positioned to handle a higher interest rate environment. For many companies, preparations for rising rates began soon after the Fed lowered its benchmark overnight rate to near zero and initiated a large bond buying program in response to the COVID-19 crisis back in March 2020.

Even as rates on short-term corporate borrowing slid to historic lows due to the Fed's actions, companies decreased commercial paper usage over the past 18 months, which in turn will reduce their exposure to rising interest expenses whenever the Fed inevitably lifts the overnight rate. After all, we can't have zero interest rates forever, can we?

Chart 3: Commercial Paper Outstanding Nonfinancial, Not Seasonally Adjusted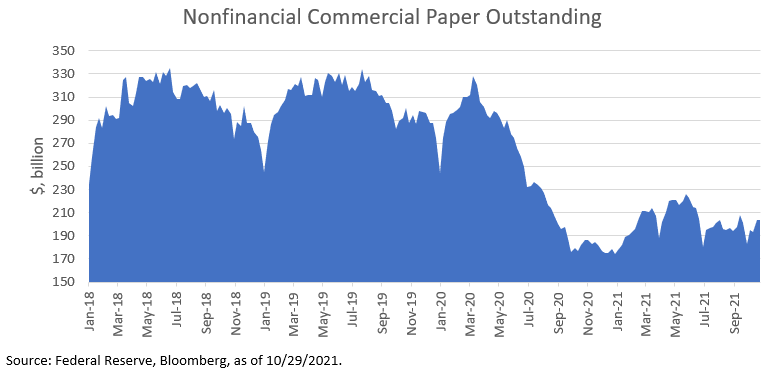 It wasn't just short-term debt that companies reduced. Most recent quarterly data shows that aggregate net debt among nonfinancial companies in the S&P 500 is now below pre-pandemic levels.

Chart 4: Aggregate Net Debt Excluding Operating Leases, S&P 500 Nonfinancial Constituents as of 10/29/2021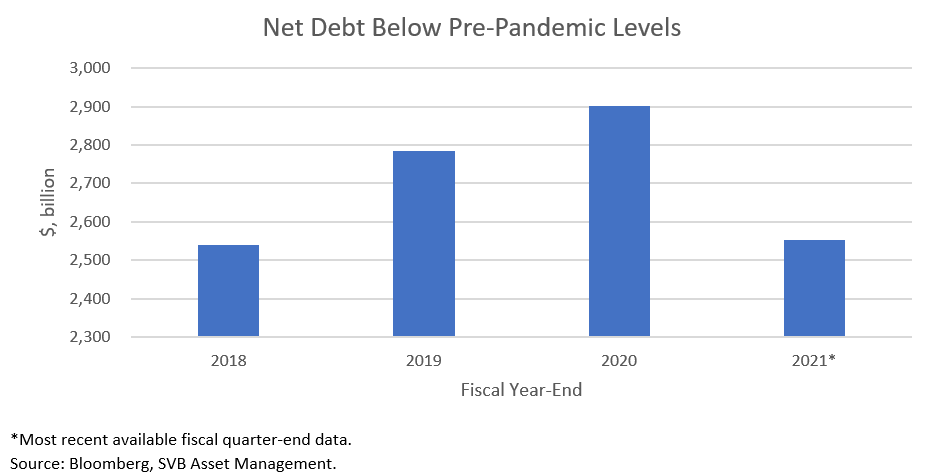 Net debt has fallen in part due to an abundance of cash being held by companies. While elevated liquidity will likely moderate over the next year, current high levels of cash will allow companies to forgo some of the short-term funding that they might typically require, thus avoiding some exposure to higher interest expense when the Fed raises its benchmark rate. For example, companies could use their cash hoard rather than borrowing for capital expenditures, to conduct M&A or even to repurchase shares. And while liquidity is waiting to be deployed, corporate cash would benefit from rising short-term interest rates by earning a higher return. Oddly enough, some companies might benefit from a small bump in the fed funds rate.

Chart 5: Aggregate Cash and Marketable Securities, S&P 500 Nonfinancial Constituents as of 10/29/2021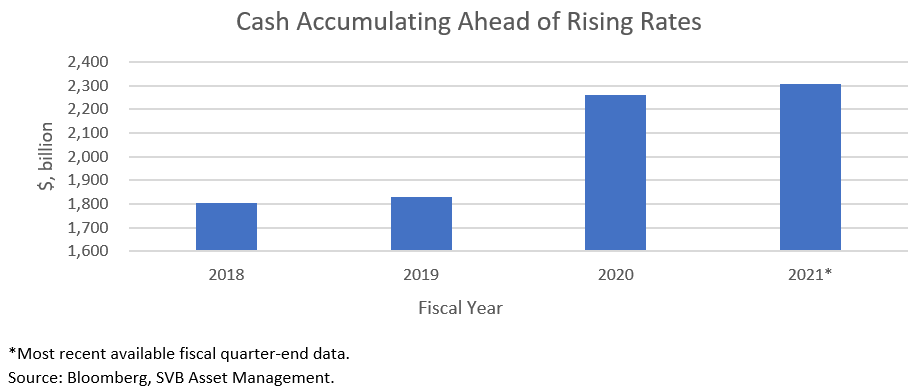 While liquidity increased during the pandemic, in part from long-term borrowing to lock in lower interest rates, cash has also been amassed organically through free cash flow generation. This, too, illustrates just how well positioned companies may be for the rising rate cycle ahead as continued free cash flow generation will reduce the demand for future borrowing at higher interest rates.

Chart 6: Aggregate Free Cash Flow (Cash from Operations Minus Capital Expenditures), S&P 500 Nonfinancial Constituents as of 10/29/2021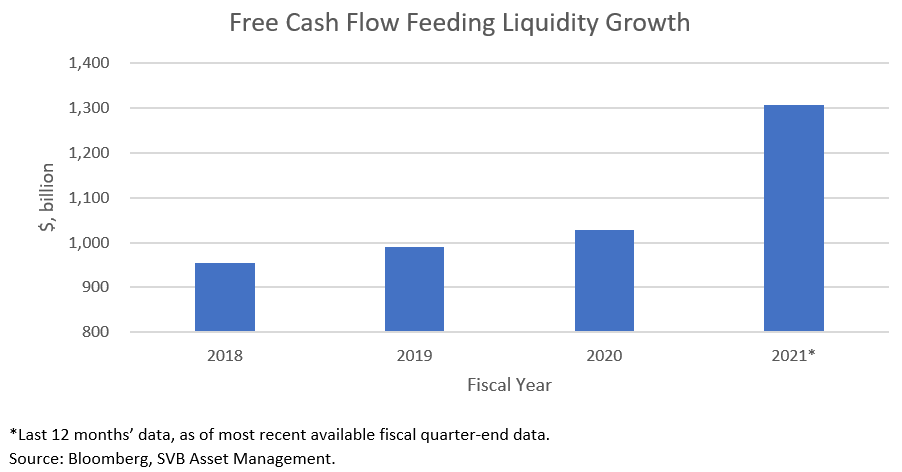 We should also acknowledge that low interest rates and quantitative easing programs provided by the Fed and other central banks during the pandemic also helped improve the credit profiles of corporations with pension liabilities. While lower interest rates would normally increase the pension liabilities and decrease pension funding ratios, the jump in asset prices and investment returns experienced during the pandemic helped move the average funding ratio to 94% from a pre-pandemic level of 86%. With interest rates set to rise, corporate balance sheets will benefit again as actuarial pension liabilities decrease with rising rates. In addition, higher rates could provide corporations a chance to lock in their funded status and immunize their pension liabilities at a lower cost.

Chart 7: Average Pension Funding Ratio, S&P 500 Nonfinancial Constituents as of 10/29/2021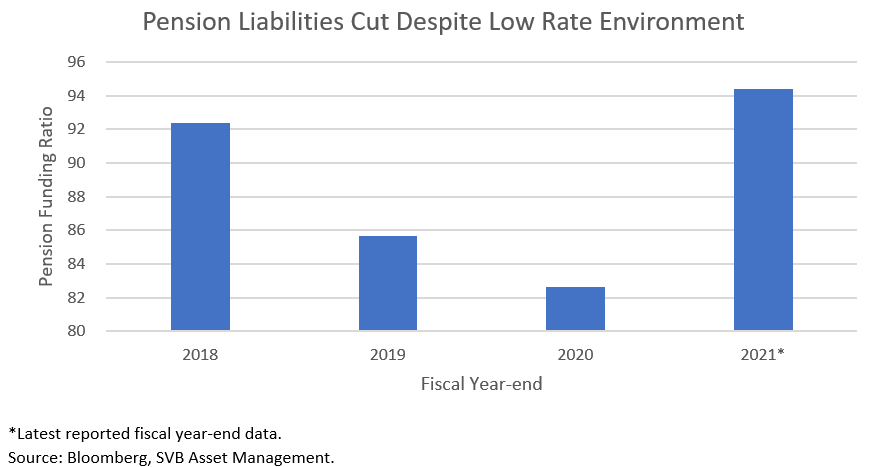 With the removal of pandemic-related restrictions accelerating in the US and around the world, premonitions of a protracted credit degradation from COVID-19 have faded fast. Instead, corporate America utilized the pandemic to reduce reliance on rate-sensitive short-term funding, lower net debt and increase liquidity. As a result, many companies have emerged with solid cash flow prospects and shored-up balance sheets. Rising rates are typically not thought of as a positive, but fiscal prudence and planning shows there may be a silver lining to the slightly higher rates anticipated with the coming "more normal" monetary policy.


Trading Vista: Great (But Changing) Expectations
Jason Graveley, Fixed Income Trading
The old Wall Street aphorism, "a rising tide lifts all boats," might be the simplest and best way to explain the run up in rates across security types. With benchmarks surging, portfolios have been able to take advantage of a higher floor in yields across the curve. A steepening in the front end of the curve has also highlighted a delineation across the maturity spectrum. Consider that the spread between 1-year and 2-year Treasury maturities is currently 38 bps, which is 10 bps wider than the average spread over the past five years. The spread between the 2-year and 3-year Treasury note is currently 28 bps, compared to an average of 9 bps over the past five years.

In short, the pace of increasing yields has accelerated over the last month, but the moves have been concentrated outside of the 1-year threshold. Any move in Treasuries with shorter maturities will likely be blunted by dormant money market cash, which is estimated to exceed a whopping $4.5 trillion in global balances. Coupled with the balances currently invested in the Fed's reverse repo facility, which stand at approximately $1.4 trillion, and which earn a paltry 5 bps return, there is ample cash available to mitigate any sharp rise higher in T-bill yields. As a result, our focus remains on prudently managing duration as rate volatility increases in the 2-year to 5-year segment of the curve. And as markets continue to parse Fed speaker comments, forward rate projections should only clarify further. We'll be watching and deciphering.
Markets

Treasury Rates:
Total Returns:
3-Month
0.05%
ML 3-Month Treasury
0.00%
6-Month
0.06%
ML 6-Month Treasury
0.00%
1-Year
0.12%
ML 12-Month Treasury
0.00%
2-Year
0.50%
S&P 500
5.79%
3-Year
0.75%
Nasdaq
6.42%
5-Year
1.18%
7-Year
1.45%
10-Year
1.55%

Source: Bloomberg, Silicon Valley Bank as of 10/29/21