Key Takeaways
For investors looking to capture incremental yield over money market funds but with relatively low credit risk, sovereign supranational agencies (SSAs) merit serious consideration. SSAs can also serve as a credit anchor within a broader fixed-income portfolio.
In terms of credit quality and performance, SSAs fit in between US Treasuries and corporate bonds.
SSAs tend to support international economic development with the ultimate goal of reducing poverty through sustainable growth. This altruistic component offers added appeal for many investors.
This month's main article covers why SSAs are an often overlooked but highly liquid corner of the fixed-income universe.
The Case for SSAs
Jon Schwartz, Senior Portfolio Manager
While SSAs are an often overlooked but highly liquid corner of the fixed-income universe, investors should consider the potential benefits and role they can play in a broader fixed-income portfolio. But before making the case for these securities, let's define the SSA universe. SSA stands for:
Sovereign: Debt issued by national, provincial or state-level borrowers. This is the national debt issuance for many of the world's smaller nations.

Supranational: A legally separate financial institution from the nations they represent. They are owned and credit-supported by a group of central governments. Pooled international resources support this investment universe for social and economic development within the member nations. These typically have the strongest credit quality of any SSA.

Agencies: Often a private entity that has the implicit or explicit backing of a country or its nation states. Included are US agencies, but there is also an array of international agency entities.
SSAs generally adhere to very conservative capital requirements, balance sheet constraints and strict lending standards. Recourse lies on public sector borrowers, many of whom have taxing authority, which mitigates much of the ultimate credit exposure in these investments, while legal mandates form explicit guarantees for many SSA structures. This support is what continues to keep investors interested in this market, even as debt issuance needs have increased due to the pandemic.
Investors also gravitate toward SSAs because they embody many of the characteristics of government bonds and investment grade corporate credit. However, they generally trade at tighter spreads than corporates, given their robust credit backstop provided either implicitly or explicitly by international taxing authorities. It's hard to find AAA corporate bonds trading in the market, but investors can look no further than SSAs to find high-quality investments that fit within the corporate bond asset allocation. Historically, large banks — especially central banks — have been the primary lenders in the SSA market. This is because regulatory requirements force an allocation of bank balance sheets to hold a significant amount of high-quality liquid assets (HQLA) to increase the quality of bank portfolios and support the safety of the overall banking system. Demand for these instruments is high, as some investors/banks seek to have a high-quality credit anchor within their investment portfolios. This naturally comes at the expense of lower yields/tighter spreads. However, if the chief alternative is to leave cash earning minimal yields in money market funds, SSAs deserve serious consideration.
To see where SSAs fit into the fixed-income landscape, it's helpful to understand how much of the total USD fixed-income market is comprised of SSAs. In the Barclays US Aggregate Index, which measures the entire investment grade, USD-denominated, fixed-rate taxable bond market, the government-related subset is comprised of Sovereigns, Supranationals, and US and non-US Agencies. The government-related portion is approximately 6% of the total index, or $1.57 trillion worth of market value. While this is by far the smallest fixed-income component of the index behind US Treasuries (37%), securitized products (30%) and corporates (27%), there are still well over 50 issuers globally in this sizable and highly liquid market.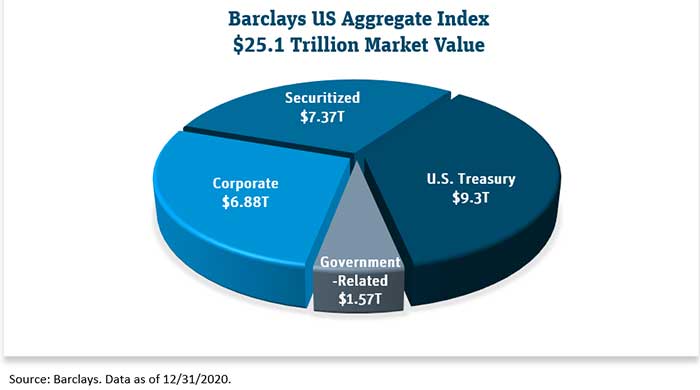 Among this government-related segment, the US agencies were 60% of the total market value outstanding at the end of 2010. By the end of 2020, however, the US agency portion of the government-related sector dropped to 26%. While the total market value of this sector of the index has been relatively stable, the non-US portion of the total market value outstanding has increased from 40% to 74% over the last decade. This highlights the increasing relevance of the international issuers in this market and the supportive stance investors have taken in this diverse area of the fixed-income universe.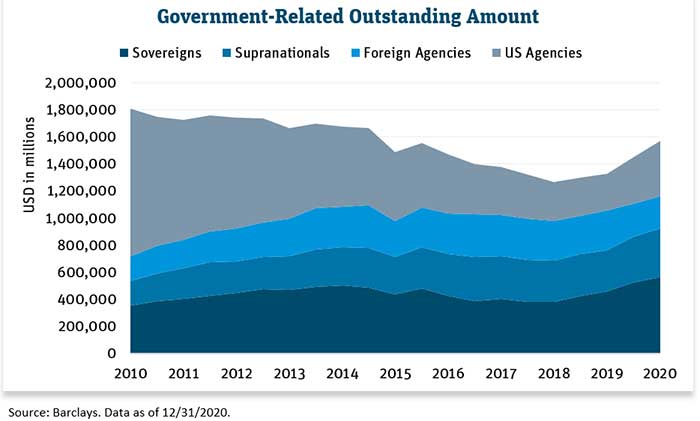 We can see this market is significant in size, but what exactly is the purpose of these entities, and what is the financing used for? SSAs focus on international, multisector economic development with the ultimate goal of reducing poverty and improving living standards through sustainable economic growth on a multinational scale. Supranational entities, such as the African Development Bank, focus on economic and social development for the regional member countries. There are significant differences between foreign SSAs and US Government-Sponsored Enterprises (GSEs), although the credit support for the products is quite similar.
GSEs like Freddie Mac (FHLMC) and Fannie Mae (FNMA) create financing vehicles to support the US residential real estate market. GSEs have the implicit or explicit backing of the US government, depending on the agency, while SSAs have either the implicit or explicit backing of a variety of participating international governments. The joint funding nature of the SSAs results in a greater degree of safety, which results in very strong credit ratings. Think of this debt as a Treasury bond in that the issuer can raise taxes or print more money, if necessary, to make good on its obligations. However, there is the added benefit of having the financial backing of more than one national government. In terms of members, supranational entities can have more than 100 participating countries, with the World Bank (IBRD) comprised of 188 international members, the International Finance Corporation (IFC) with 184 members, and the Inter-American Development Bank (IADB) with 48 Latin American and Caribbean countries among its membership. In terms of credit risk, why lend to a single country when you can have the entire European Union on the hook to pay you back? This pooled participation in the credit support is the foundation for why investing in this asset class is a great option for risk-adverse investors.
In terms of credit quality and performance, SSAs fit in between US Treasuries and corporate bonds. There are many SSAs that have a AAA rating by at least two nationally recognized statistical rating organizations (NRSROs). Credit spreads for SSAs are generally tighter than most corporates, so the main purpose of adding these securities to any investment portfolio would be to serve as a credit anchor for the portfolio. SSAs generally trade at a positive spread to US Treasuries, so we're adding high quality assets with a yield pick up over the risk-free rate. These assets serve as a great place to earn incremental yield while adding to the credit quality of the portfolio.
In a world where prudent credit risk management is the cornerstone for preserving high-quality assets in investment portfolios, we believe that SSAs can play an invaluable role in a fixed-income strategy. That remains true today when there are still so many uncertainties overhanging from the pandemic. SSAs appear to be a great way to earn attractive yields with measured risk.
Economic Vista: Just what the doctor ordered
Jose Sevilla, Senior Portfolio Manager
On December 21, Congress passed a $2.3 trillion spending package, which includes close to $900 billion in new COVID-19 relief. The deal also includes $325 billion for small businesses and $286 billion for individuals, which will be split between unemployment benefits and direct $600 checks, per qualified individual. As the coronavirus rages on and weighs on the economy, this shot of stimulus is just what the doctor ordered to bridge the economy as the vaccine rollout gets underway. In addition, on January 14, President-elect (at that time) Biden revealed his COVID relief plan estimated to total $1.9 trillion. While the proposal still needs to pass Congress, it will be another significant dose of stimulus expected in Q1.

Core personal consumption expenditures (PCE), the Fed's preferred inflation measure, was flat on a month-over-month basis, leaving annual levels at a mere 1.4%. At the December Federal Open Market Committee (FOMC) meeting, Powell said, "there are significant disinflationary pressures around the world that have been going on for some time and continue to persist today. It's not going to be easy to have inflation move up and will take some time, as it took a long time to get inflation back to 2% in the last crisis." With benign inflation readings, this will provide the Fed the leeway needed to continue providing support to an economy that has been riddled with millions of job losses.

The November jobs report also illustrated this point as the economy added a less-than-expected 245,000 jobs. This is the weakest pace of job creation since the start of the recovery. Total payroll numbers are still down 9.8 million since February, suggesting that the recovery has a ways to go. The unemployment rate fell to 6.7% from 6.9% last month, but much of the decline was attributed to a lower labor participation rate.

Given the inflation and job data, it is no surprise that the Fed did not change direction on interest rates or the pace of its quantitative easing (QE). The committee also offered little evidence that it would be altering the maturity distribution of purchases. The FOMC continues to acknowledge that the outlook for the economy remains "extraordinarily uncertain and will depend on the course of the virus." The committee is committed to keeping its accommodative stance for an extended period.

There was some good news on overall economic growth, as the US economy expanded by 33.4% in the third quarter. This was slightly better than last month's estimate of 33.1% and marks a sharp recovery from the second quarter's startling 31.4% contraction, the worst level dating back to 1947. The most recent report was boosted by a rebound in personal consumption, which rose 41% in the third quarter after falling 33.2% during the prior quarter. Dissecting the monthly income and spending data shows personal incomes fell 1.1% in November, marking the third drop in the past four months as various government relief programs expired. Meanwhile, consumer spending fell 0.4% in November, the first decline since April.

Most economists expect the next GDP report to confirm a slowdown in the fourth quarter of 2020. Despite the encouraging recent vaccine developments, the general economic malaise may persist in early 2021, given the uneven labor markets and weak consumer spending. The uptick in new COVID-19 cases, averaging about 220,000 per day vs. fewer than 35,000 in early September, has prompted some city and state governments to issue another round of lockdowns to combat the rising infection rates. All this suggests that the economy is in for a bumpy recovery, at least during the first half of 2021.



Credit Vista: Banks enjoy stress-free holiday
Tim Lee, CFA, Senior Credit Research Officer
Despite the resurgence of the COVID-19 pandemic in many regions across the country, the holidays were stress-free for US banks. And, on the whole, the US banking sector appears to have survived the pandemic relatively unscathed.

A special year-end stress test conducted by the Federal Reserve on 33 of the nation's important banks concluded that these institutions are well positioned to face "severe global downturns with substantial stress in financial markets." The Fed normally conducts its supervisory stress test once a year; however, given the uncertainties around how the COVID-19 pandemic would evolve, it not only held a second 2020 stress test, but also placed limitations on what banks could spend on dividends and share repurchases during the second half of 2020. In addition to these limitations, the banks demonstrated discipline through their own self-restraint on shareholder returns and by taking robust loss provisioning. This has resulted in each of the 33 banks having more than enough capital to absorb losses, which the Fed projected could amount to a combined $629 billion over a 27-month period under its "severely adverse scenario" (SAS).

Under the Fed's SAS, US unemployment would peak at 12.5%, real GDP would drop 3.25%, equity prices would drop 23%, housing prices would decline more than 26% and commercial real estate values would weaken by 30%. Under such a severe economic downturn, banks' cumulative total loss rates could range from 2.1% for first-lien mortgages and 22.3% for credit cards, while cumulative net income losses would amount to nearly $173 billion.

Certainly, that would constitute a severe economic downturn. Nonetheless, the holiday stress test confirmed that capital levels for banks would still remain at strong levels for the 33 banks in aggregate. The results were also encouraging from the perspective of Common Equity Tier 1 (CET1) capital, which is a measure that is used to determine a bank's ability to withstand financial distress. From a starting level of 12.2% in the second quarter of 2020, the Fed estimated CET1 would trough at 9.6%, which would be 5.6 percentage points above the minimum required regulatory capital ratio of 4.5%. The trough of 9.6% CET1 also would be a comfortable 2.6 percentage points above the 7.0% minimum CET1 level, which includes a capital conservation buffer. Notably, stressed capital levels would remain near or above the minimum CET1 requirements for US banks that also have to meet additional requirements (in the form of a global systemically important bank [G-SIB] capital surcharge).

The Fed's stress test bolstered our confidence in the solvency of US banks, but we are still closely watching three credit challenges facing banks in the near term. First, we expect delinquencies and charge-offs to rise in the first half of 2021 as debt forbearance programs end. Second, we look for capital levels to weaken as the Fed has generally lifted restrictions on share repurchases and dividend spending. Third, we anticipate M&A activity to increase as banks look for growth and cost savings amidst a low-interest rate environment. However, we estimate that most US banks have the financial capacity to maintain a stable credit profile through these events, given a stockpiling of loss-loan reserves by banks in 2020 and management sensitivity to ongoing supervisory oversight. Indeed, the holidays were stress-free for the banks, and they appear prepared to handle future challenges in 2021 and beyond.
Trading Vista: A quick and quiet exit
Hiroshi Ikemoto, Fixed-Income Trader
As exciting and volatile as the bond market was earlier last year, December closed out quietly and quickly. Investors grappled with spiking coronavirus cases on one hand and the growing potential of an effective vaccine on the other. With corporate bond inventories extremely low by month-end, many managers parked their excess cash in Treasuries, driving the bill and note markets to offers in the single-digit basis points (bps) for anything maturing inside of one year. The benchmark two-year note also hit a near record low of 12 bps.

Even with trading flows slowing abruptly in December, spreads remained tight with all-in yields falling a few bps, as the Treasury and forward London Inter-bank Offered Rate (Libor) benchmarks rallied. Surprisingly, the three-month Libor remained flat, as many commercial paper issuers were still offering relatively cheap paper with maturities of one to three months. Overnight repurchase agreement (repo) rates did not see the year-end volatility that we have seen in years, as a historic amount of cash easily absorbed any funding needs in the repo market and remained low. With the bill and repo rates so low, government money market funds had their biggest inflows since last September. Current yields are anywhere from 1 to 3 bps, depending on the voluntary fee waivers. Prime funds, which have floating net asset values (NAVs) and were exposed for their liquidity issues earlier last year, continued to see outflows.

As we enter a new year, we will continue to be disciplined and adhere to our established investment philosophy. Our independent analysis of issuer credit quality, along with a commitment to sector and duration diversification, should allow us to minimize risk while providing income and liquidity in what will no doubt be an interesting year ahead.
Markets

Treasury Rates:
Total Returns:
3-Month
0.06%
ML 3-Month Treasury
0.01%
6-Month
0.08%
ML 6-Month Treasury
0.02%
1-Year
0.10%
ML 12-Month Treasury
0.00%
2-Year
0.12%
S&P 500
3.84%
3-Year
0.17%
Nasdaq
5.75%
5-Year
0.36%
7-Year
0.64%
10-Year
0.91%

Source: Bloomberg, Silicon Valley Bank as of 12/31/20