SVB TREK
---
Inspiring the Next Generation of Entrepreneurs
The Trek aims to be an opportunity for students from across the world to build a network of peers and advisors, while gaining unique insights to propel them to the next stage of their career development.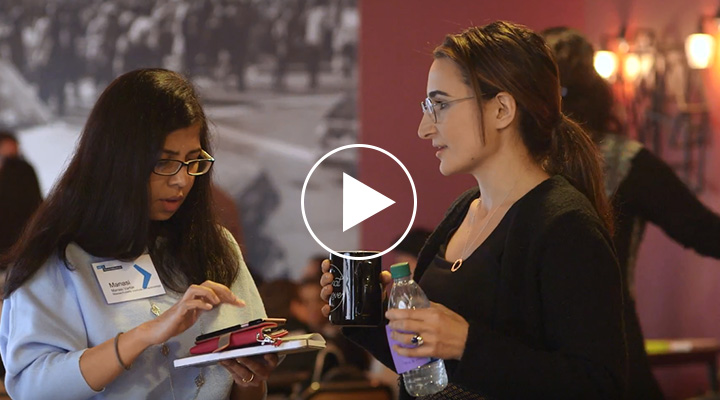 To champion the next generation of innovators, Silicon Valley Bank opens its doors each year to connect ambitious, entrepreneurially minded college students with creative minds, world-class investors and industry leaders. During the four-day Trek, participants dive headlong into the innovation ecosystem through an immersive learning experience featuring salon-style events, interviews with industry luminaries and hands-on workshops. For general inquiries contact Jake Mendel.
WHERE ARE THEY NOW?
Alumni from SVB Trek are working with some of the most innovative companies in tech.
We recently surveyed all previous Trek participants to learn more about what they're up to, their outlook for the future, and how they are helping to change the world.
Here's what we found out
"You have to solve a real problem"

"It's very easy to fall in love with the technology, especially being an engineer. What I ask them is to fall in love with a problem, because if they can articulate super well what problem they're solving and for whom... that enables them to build a much better product."

— Obi Felton, Head of Moonshots at X

"It's an incredible opportunity."

"I haven't had the opportunity to go outside of my own networks. I sat on a shuttle next to someone who just graduated from Texas A&M... to spend an hour chatting about his new startup."

— Tania Abedian, Investment Associate at JetBlue Technology Ventures

"This is a way of bringing the networks together."

"Their perseverance, the grit, their tenacity, it just makes it all... makes us hopeful on what the future holds"

— Priya Rajan, Director of Early-Stage Practice at SVB
Experiences from the Frontlines of SVB Trek
---
Now Let's Get Started
See how SVB makes next happen now for entrepreneurs like you.