SVB's Wine Division hosted a live videocast on May 22 to discuss insights and trends in direct wine sales based on findings from a survey of more than
800 respondents.

Led by Wine Division Founder Rob McMillan, the panel discussion featured industry experts Tammy Boatright, president of VingDirect, Lisa Kislak, chief marketing officer at Crimson Wine Group and Cyril Penn, editor in chief of Wine Business Monthly.

In addition, we recorded a second hour continuing the conversation and addressing questions that we received prior to and during the live broadcast.

Watch the full replays of both Part I and Part II and get access to the slides discussed here.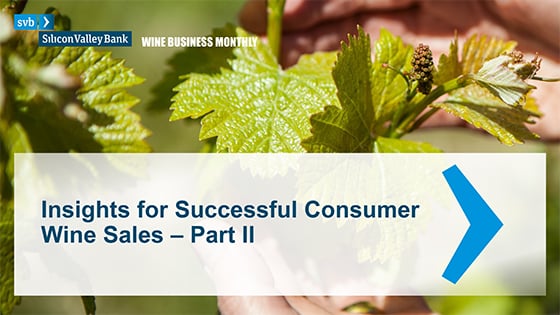 Speakers
Tammy Boatright, President of VingDirect
Lisa Kislak, Chief Marketing Officer at Crimson Wine Group
Cyril Penn, Editor in Chief of Wine Business Monthly
Learn more about Silicon Valley Bank's Premium Wine Division

VingDirect, Crimson Wine Group and Wine Business Monthly are independent third parties and are not affiliated with SVB Financial Group.

Silicon Valley Bank is not selling or distributing wine or wine-related products. Through the online informational platform, SVB Cellar Selections, Silicon Valley Bank provides material to clients, employees and other parties' employees about a variety of premium Silicon Valley Bank winery clients and their wines. These communications are for informational purposes only. Silicon Valley Bank is not responsible for (or a participant in) the sales of any wineries' products in any fashion or manner and makes no representations that any promotion or sales of alcoholic beverages will or will not be conducted in a lawful manner. Further, Silicon Valley Bank disclaims any responsibility or warranty for any products sold by wineries or other wine industry service providers.