Key Takeaways
Fintech remains the top sector post-COVID, attracting record amounts of capital.
Latin America's opportunities within fintech are driving an increased influx of foreign investors.
Brazil and Mexico remain Latin America's key fintech hubs.
The pandemic continues to present hurdles unlike any other event in history, full of challenges that turned our lives — and the innovation economy — upside down. However, it also served as a catalyst for many industries within the venture ecosystem, especially fintech, to be disrupted with new opportunities.
Fintech has arguably been the hottest sector post-COVID. The financial services sector has been notoriously slow to evolve. Still, the pandemic forced incredible digital acceleration — becoming a tipping point for institutions, small to medium-sized businesses (SMB) and even the government, to embrace fintech and invest in infrastructure. Coupled with changing consumer behavior, this has led to a surge in financial literacy and adoption while increasing demand for products and services such as contactless payments, lending and cryptocurrency.

Additionally, infrastructure fintech companies in areas such as Banking-as-a-Service (BaaS) and embedded finance have allowed fintech startups (and non-fintech startups) to introduce financial products to market quicker and cheaper. This exciting opportunity has further spurred enthusiasm and caused investors to pour money into the space.
Latin America is uniquely positioned for growth
Fintech opportunities couldn't be clearer in regions such as Latin America (LatAm), where fintech investment accelerated significantly. The region saw growth of nearly four times the VC investment dollars, rising from $4.1 billion in 2020 to $15.7 billion in 2021, according to LAVCA. With its deep historical roots in the financial services and banking industry, Latin America serves as a perfect breeding ground for fintech startups.

Latin America is a large economic region but has highly condensed, urban cities. For example, figures from The World Bank show that ~87% and ~80% of the population in Brazil and Mexico live in urban areas, respectively.

Latin American banks typically only served affluent individuals due to lack of competition and historically stringent credit requirements. Therefore, a large portion of the overall population is still underbanked, ranging from 30% to 50% across major countries. Even for those with credit cards or bank accounts with local banks, the user experience is generally poor; many banks have failed to invest in technological infrastructure and improve the digital experience.

Plus, interest rates have been historically unfavorable, which is why new players like Nubank and Creditas have emerged to disrupt credit cards and secured lending. Couple this with favorable population demographics. About 40% of the population is under 25 years old in countries like Mexico and Brazil. Evolving consumer preferences, such as smartphone adoption and digital ease of use, also point toward fintech readiness.

Given this context, fintech is primed for exponential growth over the coming years. Sergio Furio, founder and CEO of Creditas, notes, "In the last 10 years, since I arrived to São Paulo, I've seen the development of a vibrant fintech ecosystem. In retrospect, it was a no-brainer: massive market, underpenetrated, with poor experience and high prices. Today fintech is a reality, not only for the customer directly impacted by these new companies but also because of the indirect impact that they have caused in the banking sector. There, the consumer ends up winning."

Brazil and Mexico take the spotlight
Brazil has long been the financial and technological innovation epicenter for Latin America. Of the ten largest banks in Latin America, Brazilian banks hold the top five spots. Brazil also takes the lion's share of venture investment in fintech in LatAm (~40% of VC deals and ~70% of VC dollars in 2020 based on PitchBook data). Brazil is home to the most unicorns of any Latin American country and the largest neobank in the world with Nubank.
In fact, Nubank had reached a higher valuation at its IPO than any other traditional bank not only in Brazil but in South America: $41.5 billion. According to David Velez, founder and CEO of Nubank, "Latin American financial services is one of the largest and most profitable financial markets in the world. Fintech firms have a growing opportunity to bring more competition and access. Lots of significant growth is ahead."
Yet, while Brazil may grab most of the headlines, positive trends are also developing in Mexico. Investors are starting to notice pattern recognition in the country — with many comparing Mexico to what Brazil was three to five years ago. Mexico benefits from similar trends as Brazil and broader Latin America in terms of an underbanked population, smartphone penetration, younger demographics, highly urbanized populations and recent regulatory overhaul. Mexico also has its unique benefits, such as its closer proximity to the United States and its capital pool.

Both regions benefit from three main factors:

Passionate entrepreneurs

Increasing availability of local and global capital
A rising number of success stories
Wherever there is an opportunity, capital will follow. International VCs had accelerated their investment in the region, particularly in Mexico and Brazil, because they have recognized the opportunity to nurture strong fintech companies. This has helped fill the gap that Latin American startups historically faced when raising post-Series B.
Recent success stories such as Nubank help demonstrate to investors that achieving growth and scale — and ultimately liquidity — is possible in Latin America, further building their confidence to continue to pour money into the region.
Developing a strong blend of talent



Meanwhile, the talent pool is starting to increase with more repeat founders and teams rising from successful unicorns. Folks from top-tier investment banks, consulting firms and MBA programs are also leaning into startups. This, coupled with great local universities, has led to strong technical talent.
This new talent continues to capture the attention of innovators and investors. Nick Shalek, general partner and co-founder of Ribbit Capital, remarks, "During the past ten years that Ribbit has been investing in LatAm, the entrepreneurial energy in fintech across the region has grown tenfold or more. Companies like Nubank, Mercado Libre, Creditas, Kavak, QuintoAndar, Rappi and many others have trained a generation of exceptional fintech talent and shown the next wave of LatAm fintech founders what is possible."
However, the buzz around LatAm talent has also created a challenge. Early-stage companies face rising pressure to offer globally competitive bids. Still, the growth of the talent pool highlights the region's progress.
What's next for Latin American innovation?

US investor participation rate in late-stage LatAm fintech VC deals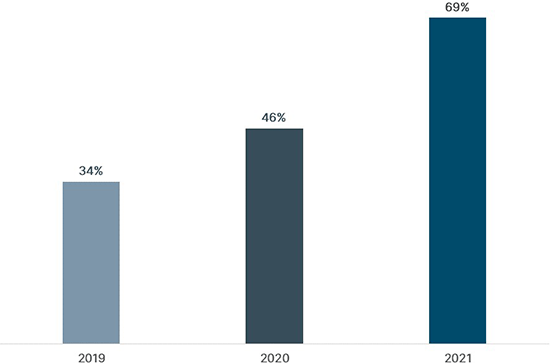 Notes: Data from 1/1/2019 to 5/11/2021.
Source: PitchBook

Recent trends highlight how the Latin American ecosystem is expanding its role in the broader innovation economy. The region still faces the typical challenges of an emerging market economy, such as higher political, operational, logistical and security risks. But with abundant capital, growing interest from international investors, proven scale with newly minted unicorns and recent successes, the future is bright for the Latin American venture ecosystem.


As the global leader in the innovation economy, we at SVB are excited to partner with entrepreneurs and investors in this up-and-coming ecosystem. We bring our learnings and deep industry expertise from Silicon Valley to Latin America.
With this in mind, we launched our first $30 million debt fund focused on lending to growth-stage technology companies in the region. While small, through close partnerships with IDB Invest and Partners for Growth, we can offer combined debt solutions between $1 million and $20 million. As the region continues to grow, we look forward to supporting the next generation of founders and venture capitalists as a business and financial partner.
If you are a founder or investor in Latin America or are interested in learning more, please reach out by emailing Andy Tsao at atsao@svb.com — we are always happy to chat.