The race between the EU, US and China to become leaders in artificial intelligence (AI) is not dissimilar to the space race of 50 years ago. With the promise of economic power, productivity gains and transformative potential, it's not difficult to understand why countries and companies are vying for supremacy in AI. In the UK, the government announced $375 million (£300 million) of "new" public-sector investment with up to $875 million (£700 million) coming from a range of private companies and academic partnerships to establish a $1.25 billion (£1 billion) national program to close the skills gap and keep the UK at the forefront of AI innovation.
VC investment in AI startups by country (2016–2018)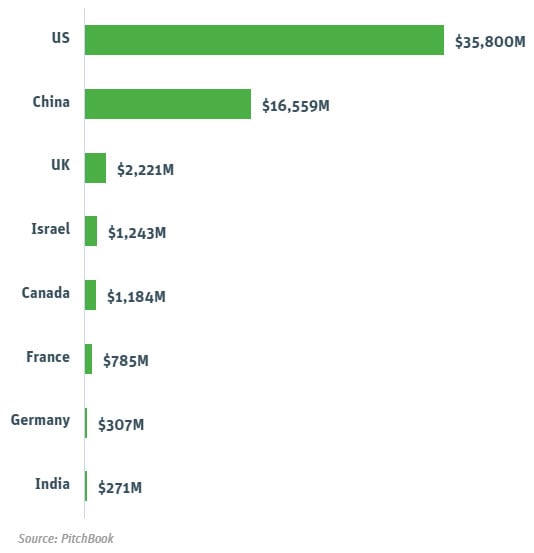 AI has permeated almost every sector to solve real business problems and drive efficiency. How? Well, one thing to keep in mind is that "AI" is a broad term that encompasses a range of disciplines, including machine learning, deep learning, natural language processing, computer vision and many more. As some of the names suggest, each discipline has different use cases and applications. Furthermore, the field of AI is continuously advancing, with new techniques emerging all the time, which is why so many are committed to investing in the field. The following are some key areas that we are monitoring for the rest of 2019.
Chatbots
Chatbots are fast becoming core elements for customer interactions. The combination of natural language processing (NLP) for the client interface and machine learning for generating responses has enabled chatbots to resolve a high proportion of customer requests without human involvement. Notable corporations developing bots include Facebook, Slack and Microsoft. In the UK, startup Humley's NLP platform allows large enterprise customers to build, deploy and manage chatbots at scale. Other notable UK-based companies working on chatbots include Chip Financial, Humanise.AI and FrontM.
Voice assistants
Voice assistants are a great example of the improvement in AI technology, specifically speech recognition, translation and understanding. Whether embedded in your mobile phone or smart-speaker, voice is becoming the dominant form of interacting with products. Offerings from Amazon, Apple and Google dominate the headlines, yet startups play a critical role in developing new voice technologies and applications. Take UK company Intelligent Voice, which offers a variety of AI-enabled solutions, including rapid speech-to-text conversion and voice ID for enhanced fraud detection and prevention. Another example is Voysis, which provides a low-cost solution for augmenting products with a voice interface.
Health and well-being
AI is transforming the speed at which diseases are diagnosed. A machine-learning system developed in 2018 by Google-owned DeepMind, Moorfields Eye Hospital and University College London performs on par with human experts at detecting eye problems. With the stress employees are under in the workplace, the importance of monitoring staff well-being is growing. Improving employees' physical and mental health results in reduced absenteeism and boosts productivity and customer satisfaction. StatusToday has been recognized as one of Europe's hottest AI startups. The AI-powered analytics platform helps companies' measure engagement, collaboration and well-being, thereby providing employee insights in a seamless manner without the need for surveys.
Data analytics and insights
AI has advanced the field of data analytics immensely. With the rise of the data scientist, organizations can leverage their data in new and often more complex ways. These use cases are something UK-based behavioural analytics company Sybenetix is working on and presumably with great success, having been acquired by Nasdaq in July 2017 for an undisclosed sum. Verv unlocks value by using AI to analyze data from household appliances such as washing machines, cookers and kettles. The UK startup's tech can then identify ways to reduce energy consumption as well as monitor the appliances' general condition. Data privacy and ethics is a looming concern for AI systems. To combat this, London-based Hazy is offering privacy-preserving data analysis. Hazy's advanced machine-learning techniques are used to create synthetic data sets that are secure and privacy-preserving by design.
Autonomous vehicles
The autonomous vehicle (AV) sector already has numerous large players, including Uber, Cruise, Waymo and Tesla. Many of the autonomous driving systems are being developed in partnerships with startups. In 2018 significant strides were made toward connected AVs becoming a reality on UK roads, with the Department for Transport announcing that the UK is "on track to meet its commitment to have fully self-driving vehicles on UK roads by 2021."
AV software provider Oxbotica plans to run a fleet of autonomous vehicles between Oxford and London in 2019 and has partnered with Addison Lee Group to bring AV services to London by 2021. Propelmee develops autonomous driving system software that enables AVs to drive without the need for preloaded maps, instead relying solely on seeing and understanding the surrounding environment in real time. Propelmee is now collaborating with large carmakers, aiming to start trials of a fully autonomous taxi service in London in Q3 2019. Automation isn't just disrupting the automobile, it applies to all other types of vehicles in a range of circumstances. For instance, Unmanned Life is providing autonomy-as-a-service for drones, robots and vehicles.
Investment is growing
Investment in UK-based AI and AV companies exceeded $1 billion (£810 million) in 2018 — a 53% increase over 2017. A number of larger deals in 2018 included a $200 million (£161 million) Series D round for AI chipmaker Graphcore. Based on the current trend, we expect to see an increase in venture investment in UK AI startups in 2019.
Venture investment in UK AI and AV companies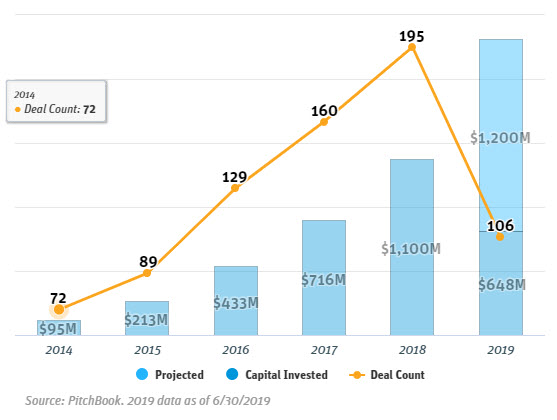 Although the US and China have recently dominated the AI field, considering its size the UK is more than holding its own and is responsible for some of the top researchers and companies in the space. Silicon Valley Bank plays an active role in the UK's AI ecosystem and is continuously looking for ways to help it grow. If you are interested in learning more about the UK startup scene, let's connect.