Key Takeaways
Venture capital investment in India has increased 66% in the past five years and is on track to reach $20B by the end of 2021.
The Indian innovation economy has produced large global software companies, raising 78% of all Indian VC investment.
Indian SaaS companies are expected to increase aggregate revenue six times by 2025, reaching $13B to $15B.
Tips for taking your startup global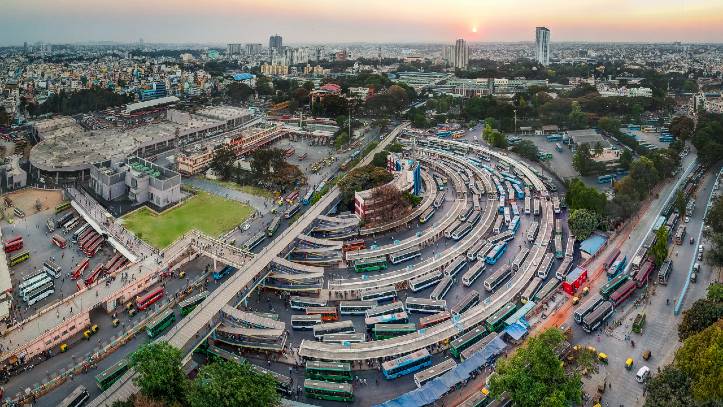 There is no question that the global innovation economy showed resiliency and outperformed the bearish projections many investors and CXOs made a little over a year ago. Despite being among the hardest hit countries by COVID-19, India was no different. In 2020 we saw $10.9B invested across 1,130 deals — including 24 deals exceeding $100M — and 13 new unicorns.
The resiliency of the Indian innovation economy has been fueled in part by governmental reforms, including expanding the definition of small-scale startups to match the needs of high-growth venture-backed companies and encouraging new LPs, such as insurance companies and family offices, to invest in alternative investment funds.
VC investment in Indian companies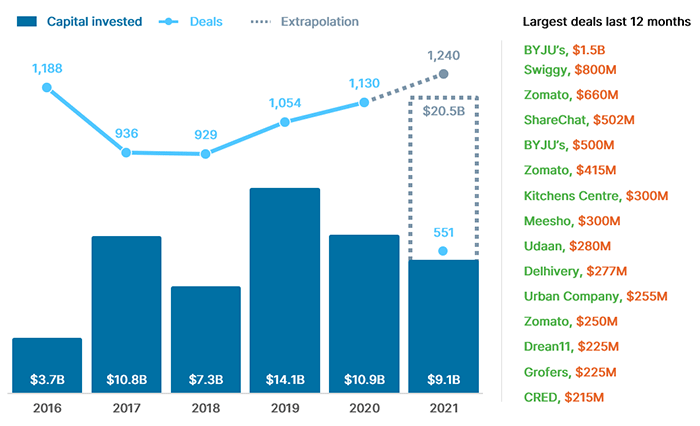 Source: PitchBook and SVB analysis
Last year, I wrote a piece highlighting the Indian SaaS Landscape, in which I discussed how the trifecta of talent, capital efficiency and growth in global demand would benefit the software as a service (SaaS) ecosystem. Since that piece was published, the Indian SaaS ecosystem has continued to flourish. Investment in Indian SaaS companies doubled between 2019 and 2020, reaching $2.5B, and investment is on pace to more than double again in 2021.
The rapid growth of capital is fueled by large rounds going to software companies. Software companies accounted for 21 of the 24 venture deals over $100M in 2020, and overall software accounted for 77% of VC investment in India. The region continues to attract large global investors, including SoftBank, Tiger Global Management and Falcon Edge Capital, adding to the growing momentum. This growth trend is likely to continue into 2021, with notable raises from companies — such as BrowserStack's $200M raise on a $4B post-money valuation, making it the most highly valued SaaS company from India.
Like the US ecosystem, Indian SaaS companies are raising more capital earlier in their life cycles and garnering higher valuations than other sectors — both in vertical SaaS (e.g., Zenoti) and horizontal SaaS (e.g., Freshworks).
Indian SaaS investment and software's share of total VC investment

Source: PitchBook and SVB analysis
With the Indian ecosystem continuing to produce promising SaaS companies, many are seeking to scale globally from day one. As a global leader in the innovation economy, Silicon Valley Bank gains insights from founders and investors across India, Europe, China, South America and the United States. Here are five takeaways from surveys and conversations with these founders and investors that will help Indian SaaS companies looking to scale globally.
1. Understand the market landscape.
Across the board, investors and founders state the importance of understanding the market a company is seeking to enter. Preparing for a new market goes far beyond structuring the right product fit. It is about preparing the organization for the new market and the expectations that go with it. To maximize both the likelihood and the speed to success in a new market, proactively interview potential customers, competitors and industry insiders to understand what is expected in terms of sales approach, support and follow-through. Gain an appreciation for the norms of communication, the pain points your potential customers face and how to address those pain points in sales presentations and collateral.
The messaging and sales approach that works in one market may not work in another, so be prepared to adapt. As discussed in greater detail below, you can hire talent capable of streamlining access to a new market, but it takes full management buy-in to succeed in executing on a cross-border expansion effort. Yes, a large total addressable market is important, but be very strategic about the initial opportunities your team pursues, as these efforts can establish both good and bad go-to-market habits. Focusing on the wrong target customer or industry can quickly drain limited resources in a new market.
2. Acquire two or three recognizable "lighthouse" customers.
Acquiring recognizable "lighthouse" customers allows founders to leverage these customers' credibility in a new market. Landing a "lighthouse" customer provides your local team with a recognizable and referenceable benchmark for future sales efforts. Don't expect your existing clients from India to carry the same weight in international markets. Needs and wants differ market to market, and it is critical to understand and adapt to the local market needs. Acquiring highly reputable customers enables founders to expand their knowledge of the market and understand the needs of industry leaders early in the expansion process. These interactions (and sales) will help validate both your product/market fit and your sales approach in the new market and broaden the total addressable market.
3. Hire senior talent early, with a clear view of market and customer expectations.
Most founders and investors agree that hiring senior product marketing and salespeople who understand the regional market, along with the right compensation and incentive plan, is a critical step in expanding operations in a new location. Many view a senior product marketing professional as the first key hire. They should validate personas and product/market fit, as well as refine communication and sales strategies, factoring in metrics like annual contract values. Hiring this key talent, however, should not necessarily be straight off the bat.
Several investors and founders stressed the importance of taking time to really understand customer expectations from working with the "lighthouse" customers before making key hires. Conversely, letting employees go is an equally tough decision, especially considering the difficulty of finding suitable replacements in the current talent war climate. The trick is to hire the right talent in preparation for driving business growth.
4. US sales cycles are shorter and more decisive — so adapt your process accordingly.
Communications when selling to US companies are far more direct (vs. implicit communication styles that are generally followed in India). Most of the time, yes means yes and no means no. Founders and sales teams can directly ask for reasons behind a client's or prospect's decision, which is vital to understanding the market and allows the founders opportunities to listen, learn, adapt and grow. The direct nature also results in shortened sales cycles, so companies must be ready to deliver quickly. Thus, pitch decks and presentations must be modified to fit the US market's style and preferences.
5. Don't try to win on price; win on the value you add.
Know your market, your customer, your differentiation and the value you add. Is your product new, or is it the best in an existing category? From this starting point, price your product on the value it provides to the customer while taking into consideration the momentum early wins bring. When selling your product, show that you understand clients' pain points and clearly articulate solutions to these issues in sales collateral.
US companies are less price sensitive, so it is imperative that the total value added by your product is understood — which will enable you to price accordingly. If successful, US companies are willing to pay a multiple on Indian prices for a product.
Conclusion
As the Indian ecosystem continues to scale, we anticipate more global companies originating from the Indian markets. NASSCOM, the premier trade association for tech companies in India, reports that Indian SaaS companies are expected to increase aggregate revenue six times by 2025, reaching a record $13B to $15B — and a significant portion of this revenue will come from global markets.
At Silicon Valley Bank, we look forward to not only continuing our partnerships with established players in the region but also developing new connections and networks. If you are an Indian founder looking to build your global footprint, particularly in the SaaS space, reach out. We are always happy to discuss how we can support your cross-border needs — from USD banking to venture debt.