SVB Go – Digital Banking. Evolved.
---
Introducing SVB's new digital banking platform. Simple,
secure
and intuitive. Designed specifically for how founders run their businesses rather than how banks operate.
Get started with SVB Go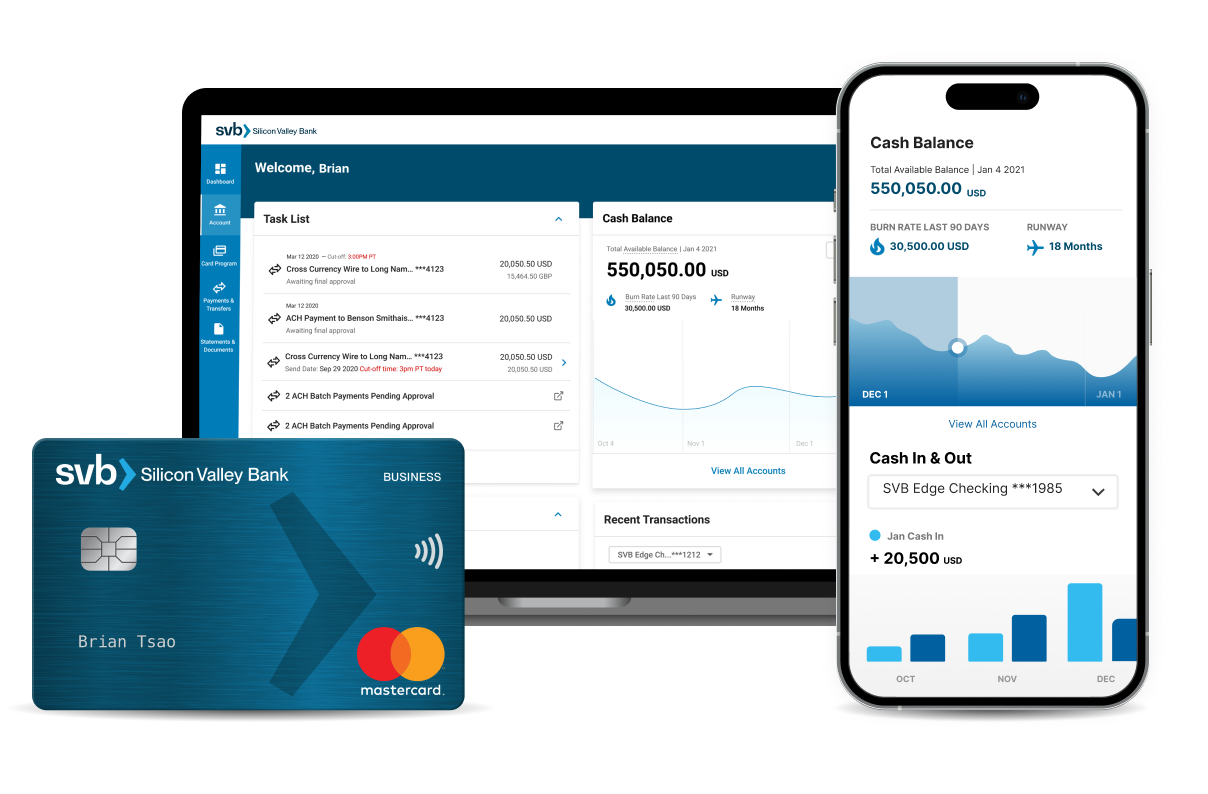 See the SVB Go digital banking platform in action
---
Find out how SVB Go can simplify your banking - giving you more time to build your business.
Digital banking that keeps pace with your growth!
---
Startups need to be agile,
efficient
and responsive to scale successfully - why should your digital banking platform be any different?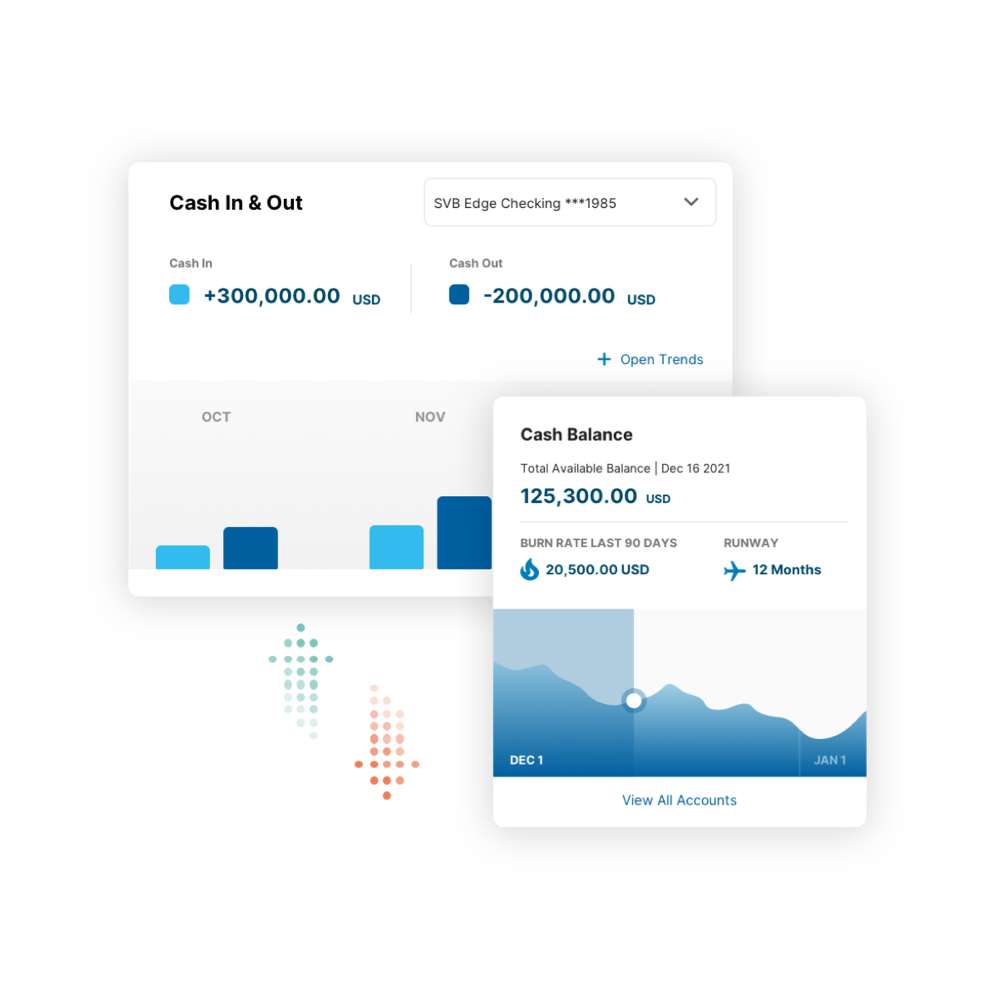 Keep track of your money on the move
---
Get ahead of cash flow challenges with clear visibility into incoming and outgoing transactions along with easy-to-use payment tools.
Explore Robust Payment and Tracking Capabilities
Take control of how and when you make payments while gaining more clarity into your cash flow dynamics.
Pay Anyone, Anywhere
Pay bills, transfer money domestically or globally in a variety of currencies effortlessly. 
Accounting Integrations
SVB Go can integrate with a number of popular accounting packages like
Quickbooks
,
Yodlee
, Expensify and
Xero.*
Natural Language Search
Easily search three years of transaction history without having to dig-up or download statements.
Access a complete card management platform
---
Manage your company's entire credit and debit card program from a single, user-friendly interface. 
Many Cards – One Solution
Be it plastic or virtual – whatever cards are in your program, SVB Go can manage them effortlessly.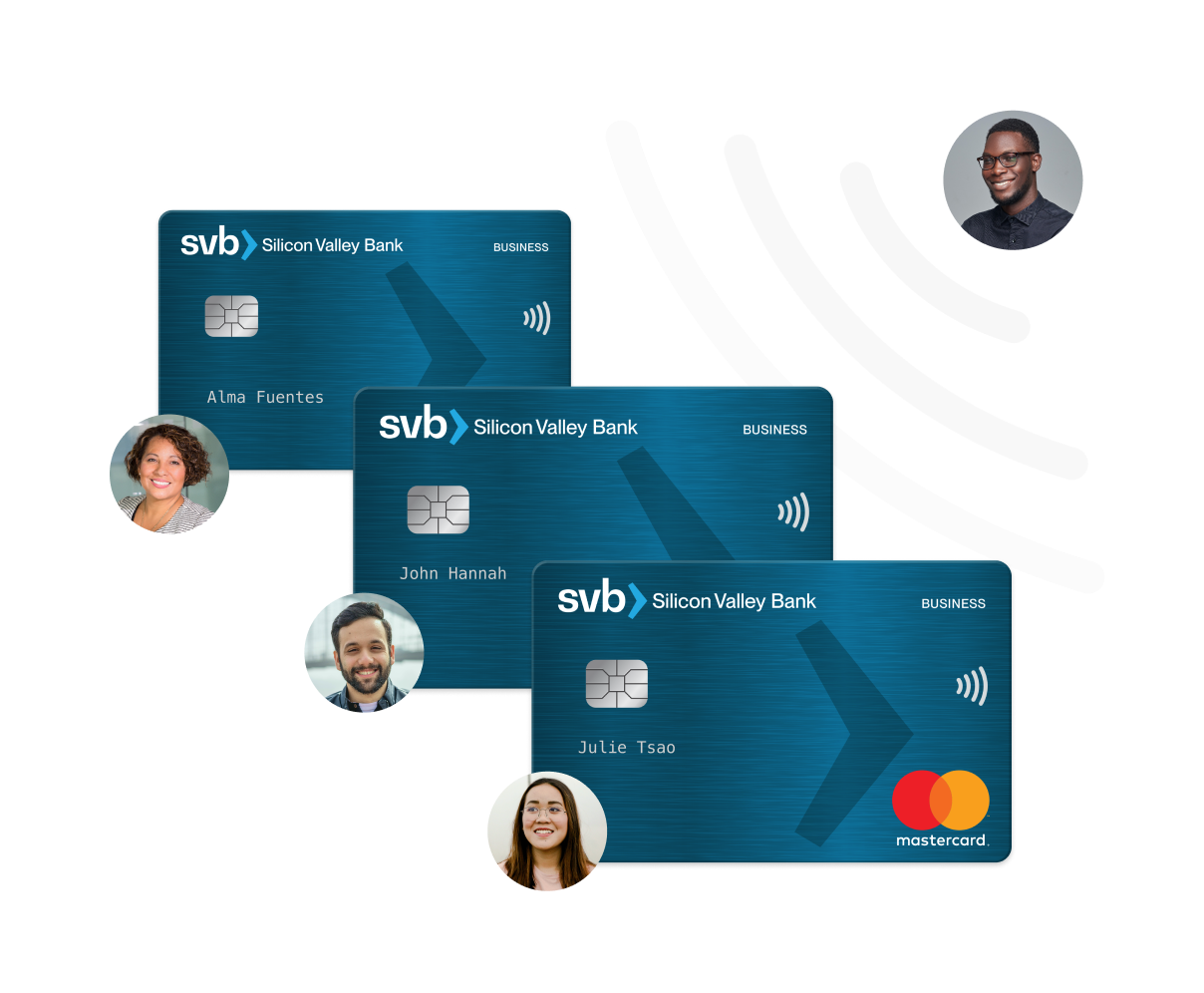 Manage Users and Limits
Control your company's card program - activate cards, assign spend limits, make
payments
and track expenses.
Activity Reporting
Get detailed reporting on all card activities for you and your team from a single dashboard.
Make Cards Spend More Rewarding
Let your cards reward program collectively earn and maximize return on
your
spend for your business.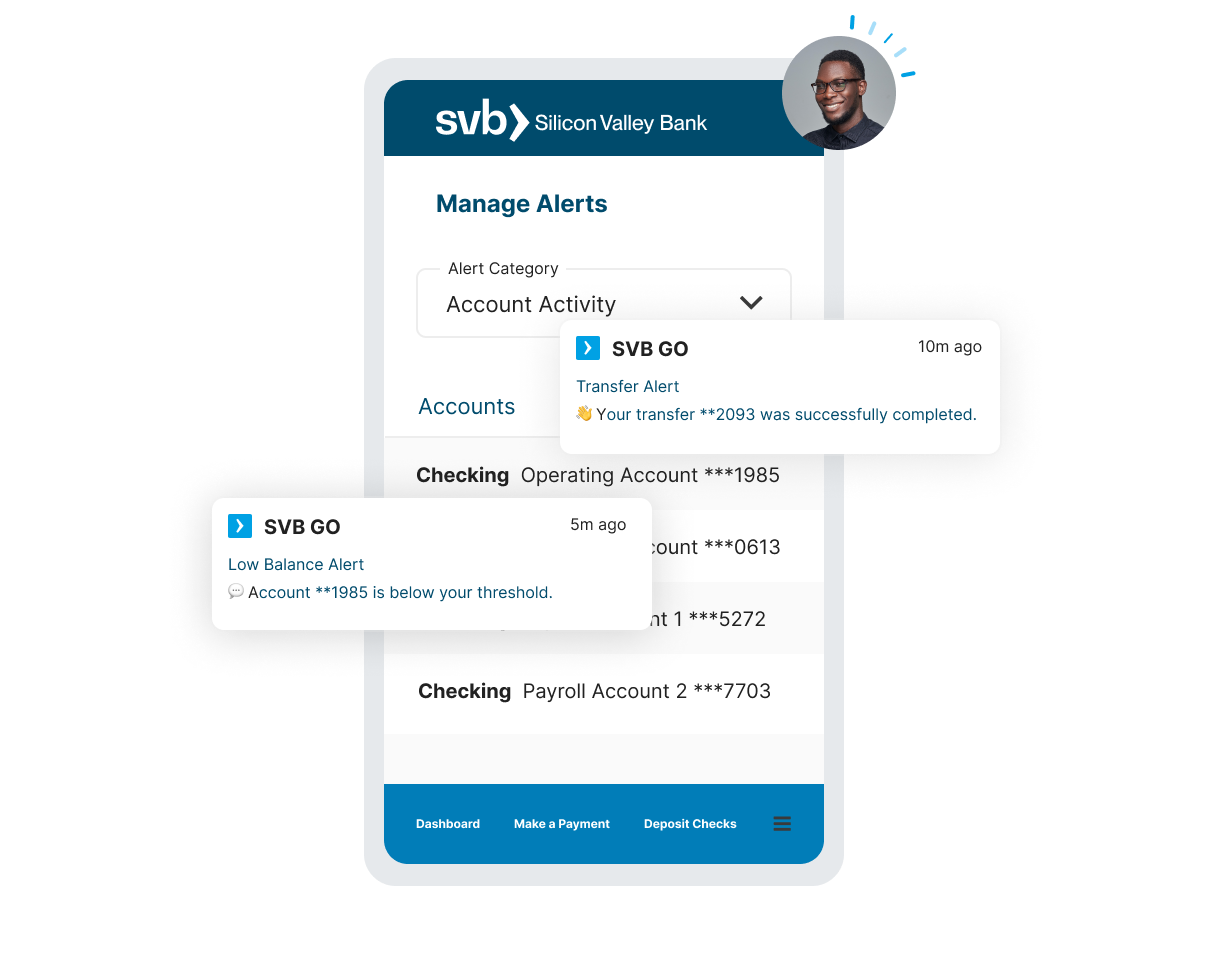 Get customizable alerts and prompted guidance whenever you want
---
Get alerts with the info you need, plus always-available prompts to guide you through your banking tasks.
Alerts and Prompts That Don't Miss a Beat
See how you can gain more control and confidence in managing your finances.
Simple and Intuitive Interface
From
low-balance
to incoming payments or fraud prevention, easily set up alerts to match your business priorities.
Guidance in the Moment
Hover prompts provide explanations and step-by-step guidance on how to accomplish banking tasks.
Platform Agnostic
Fully integrated mobile and desktop versions so you can stay in the know and
take action
wherever you are.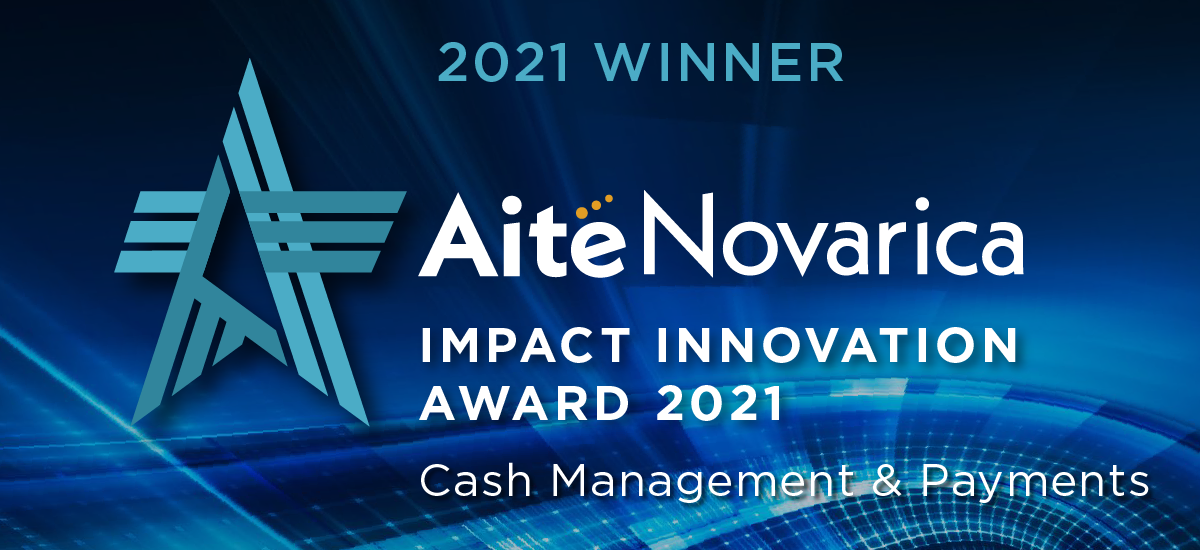 SVB Go is already receiving industry kudos
---
Aite-Novarica* awarded SVB Go its Impact Innovation Award 2021 in the "Cash Management & Payments" category, noting:

"From the game-changing landing page, Google-type search engine capabilities and embedded analytics to such client experience delights as a copy button next to the ABA and routing numbers, SVB Go platform is a game changer and a differentiator for small/startup businesses."

*Aite-Novarica recognizes innovative achievements of financial institutions leveraging technology to set a higher standard.
While SVB has been around for many years, SVB Go shows you're staying up to date and innovating.
Remound Wright
Founder & CEO
EnvironXR
SVB Go's tools to help your business thrive
SVB fundamentally understands startups and how they operate. And we have built our digital banking solution to prioritize founders' time and convenience while providing full-service banking functionality
.
Actionable Intelligence
Access customizable dashboards to get line-of- sight into your company's cash burn rate, runway as well as other performance metrics.
Organization-wide Controls 
Manage user roles and permissions, control access as well as create audit reports and multi-factor approval processes.
Security Tools
SVB Go is built around a robust bank-grade security infrastructure to help protect your hard- fought gains from the risk of fraud and theft.
Global Payments
Manage simple and complex global payments in multiple currencies from a single, intuitive interface.
Document Management
Access statements up to three years in high-fidelity imaging with single and bulk printing options and smart search functionality.
Vendor Management 
Manage vendors and payment recipients with ability to search, create,
modify
and delete recipients.
Is SVB Go available for all SVB Customers?
Not yet. SVB Go is being launched in phases across various customer segments so clients are being added to the new digital banking platform when their individual banking needs are fully served by SVB Go.

At present, customers who are eligible for SVB Go are being notified by the bank to ensure a seamless transition to the new platform.
How will I know if SVB Go is available for me to use?
SVB clients will be notified via email and alerts when they will be added to SVB Go.

We are doing this in systematic phases as we add new functionality to the platform to ensure a great client experience.
What digital banking platform do I use while I wait for SVB Go's availability?
Is SVB Go a mobile application?
SVB Go is our new online banking platform - You can use SVB Go securely in your web browser
(for both
your desktop or laptop
)
, or
download the SVB Go app from the Apple or Android app store.
Ready, get set, SVB Go!
---
Received your notification to join SVB Go? Use the provided credentials to log in or download our mobile app.

No notification yet? No worries. You will be alerted when your account is ready to be moved to our new platform.