U.S. Equities
After posting positive returns in the first two quarters of the year, the S&P 500 declined 6.4% in the third quarter of 2015. This represents the first negative quarter for the index since the fourth quarter of 2012 and the worst quarterly decline in four years. Although concerned about the sharp drop in the China stock market in June, U.S. investors didn't fully react due to the continued growth and relative strength of the domestic economy. In August, persistent struggles in China combined with dropping global hard asset prices, a strengthening U.S. dollar and uncertain monetary policy amplified fears of a global economic slowdown. Speculation surrounding what the Federal Reserve will do, and its ultimate inaction in September, contributed to the quarter's increase in volatility. All sectors of the S&P 500 declined during the quarter, except for Utilities (+5.4%). The Biotech sector was the worst performer for the quarter (S&P Biotechnology Select: -26.0%), ending its amazing 5+ year run.
International Equities
As could be expected from the decline in the China market, broad emerging markets underperformed their developed counterparts: the MSCI Emerging Markets dropped 17.9% during the quarter while the MSCI EAFE dropped 10.2% during the same period. Even a healing European economy could not outweigh the macro global fears exacerbated by China. For the year, developed economies (S&P 500: -5.3%, MSCI EAFE: -5.3%) performed only slightly better than China (Shanghai Composite: -5.6%) although they arrived there in very different ways, as illustrated in the following graph: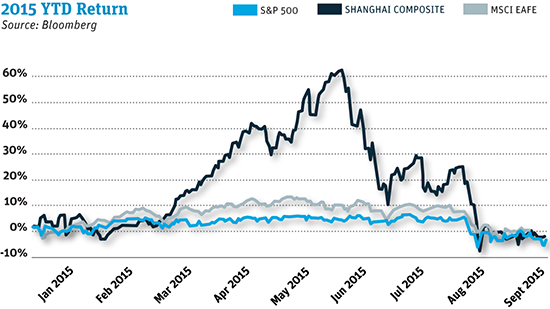 Fixed Income
Fixed Income securities produced slightly positive returns for the quarter, except high yield. The Barclays Municipal 1-10 Year Blend returned +1.3% for the quarter, driving the year-to-date gain to 1.6%. Taxable domestic and international bonds also experienced an increase with the Barclays U.S. Aggregate up 1.2% and the Barclays Global Aggregate ex U.S. up 0.6% for the quarter. While the Barclays U.S. Aggregate climbed into positive territory for the year (+1.1% YTD), the Barclays Global Aggregate ex U.S. still has a long way to go to reach a positive level (-4.8% YTD). The BofA Merrill Lynch High Yield Master II lost 4.9% in the third quarter.
The Fine Print
All material presented, unless specifically indicated otherwise, is under copyright to SVB Wealth Advisory, Inc. and its affiliates and is for informational purposes only. None of the material, nor its content, nor any copy of it, may be altered in any way, transmitted to, copied or distributed to any other party, without the prior express written permission of SVB Wealth Advisory, Inc. All trademarks, service marks and logos used in this material are trademarks or service marks or registered trademarks of SVB Financial Group or one of its affiliates or other entities.
©2015 SVB Financial Group. All rights reserved. Silicon Valley Bank is a member of FDIC and Federal Reserve System. SIVB, SVB>, SVB Financial Group, Silicon Valley Bank Make Next Happen Now, are registered trademarks, used under license. SVB Wealth Advisory, Inc. is a registered investment advisor and non-bank affiliate of Silicon Valley Bank and a member of SVB Financial Group. Products offered by SVB Wealth Advisory, Inc.:
| | | |
| --- | --- | --- |
| Are Not insured by the FDIC or any other federal government agency | Are Not deposits of or guaranteed by a Bank | May Lose Value |
Neither SVB Wealth Advisory, Inc., Silicon Valley Bank, nor its affiliates provide tax or legal advice. Estate planning requires legal assistance. Please consult your tax or legal advisors for such guidance. Banking services are provided by Silicon Valley Bank, and wealth advisory services are provided by SVB Wealth Advisory, Inc.
(1015-026) P-15-14551 11/15