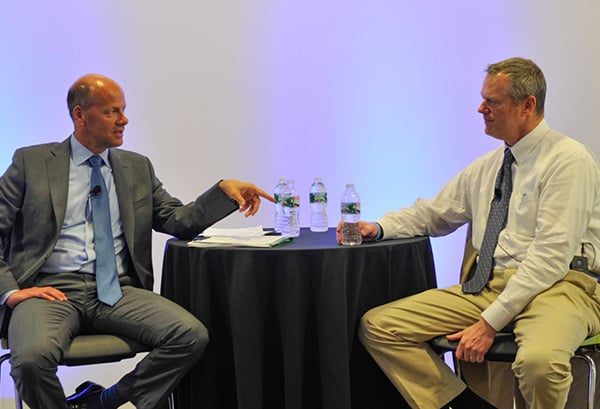 Silicon Valley Bank CEO Greg Becker speaks with Mass. Governor Charlie Baker at District Hall in Boston.
Photo: John Kreis Photography
As part of my series of conversations with influencers in the global innovation ecosystem, I had the opportunity to speak with the new Governor of Massachusetts, Charlie Baker. We held a great discussion in Boston at a networking event attended by 75 of our clients representing 40 companies. 
Gov. Baker is uniquely qualified to be a catalyst for the innovation economy.  In addition to his experience in public service, he has been a corporate CEO and venture capitalist.
Not surprisingly, we agree innovation is alive and well in Boston. In fact, SVB's annual Innovation Economy Outlook survey found seven in 10 executives in the Northeast said they expect to expand their workforce in 2015, and 55 percent of those planning to hire told us they expect headcount to grow more than 20 percent. For some context, a recent survey from personal finance website NerdWallet reported that 57 of every 1,000 Boston-area jobs are in tech – matching places like Austin, Texas and Raleigh, North Carolina.
I welcomed Gov. Baker's call for government to be a partner in continuing to promote the growth of the innovation economy, but, as he said, it can never be the driver. The drivers are the company leaders and investors, many of whom joined us for the conversation at District Hall.
With the search for talent on every innovation company's mind these days, it was refreshing to hear Gov. Baker lay out his priorities for reforming public education in the Bay State by implementing new approaches to improve teaching and the learning environment. For example, in our highly competitive global society, the century-old school schedule is out of date.
Visiting innovation hubs around the country and the world gives me new ideas, and inspires me to make more trips to places where innovators and investors are disrupting industries in pursuit of a better future. I believe the Massachusetts innovation economy is poised for even greater things with industry-leading tech and life science companies, the high concentration of world-renowned academic institutions and visionary government leaders. I thank Gov. Baker and our Boston clients for the vibrant conversation.