State of the Markets

Q3 2020
A SCATTERED RECOVERY IS TAKING SHAPE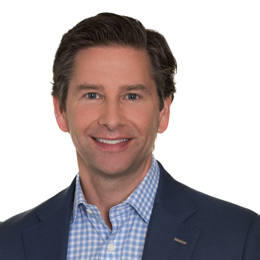 To say the world has been shaken in the past four months is an understatement.
The Great Lockdown caused a global output shortfall of $12.5 trillion. Governments have reached deep into their coffers to inject relief into shocked economies. We've seen companies bolster balance sheets via debt issuance and trim expenses, including layoffs.
Like many early recoveries, this is a time of contradictions. Growth rounds continue as the late-stage has restored momentum; early-stage companies and small GPs have faltered. Certain sectors are hotter now than ever before; countless others have faced headwinds. The tech IPO window has cautiously reopened, whereas the healthcare window never closed.
As we know, and has become increasingly apparent in recent months, innovation touches every aspect of our lives, revealing an even greater need for inclusivity and diversity in the innovation economy. In this report's Social Impact section, the data describes the lack of diversity among tech companies and venture capital investors and trends around investing for social impact. The gaps are glaring, and we all need to take a more active role to close them.
-Bob Blee, Head of Corporate Finance, Silicon Valley Bank
Macro - Global Economy on Unstable Footing
---
Comeback Season?
After the worst Q1 in history, equity markets have roared back to nearly pre-COVID-19 levels. The S&P 500's performance in Q2 marked the best quarterly return since 1998, when markets soared following the summer crash driven by events in Russia and Asia. While markets have recovered, the economic outlook remains bleak. The International Monetary Fund (IMF) estimates a cumulative loss to the global economy of $12.5T over the next two years due to the Great Lockdown — rivaling the size of China's and Euro Area's GDP1. This lost output brings into question the robustness of the markets' recovery.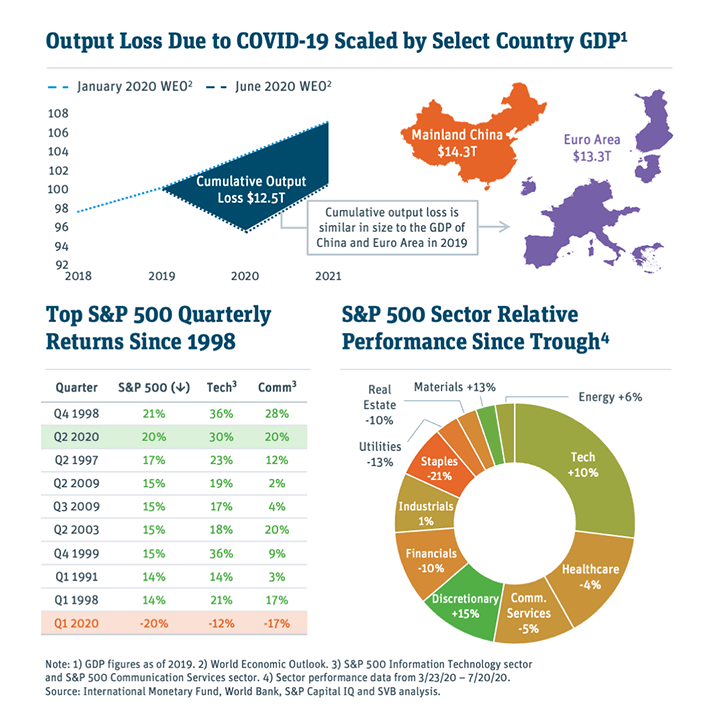 ---
Relief Flows into (Parts of) the Economy
In the face of a $12.5T hit to global GDP output, governments around the world have responded by introducing historic stimulus measures. Approximately $11.0T has flowed into the global economy, though the lion's share has gone to advanced economies. Stimulus received by emerging and low-income economies has, by contrast, been severely disproportionate to their economic damage. ​

This deficit could jeopardize the gains of certain innovation economies, most notably in India, Latin America, and Africa.
---
Layoffs Ripple Across Startups
Layoffs have swept the startup ecosystem — with some startups laying off thousands of workers or nearly all their headcount. As a result of layoffs and mandated remote work, employees in the U.S. have left expensive metros, causing rent prices to fall — especially in tech-centric San Francisco. Similar trends have also transpired overseas with London, the U.K.'s major tech hub, experiencing falling rents.​

Increasing adoption of distributed workforces could see emerging metros benefit from an influx of tech talent, which would have cascading effects on company formation, venture investment and the recycling of talent and capital.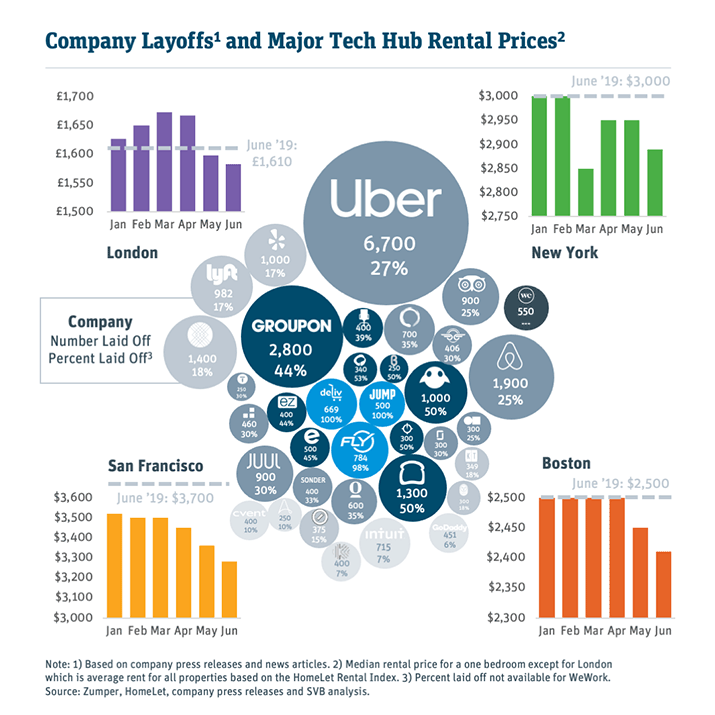 ---
Convertible Debt Spikes
The convertible debt market saw its best quarter ever with more than $57B of issuance in Q2. This pushed total first half issuance to $68B — outpacing 2019's full year total. Tech led the way with $22B of issuances as notable tech giants — some of which were recent unicorns — tapped the debt markets to add liquidity in size. After shutting down in March, companies raced to issue converts, and this trend only accelerated as credit spreads and equity markets recovered. Additionally, supply dynamics played a role, with low-leverage corporates tapping bond markets to shore up balance sheets.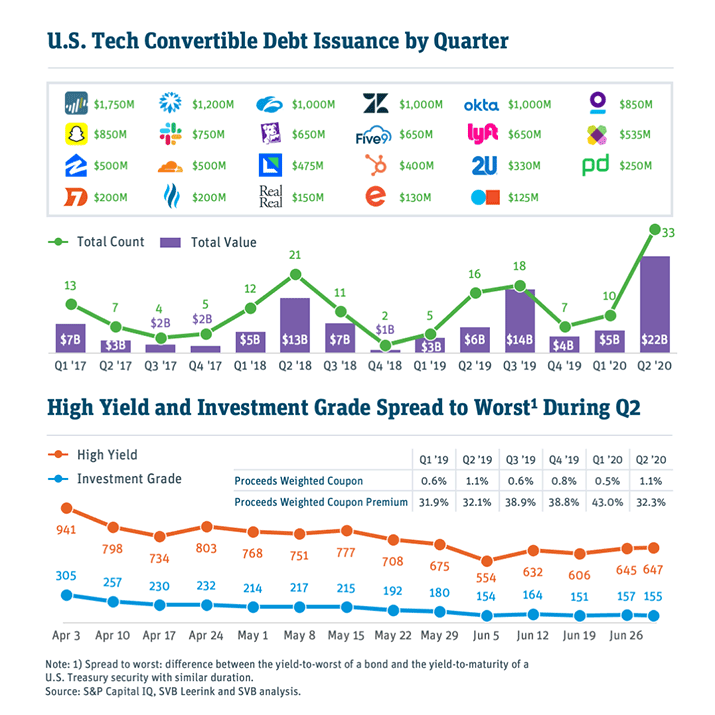 Private Markets - Varied Impacts
---
Top-Tier Funds Expand Their Share
Record levels of capital have entered venture, with H1 2020 boasting a 36% increase in the rate of fundraising over 2019. The majority of this capital has flowed to established VC firms. Less was allocated to emerging managers — who have seen a six percentage point decrease in their share of capital — in large part the result of strong fundraising for large funds. Furthermore, as LPs pause, funds have taken longer to close and reach a lower proportion of their target raise, suggesting an impending slowdown in VC fundraising for H2 2020.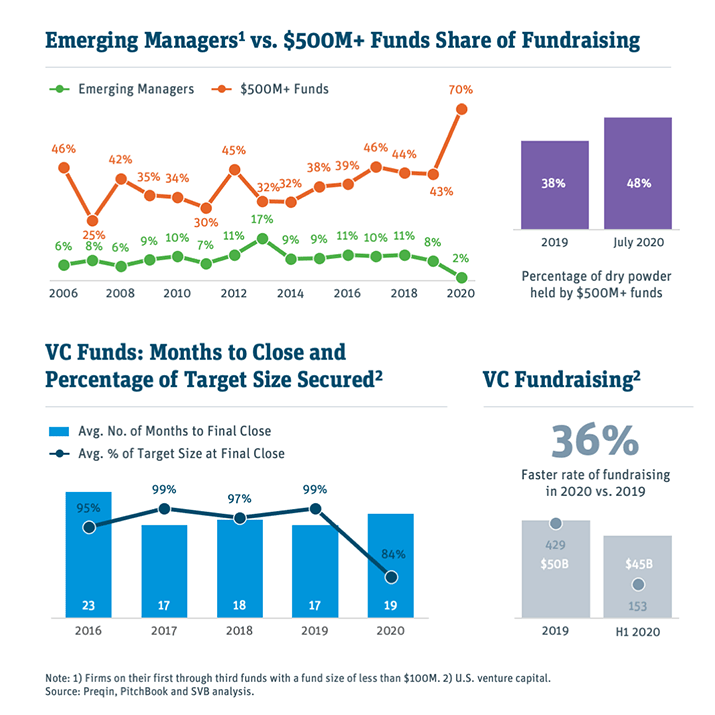 ---
Growth Rounds Grow, Early-Stage Falters
Angel deals persisted in Q2, while overall early-stage deals declined driven by challenges with remote networking and due diligence. In contrast, growth deals have continued, as they depend more on hard data and financials. Perceived "top" companies are in a league of their own, raising larger rounds at higher valuations, as investors double down on industry leaders, pushing valuations to record levels. Yet these top companies raised for various reasons. DoorDash and Instacart have raised growth equity whereas others have raised while resizing their cost structures and laying off employees.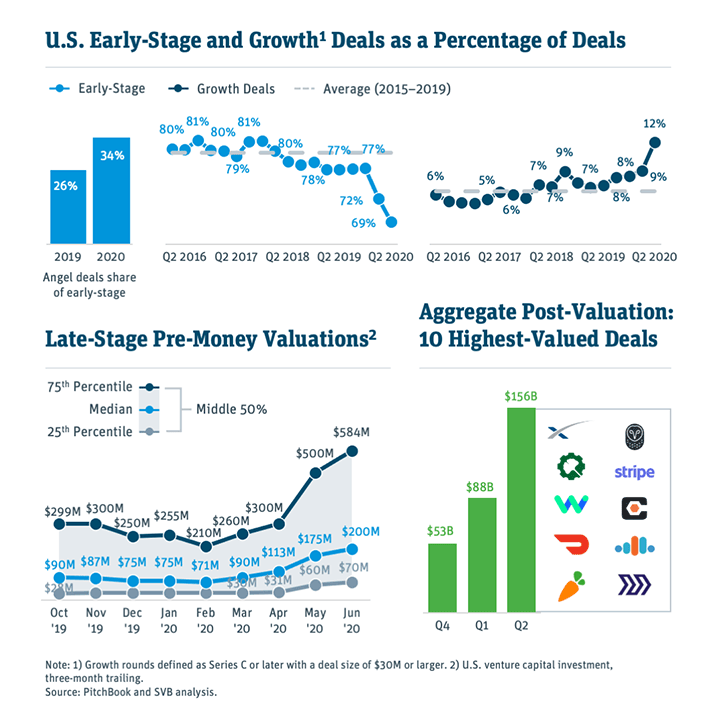 ---
Payrolls Pressured
With revenues facing headwinds and amidst encouragement from investors, executives are taking a closer look at what expenses can be cut. Consequently, payrolls have started to fall. This decline is more pronounced for companies in the upper quartile of payroll expenses, likely as inflated salaries get pared back and workers are laid off. When broken out by SVB verticals, those companies that have benefitted from the new ways in which we work and live, have seen a smaller dip in payrolls vs. those that have been disproportionately impacted by the current pandemic.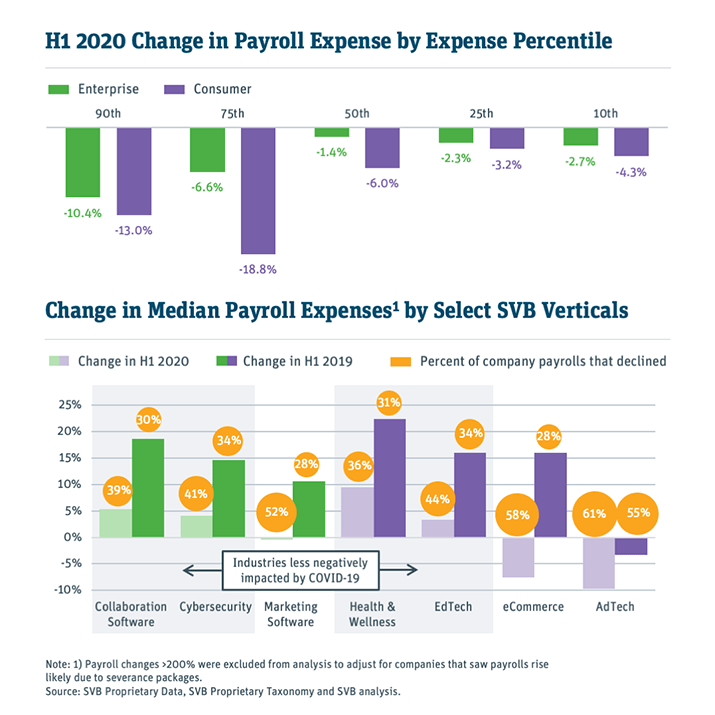 ---
Resilient Sectors
Some sectors have shown remarkable resilience during the pandemic. EdTech has seen a sharp spike in investment as much of the world adjusts to remote education. Other sectors, such as FinTech, have been resilient though not record-setting, in spite of the Great Lockdown. FinTech companies may be benefitting from forced financial digitization, though there have also been notable high-profile layoffs in the sector​

The Biopharma companies that have raised this year include those working on treatments or vaccines for COVID-19 (such as Atea Pharmaceuticals), helping this sector maintain a healthy dose of funding.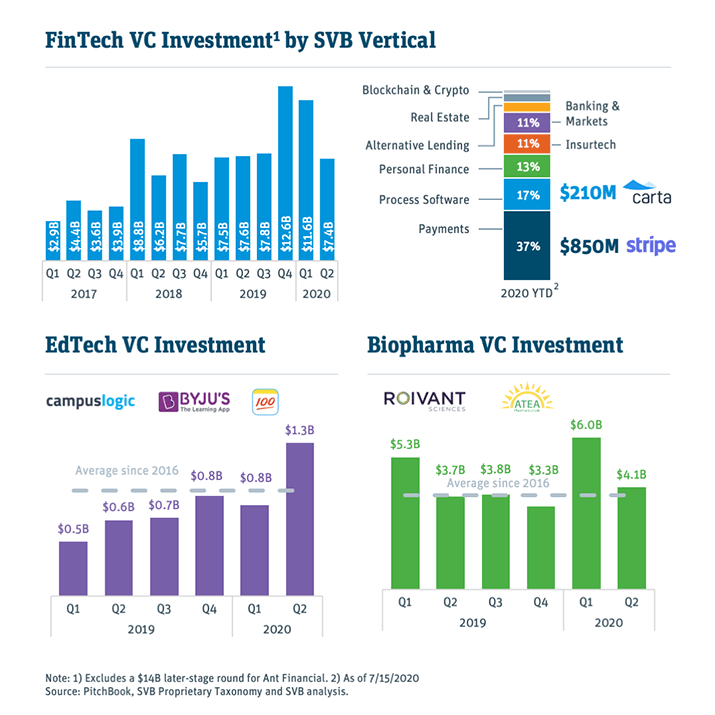 Spotlight - Social Impact
---
Diversity by the Numbers
Companies with above-average diversity scores ​for leadership report ​19 percentage points more revenue coming from innovation4, compared to those with below-average scores. Yet the innovation economy does not reflect the diversity of the U.S., and top- tier VC firm diversity is behind the rest of the innovation economy with 16% female, 2% Latino, and 1% Black representation. Given the centrality of fundraising to the success of a young company, these numbers stack the odds against underrepresented founders.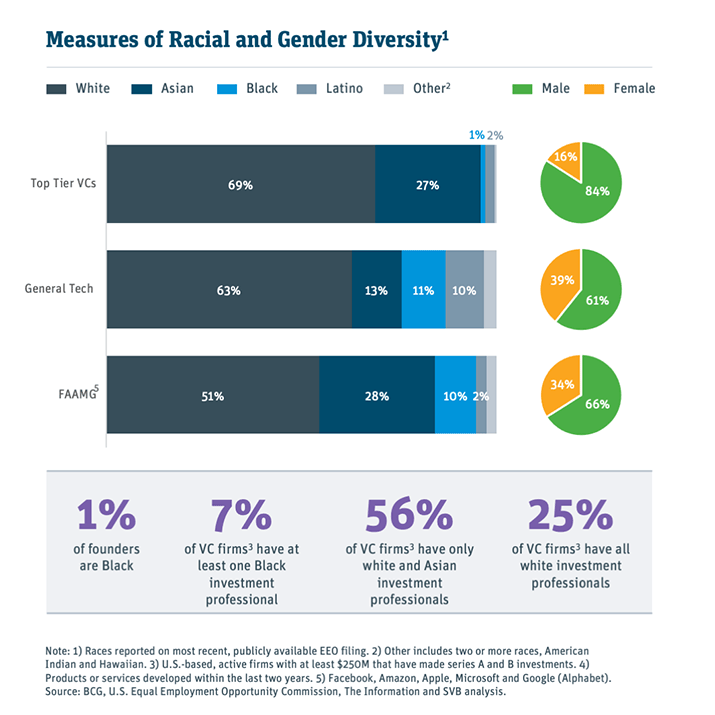 ---
LPs Behind on ESG, For Now
U.S. VC fundraising has boomed with more than $285B raised since 2015. ​Yet a mere $13B of that was earmarked for ESG1. Within that bucket, less than $1B ​had a social impact focus. ​New ESG capital inflows into public markets reached a new high of more than $20B ​in 2019. As millennials continue to gain wealth and influence, ESG allocation ​will continue to grow. ​

Essentially, an explosion of interest in ESG values is yet to be meaningfully realized in the private markets. Given the zeitgeist, we expect additional allocations for ESG and social impact venture capital.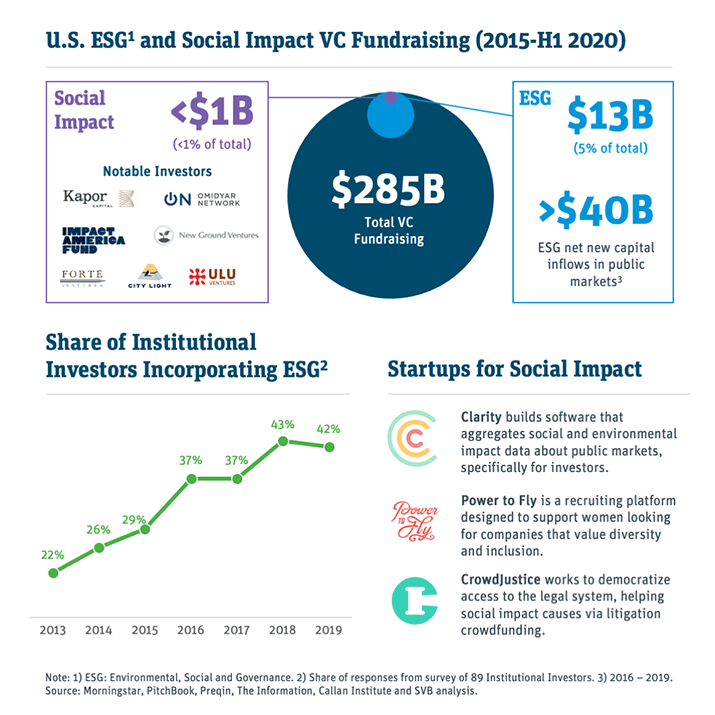 ---
IPO Window Cracks Open
The tech IPO window effectively shut in February, as COVID-19 quickly went from a health crisis to an economic crisis, spooking investors and causing companies to put exit plans on hold. Despite volatility in the markets, we've recently seen a reemergence of VC-backed tech IPOs — with most experiencing strong returns compared to their last private valuation (LPV). Additionally, as markets have bounced back and investors' confidence has ​crept up, several companies ​are reportedly planning to go public in H2 2020, which ​could put this year's aggregate valuation in the top three ​for the last decade and set a record for direct listings.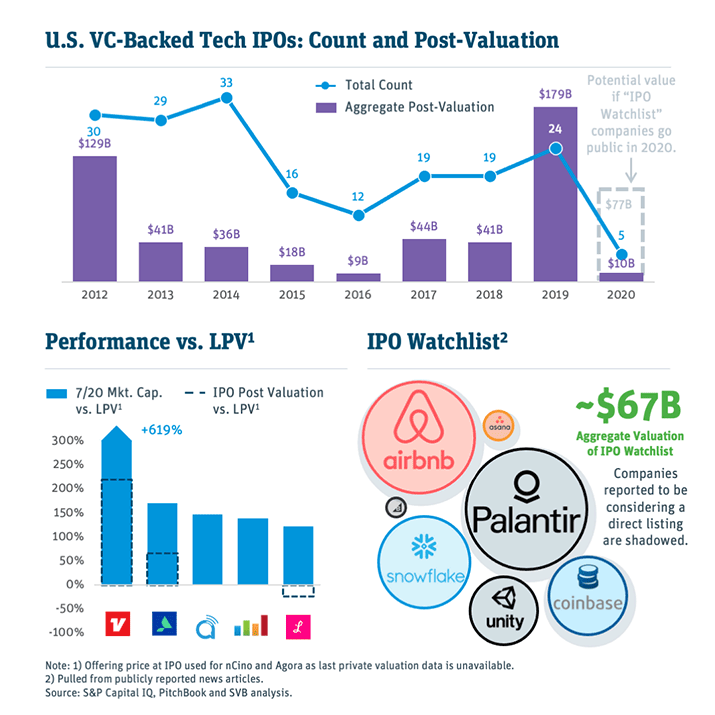 ---
The IPO Window Never Closed for Healthcare
While the COVID-19 pandemic has resulted in multiple tech IPOs being pushed back to H2 2020 or later, healthcare IPOs have continued. These offerings are overwhelmingly by Biopharma companies, which comprise 17 of the 22 U.S. healthcare companies that have listed on the Nasdaq this year.​

SVB tracks the top 15 crossover-backed mezzanine deals ($40M+) as a proxy for IPO sentiment and pipeline. In H1 2020, 34 qualified for the list and four have already gone public2.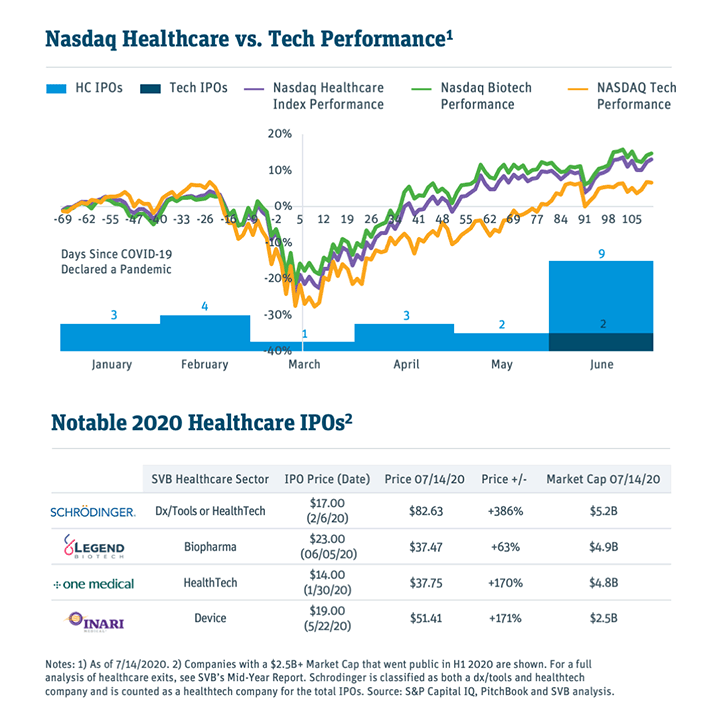 ---
Return of the SPAC
This year has seen a meteoric rise in SPACs1. For innovation companies, they have emerged as a realistic alternative to an IPO, providing an advantage in terms of flexibility and speed. In 2020 alone, SPACs have accounted for roughly 35% of U.S. IPO filings and are only getting bigger—highlighted by Bill Ackman's recent SPAC IPO, which raised $4B, becoming the largest SPAC IPO ever. Notable companies have been acquired by a SPAC this year, with more in the pipeline including Fisker and Multiplan—the latter being the biggest SPAC merger ever. If SPACs and direct listings continue to gain adoption, the traditional IPO route could eventually become antiquated.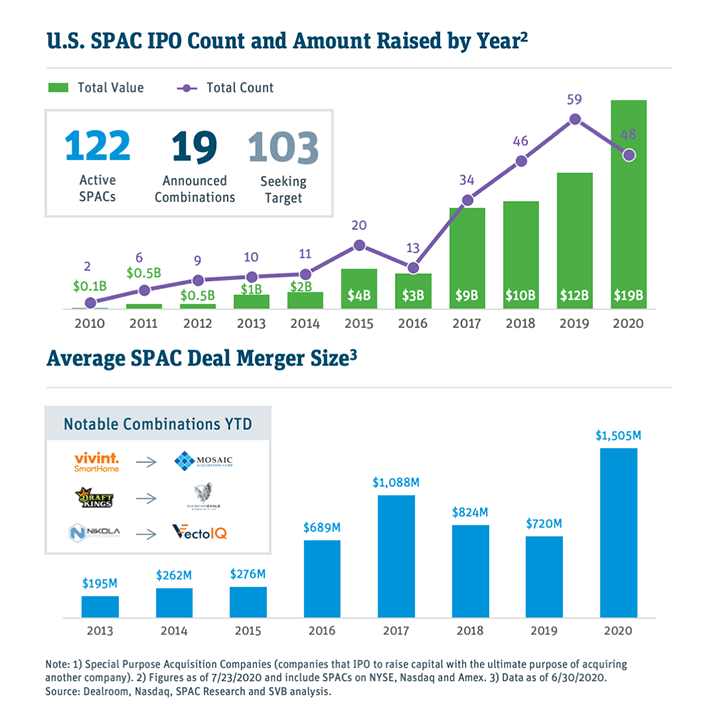 International - Global Ecosystems Evolving
---
The STAR Experiment, One Year In
The STAR1 Market represents China's answer to the Nasdaq; its mission is to attract innovative companies in ​China and greater Asia to ​go public in Shanghai. ​

After one year, the STAR market has become the venue for many of the largest IPOs by Chinese tech companies, attracted in part by frothy trading multiples and lenient profitability standards. The presence of this tech-focused market amidst trade tensions and decoupling may further reinforce the higher preference to go public among Chinese entrepreneurs versus Americans, evidenced by ​SVB survey results.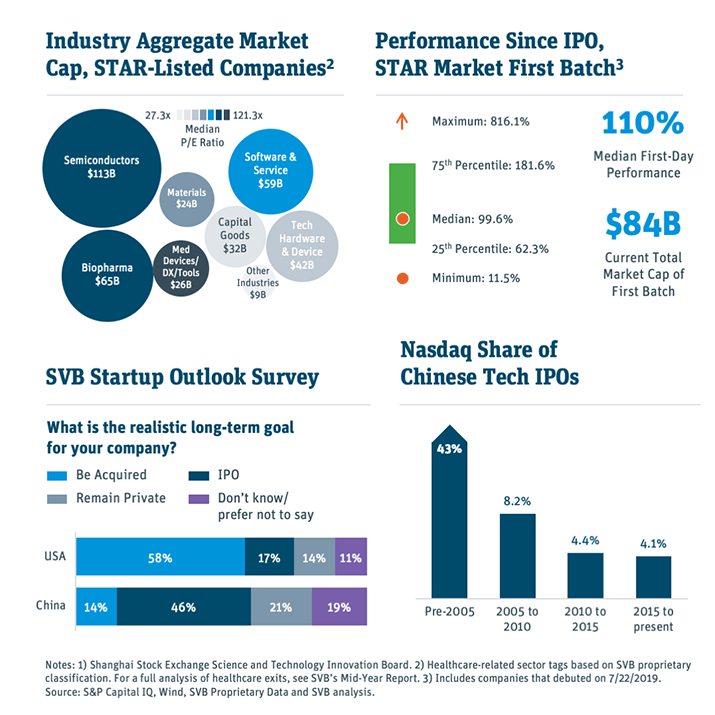 ---
Canada Taps Tech Talent
Canada has been able to attract and nurture some of the strongest tech talent in ​the world due to its friendly immigration policies and world-class universities. This trend has only accelerated with the U.S. toughening its immigration stance — causing a spike in denial rates of H1-B visas (work permits for highly skilled workers) and companies opening offices in Canada to gain access to talent. Canada has pledged to increase the number of immigrants it accepts each year by 40,000, aiming for 350,000 in 2021. It has also implemented the Start-up Visa Program and Global Skills Strategy (GSS).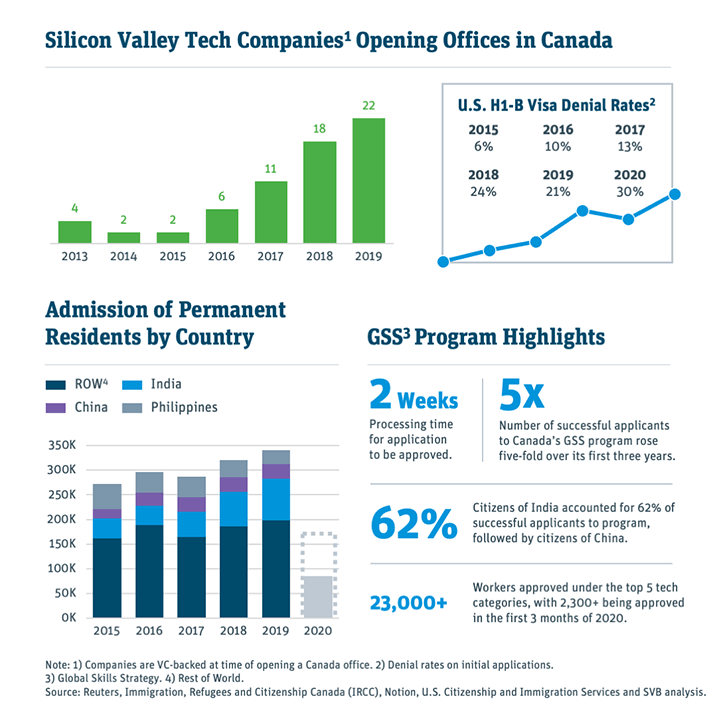 ---
FinTech Shines in Late-Stage Boom
As in the U.S., the late-stage ecosystem in Europe has taken a larger share of deals, increasing eight percentage points through H1 2020. The share of late-stage deals with at least one U.S. investor has increased four percentage points over 2019, illustrating U.S. investor appetite for European companies and continued cross-border investment, despite travel restrictions. FinTech has not only capitalized on the growing share of late-stage deals, but has leveraged the COVID–induced transition to online payments and banking as a way to gain new users who were initially reluctant to adopt online banking.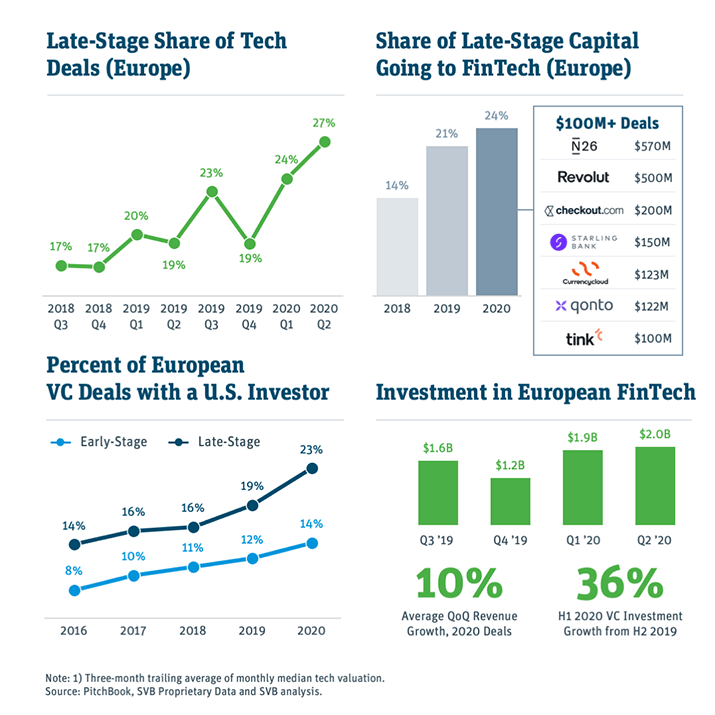 ---
Dry Powder Expands, Bound for Europe
H1 2020 has seen strong fundraising, with dry powder increasing in both U.S. and European markets. The U.S. has seen the first signs of a slowdown in fundraising, with the average fund closing at 84% of its target in 2020. However, in Europe, the average fund closed at 105% of its target, suggesting stronger fundraising dynamics. Given the long duration of fundraising cycles, we will likely see a modest slowdown late in 2020, but low interest rates across the globe and volatile public markets should buoy private fundraising.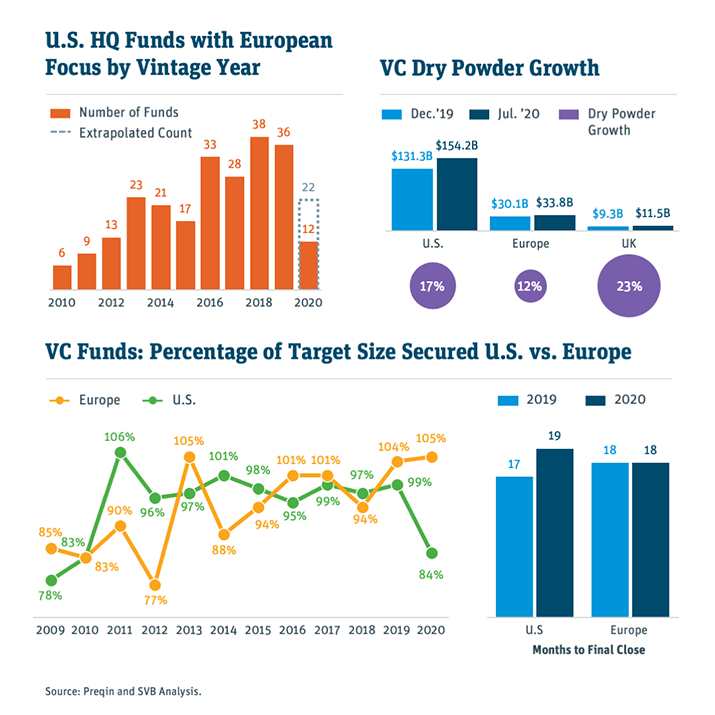 This material including, without limitation, to the statistical information herein, is provided for informational purposes only. The material is based in part on information from third-party sources that we believe to be reliable but which have not been independently verified by us, and for this reason, we do not represent that the information is accurate or complete. The information should not be viewed as tax, investment, legal or other advice, nor is it to be relied on in making an investment or other decision. You should obtain relevant and specific professional advice before making any investment decision. Nothing relating to the material should be construed as a solicitation, offer or recommendation to acquire or dispose of any investment or to engage in any other transaction.


Silicon Valley Bank, an authorized bank branch under the Bank Act (Canada).


SVB Financial Group UK Ltd is registered in England and Wales at Alphabeta, 14-18 Finsbury Square, London EC2A 1BR, UK under No. 5572575 and is authorised and regulated by the Financial Conduct Authority, with reference number 446159. Silicon Valley Bank and SVB Financial Group UK Limited are not licensed in Ireland to undertake banking business in Ireland or to undertake any other regulated activity in Ireland.


Silicon Valley Bank is registered in England and Wales at Alphabeta, 14-18 Finsbury Square, London EC2A 1BR, UK under No. FC029579. Silicon Valley Bank is authorised and regulated by the California Department of Business Oversight and the United States Federal Reserve Bank; authorised by the Prudential Regulation Authority with number 577295; and subject to regulation by the Financial Conduct Authority and limited regulation by the Prudential Regulation Authority. Details about the extent of our regulation by the Prudential Regulation Authority are available from us on request.


Silicon Valley Bank Germany Branch ist eine Zweigniederlassung der Silicon Valley Bank. Silicon Valley Bank, eine Aktiengesellschaft nach dem Recht des U.S. Bundesstaates Kalifornien, mit Sitz in Santa Clara, Kalifornien, U.S.A. ist eingetragen beim California Secretary of State unter der Nr. C1175907, Vorstand (Chief Executive Officer): Gregory W Becker, Aufsichtsratsvorsitzender (Chairman of the Board of Directors): Roger F Dunbar. Silicon Valley Bank Germany Branch mit Sitz in Frankfurt am Main ist eingetragen im Handelsregister des Amtsgerichts Frankfurt am Main unter der Nr. HRB 112038, Geschäftsleiter: Dayanara Heisig. Silicon Valley Bank Germany Branch is a branch of Silicon Valley Bank.


Silicon Valley Bank, a public corporation with limited liability (Aktiengesellschaft) under the laws of the U.S. federal state of California, with registered office in Santa Clara, California, U.S.A. is registered with the California Secretary of State under No. C1175907, Chief Executive Officer (Vorstand): Gregory W Becker, Chairman of the Board of Directors (Aufsichtsratsvorsitzender): Roger F Dunbar.


Silicon Valley Bank Germany Branch with registered office in Frankfurt am Main is registered with the local court of Frankfurt am Main under No. HRB 112038, Branch Directors (Geschäftsleiter): Dayanara Heisig.