State of the Markets

Q1 2020
THE PAST DECADE AND THE CURRENT STATE OF VENTURE
As we embark upon a new decade, it's worth looking back over the past ten years to see how far we've come. Coming out of the Global Financial Crisis, fundraising and investment have exceeded prior peaks, and venture has globalized rapidly.

We're now seeing important shifts in the ecosystem, which have rippled from rising benchmarks and a renewed focus on profitability. Without question, some right-sizing is needed. Fortunately, there is no shortage of strong companies to face these challenges.

A receptive public market has kept the IPO window open, and our outlook on exits remains positive barring a broader economic downturn. Given all of the above, we have reason to be optimistic.
---
Ending on a High
Many new highs were reached in 2019, as businesses and investors continued to raise and invest capital at a record rate. Flush with cash from high-profile exits and a favorable liquidity backdrop, significant dry powder is ready to be put to work.

Entering the eleventh year in the longest bull market in history and with an election on the horizon, the hundred-billion-dollar question is how close are we to the peak?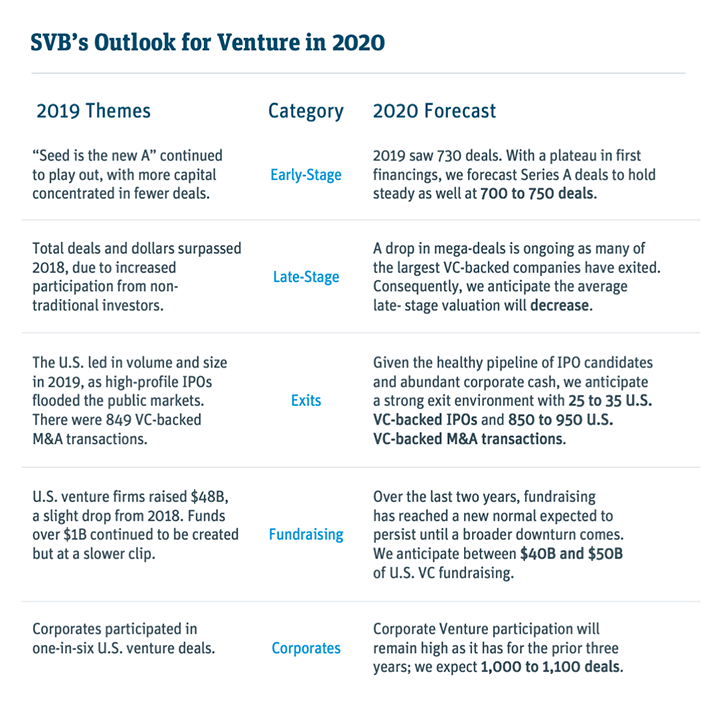 This material including, without limitation, to the statistical information herein, is provided for informational purposes only. The material is based in part on information from third-party sources that we believe to be reliable but which have not been independently verified by us, and for this reason, we do not represent that the information is accurate or complete. The information should not be viewed as tax, investment, legal or other advice, nor is it to be relied on in making an investment or other decision. You should obtain relevant and specific professional advice before making any investment decision. Nothing relating to the material should be construed as a solicitation, offer or recommendation to acquire or dispose of any investment or to engage in any other transaction.

All non-SVB named companies listed throughout this document, as represented with the various thoughts, analysis and insights shared in this document, are independent third parties and are not affiliated with SVB Financial Group.

Silicon Valley Bank is registered in England and Wales at Alphabeta, 14-18 Finsbury Square, London EC2A 1BR, UK under No. FC029579. Silicon Valley Bank is authorized and regulated by the California Department of Business Oversight and the United States Federal Reserve Bank; authorized by the Prudential Regulation Authority with number 577295; and subject to regulation by the Financial Conduct Authority and limited regulation by the Prudential Regulation Authority. Details about the extent of our regulation by the Prudential Regulation Authority are available from us on request.

Silicon Valley Bank, a public corporation with limited liability (Aktiengesellschaft) under the laws of the US federal state of California, with registered office in Santa Clara, California, USA is registered with the California Secretary of State under No. C1175907, Chief Executive Officer (Vorstand): Gregory W. Becker, Chairman of the Board of Directors (Aufsichtsratsvorsitzender): Roger F. Dunbar.

Silicon Valley Bank Germany Branch is a branch of Silicon Valley Bank. Silicon Valley Bank Germany Branch with registered office in Frankfurt am Main is registered with the local court of Frankfurt am Main under No. HRB 112038, Branch Directors (Geschäftsleiter): Oscar C. Jazdowski, John K. Peck. Competent Supervisory Authority: Bundesanstalt für Finanzdienstleistungsaufsicht (BaFin), Graurheindorfer Straße 108, 53117 Bonn, Germany.

Silicon Valley Bank, is an authorized foreign bank branch under the Bank Act (Canada).