Key Takeaways
Shifting from lab research to business ownership can be a major adjustment, so tenacity is key.
A strong support network, including specialized investors, can complement a founder's scientific skills.
Pitching to investors calls for a balance between technical details and simple storytelling.
As a scientist, you could have endless possibilities for specialization that determine the unique challenges you encounter throughout your career. However, as a therapeutics business owner, your obstacles will likely resemble the ones I've seen many entrepreneurs overcome time after time.
Dr. Claudia Penafuerte Diaz, CEO and co-founder of Cura Therapeutics, recently spoke with me about her journey from developing her core technology to building her company. From Havana to Canada, her resilience sustained her through a series of transitions on her way to develop breakthrough therapies for cancer patients.
No matter how gifted you are, achieving milestones is a challenge. Claudia's story reflects that challenge. What other founders can learn from her story is that persistence and determination, combined with leaning on the support from others, can help you achieve those milestones.
From the lab to the boardroom
Claudia started like many new industry founders: as a passionate scientist. Her focus in immunology, immunotherapy and oncology was the springboard for her core innovation. Yet, business ownership still wasn't on her radar for roughly the first two decades of her work.
In academia, Claudia was already making key contributions. While earning her Ph.D. at McGill University, she studied how the immune system could suppress tumor progression. Next, she conducted postdoctoral studies at Goodman Cancer Research Centre, which focused on early detection of cancer cachexia through blood samples as well as findings that enabled new dendritic cell-based vaccines.
Through these programs, she discovered a breakthrough: a multi-functional immune system mechanism to fight cancer via the creation of chimeric proteins. With this tool, she aims to disrupt the tumor's blood supply to suppress growth while also activating immune cells against cancer.
She was compelled to bring her findings and research talent beyond the lab to help patients. "I always wanted to do something with that technology," Claudia said of her research. "I saw that we got really powerful data, so that could save lives in the future."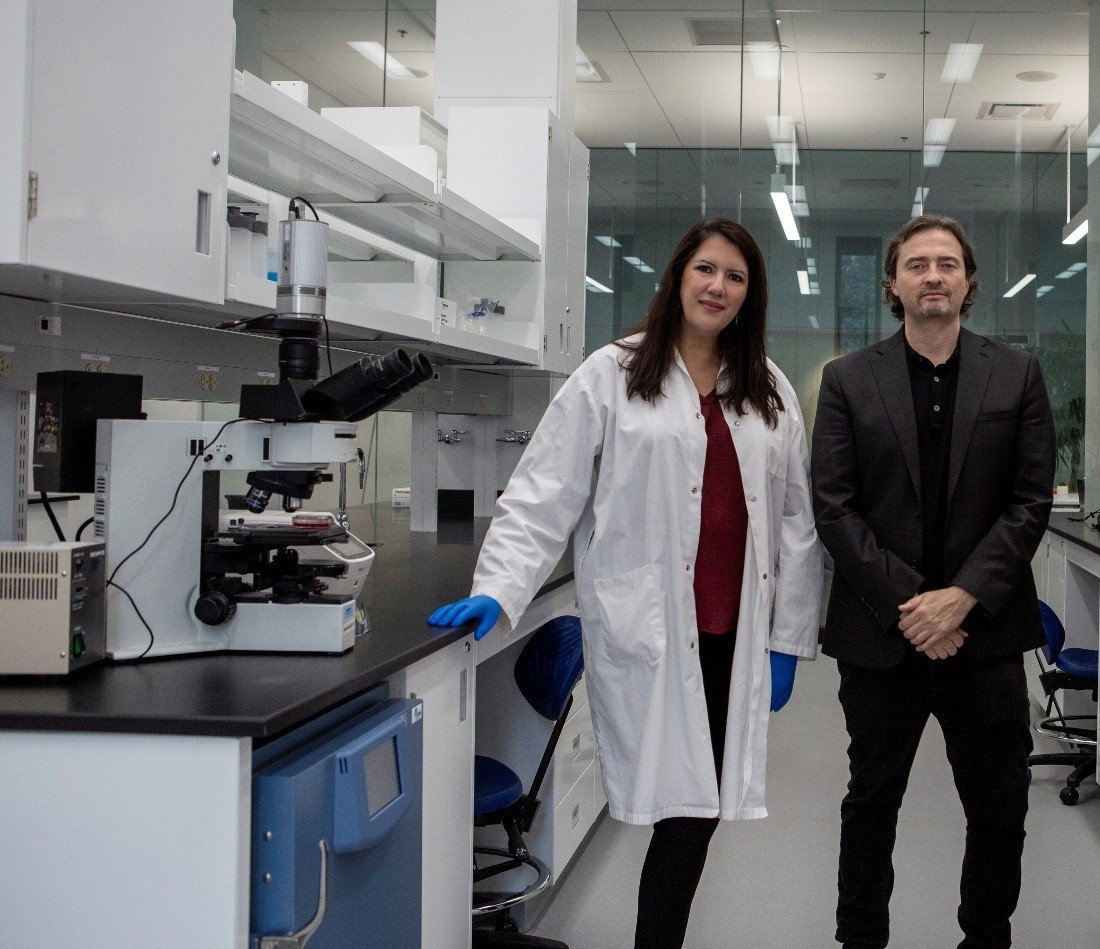 Dr. Claudia Penafuerte Diaz and Collin Horner

However, transitioning from the role of academic scientist to the role of therapeutics startup founder and CEO was an enigma for Claudia. She knew she needed a co-founder who would provide business acumen, marketing talent and devoted support through highs and lows — so who better than her life partner, Collin Horner? Together, they began to build a vision for Claudia's technology.
Unlocking the startup world with relationships
As a first-time therapeutics founder, it can take time to form connections with the right investors, advisors and peers. Claudia's story shows how strong early connections can act as an entry point into the rest of the startup ecosystem.
Although she first joined two accelerators through McGill and Centech, it wasn't until her third that she saw her business liftoff. In 2019, Claudia and her co-founder participated in the Bio Track at Berkeley SkyDeck. In a matter of months, she learned how to grow a therapeutics company and began building her expert advisory board. It was during her pitch to SkyDeck when I met her and introduced her to Silicon Valley Bank.
"That's when we established our ecosystem and began networking, and everything started moving much faster," she said. "The momentum we gained at SkyDeck led to funding our preclinical stage, opening our lab at the adMare BioInnovations hub, complete our preclinical proof-of-concept (POC), and prepare for our Series A fundraising round in Q1, 2023".
With these new connections, Claudia started to establish her roots in the startup economy. And the deeper her roots, the more resources she could add to the growth of her business. "We were looking for advice on everything: corporate structures, accounting, fundraising, and even legal and patent advice." To her, the ideal strategic investor could bring both capital and guidance to conquer the next milestone and propel her startup toward the next stage.


As with many startups, the cycle of fundraising — and enriching the company along the way — never truly ends.

Even today, Claudia continues to search for opportunities to meet investors. She has attended conferences, presented her work and participated in pitching competitions. She has also joined events hosted by institutions such as Silicon Valley Bank and Wilson Sonsini to learn more about running a business and expanding her network. As with many startups, the cycle of fundraising — and enriching the company along the way — never truly ends.
Designing a successful scientific pitch
Gaining access to a rich network is just the beginning. Pitching is how you use that network to secure initial funding. Founders typically depend on sizeable early funding to get a therapeutics startup from the lab to clinical trials and beyond.
Describing Cura Therapeutic's intricacies to prospective investors was difficult. Finding the right balance of technical depth, business practicality and storytelling is a science in its own right, according to Claudia:
"You have to change a little bit the way you present your ideas. You can't express it fully in scientific terminology because you'll lose most investors. It's a big challenge to communicate in a way that people can understand easier. If you say something that is too scientific, even one term, you've lost your audience right there."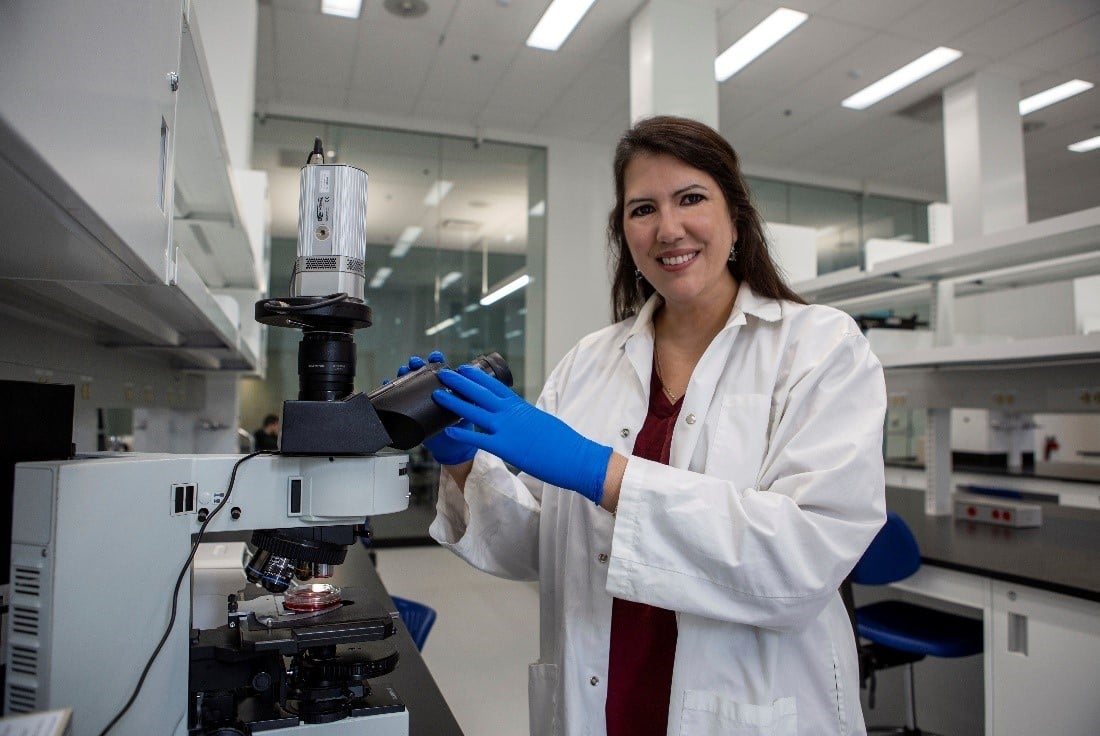 Dr. Claudia Penafuerte Diaz at her lab

Claudia also targeted her pitch to investors likely to be the best match for her specific biotechnology. She added, "We got resources from Silicon Valley Bank by using CipherBio, which helped us identify the type of deals that are happening at different stages of a biotech startup and also the kind of investor we need to attract."


By sticking to her vision and the value of her innovation, she refined her pitch, identified more investors, and eventually secured funding.

But the final ticket to landing the pitch was hard work and persistence. Claudia had to wear many hats, including a range of financial, scientific and even parental duties. Disregarding concerns about market saturation and the potential for failure, she stuck to her vision and the value of her innovation. She refined her pitch, identified more investors and eventually secured funding.
How investors can help enhance a specialized business
Life science investors often focus on a specific niche or set of categories, like therapeutics or biotech. The downside is that finding the right match can be difficult. However, it means those investors are also more likely to offer insight into specific legal, technical and regulatory challenges. Investors' non-monetary contributions can help you grow into the next stage.
Now, Claudia is preparing to expand the Cura Therapeutics team, including at the C-suite level. She's also developing new technologies for infectious diseases. And she said they aren't doing it alone: "We were really fortunate that our investors brought not only money but the advice and expertise to guide us to find solutions."
Claudia explained that her investors' knowledge has supported her plans for Cura Therapeutics' next milestones. For example, they assisted her with planning:
Good Manufacturing Practice (GMP) production

GMP toxicology studies

Regulatory expertise for FDA approval

Clinical trials

Scientific advice
Life science investors can help bring more than capital because of the specialized nature of each biological and technical area in the industry. When fundraising, founders can evaluate not only dollars and equity but this hidden value as well.


Investors' non-monetary contributions can help enable the next stage of growth.
Where should a new founder start?
Claudia shares her advice for scientific innovators who are still in the lab and are thinking about starting a therapeutics company:
"First, have the technology. And have an idea of what to bring to the market. It needs to be unique and something that you have the expertise to deliver. Second, study the market. What is the problem you are trying to solve? What is currently out there from a competitive standpoint? What is the market need? And lastly, protect your invention. Get it patented before you put it out to the public."
At Silicon Valley Bank, I have the great fortune of watching founders' stories play out in real time. Claudia's story is one of intense passion and perseverance. If you are taking the plunge into life science entrepreneurship, your path will likely be unique, which is why it is important to surround yourself with a supportive network as you forge ahead.


Running a startup is hard. Visit our Startup Insights for more on what you need to know at different stages of your startup's early life. And, for the latest trends in the innovation economy, check out our State of the Markets report.