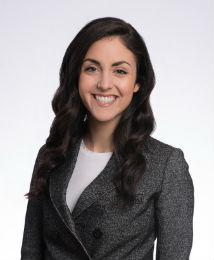 Natalie Fratto
Senior Manager
New Market Development
Office
Professional Summary
Natalie Fratto is a senior manager of New Market Development for Silicon Valley Bank, where she develops strategic partnerships and creates new processes and initiatives in the bank's important new markets. As SVB builds its Canadian branch and operations, she's overseeing a range of key functions, from mapping out the market to hiring the new team on the ground.
A graduate of the University of Michigan, Natalie began her career as a management consultant at IBM, where she focused on mergers and acquisitions in the semiconductor and medical devices industries then worked at IBM Watson.
In 2015 she participated in startup accelerator Y Combinator with Vive Lifestyle, a New York based-based on-demand beauty services company. Natalie joined SVB in 2016 as a vice president of Early Stage Practice, providing banking and financing support for the most promising early-stage startups in New York City.
Throughout her career, Natalie has pursued her passion for technology and innovation. "I'm hyper-curious about new technologies," she says, "and I love that my job allows me to chat with and support founders every day who are working in these fields."
It's an interest that spills into Natalie's free time, too, in her work as a contributing writer for some of the world's top finance and technology publications and her mentoring support for incubation programs, including Techstars, Future Labs at the NYU Tandon School of Engineering, Rise of the Rest and Endeavor Global.
Natalie also volunteers on the steering committee for Toronto Machine Learning, a community that provides connection and support for artificial intelligence researchers, professionals and startups across Canada.
Contact Information
Now Let's Get Started
---
See how SVB makes next happen now for entrepreneurs like you.