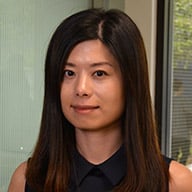 Lisa Wei Goel
Professional Summary
Lisa is part of the Global Financial Services Group based in Santa Clara, California . Her primary focus is in advising Asia based PE/VC and corporate clients in currency risk management.

Lisa has 10 years of experience in the FX and derivative markets and has lived and worked in Hong Kong and Singapore. Prior to joining SVB, she worked at Goldman Sachs and Barclays Capital in various sales capacities covering a range of institutional accounts, from corporate clients, to PE firms as well as regional private banks. Her experience includes treasury risk management, structured investment products, hedging strategies in cross-border acquisitions, and structured financing solutions. Lisa started her career at KPMG San Francisco in the Assurance Practice. She holds a bachelor's degree in Economics from University of California, Berkeley.
Contact Information
Now Let's Get Started
See how SVB makes next happen now for entrepreneurs like you.