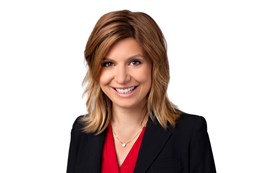 Jennifer Friel Goldstein
Head of Business Development
Technology and Healthcare
Office
Professional Summary
Jennifer Friel Goldstein is the head of Business Development, Technology and Healthcare for Silicon Valley Bank. She is responsible for business development, venture capital relationship management and corporate relationship management across all sectors for the bank. Jennifer and her teams help innovators and the partners they depend upon to drive growth and change within the innovation ecosystem. These teams also focus on transformative business partnerships to accelerate growth for SVB clients and key stakeholders and across SVB's diverse businesses. Jennifer also recently initiated the creation of a healthcare equity fund as part of SVB Capital. Additionally, she was directly involved with the company's acquisition of Leerink Partners in January 2019.

Jennifer has held a variety of roles during her time at Silicon Valley Bank, including running the Biotechnology and Diagnostics practice, heading up West Coast Healthcare, starting the Healthcare Accelerator practice for pre–Series A companies and managing the Strategic Advisory Services practice.

Jennifer joined SVB after a successful tenure at Pfizer, where she served as a director on Pfizer's Venture Capital team. In this capacity, Jennifer helped lead or co-lead investments into several companies. She also led fund-of-fund investment decisions and independently managed Pfizer's private equity portfolio ($250 million portfolio).

As a consultant at Bain & Company in London, Jennifer focused on private equity deals across Europe. She also has diverse operational and research experience at companies such as Chiron, Genelabs and Genencor.

Jennifer brings 20 years of investing, banking, business development, portfolio management and strategy experience as well as a biotechnology background to the team. She earned her bachelor's degree in bioengineering, magna cum laude, and a master's degree in biotechnology from the University of Pennsylvania. Jennifer was also named a Joseph Wharton Fellow while completing her MBA at the Wharton School.

In her free time, Jennifer enjoys being involved with Springboard Enterprises, serving on the board of the Leukemia & Lymphoma Society in Silicon Valley, and spending time with her husband and their twin children.
Contact Information